Some things are so accessible, yet so delicious. Don't you love how it is always so easy to get a can of Coca-Cola®? You can easily get it from a vending machine, a convenience store, a hawker centre or a supermarket.
There's free flow Coca-Cola available in the migme office where I work. One of the staff perks. It goes well with just about anything and it's little wonder why sometime we opt to buy back our lunch instead of eating out. In this way, we get to enjoy our food with Coca-Cola in the comfort of our office.
Conversely, there is a way you can conveniently reach out for a pleasurable meal without having to go through 20 minutes of walking under the hot sun and breathe in the crappy haze. Consider food delivery.
Perfect for time-strapped office workers!
If you are too busy to leave your desk at work or too lazy to leave the comfort of your air-conditioned office to get food, here are five local food deliveries which you may not know could be delivered. Delivery charges and minimum orders vary according to location, so it's best to call them to find out more.
Singapore-style home-cooked dishes from Gu Ma Jia (姑妈家)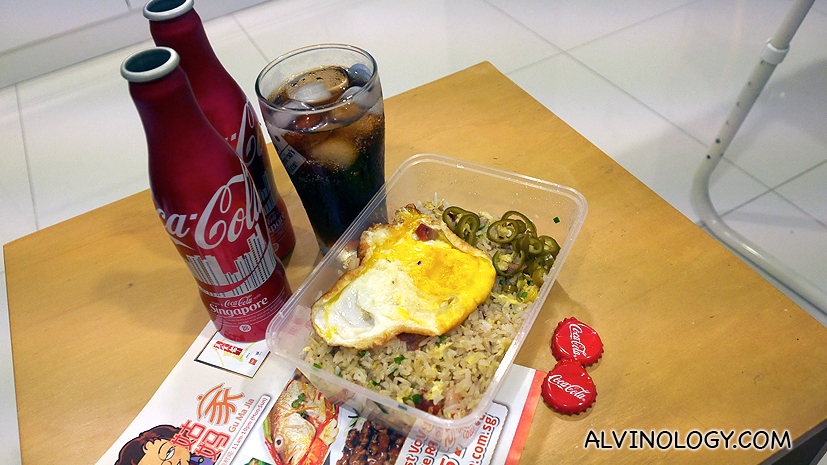 Established since 2009, Gu Ma Jia, which is the Chinese name for Auntie's House, is a local restaurant that serves delicious Singapore-style home-cooked food.
The founder, Chan Mei Yan, affectionately known as Gu Ma, has had more than 3 decades of cooking experience selling her signature chicken rice and wanton noodles, prior to the establishment of Gu Ma Jia. She takes great pride and joy in cooking for family meals, basking in the happiness of being able to eat as a complete, united family – forming the basis from which the restaurant was created for.
What's really awesome is that Gu Ma Jia delivers too! They offer a variety of boxes at just S$6 to S$7 each. The folks at Caldecott Hill are among their regular customers.
If you are craving for a home-cooked meal with a group of friends, yet do not have the time to prepare it yourself, consider ordering from Gu Ma Jia! Don't forget to serve a round of Coca-Cola to everyone too to complete a happy meal together!
2.
Chicken Curry from Golden Pillow 933
http://www.goldenpillow933.com.sg
Golden Pillow 933's vision is to bring "Curry in a Loaf" to the doorsteps of people around the world. Founder of Golden Pillow 933, Mr Tong Lee Song, came up with the unique food concept of a "Golden Pillow", wrapping piping hot chicken or mutton curry inside a loaf of bread. They deliver island wide in Singapore.
If the curry burns your tongue balance it with generous servings of ice-cold Coca-Cola!
3.
Fish Soup from Jun Yuan House of Fish
https://www.facebook.com/JunYuanHouseOfFish
I bet not many people know you can order fish soup for delivery online! Jun Yuan House of Fish is started by a group of young entrepreneurs, which probably explains why they are so tech-savvy, with a cool Facebook page as well as online orders available via Foodpanda. Food panda is an online food delivery site that provides delivery services of foods from different eating places.
4.
Duck Rice from Jin Ji Teochew Braised Duck
https://www.facebook.com/jinjiteochewbraisedduck
Another surprise find which many may not think is available for delivery online!
Jin Ji Teochew Braised Duck was established in 1980 and has been in business for more than 30 years. They specialise in Teochew braised duck rice and kway chap. Online delivery is available via Foodpanda as well.
5.
Homegrown dim sum brand, Yum Cha, which started with one restaurant in Chinatown now has a delivery arm, Yum Cha Express! You can order yummy, quality dim sums from them and have it delivered to your doorstep. They also have bento set options, perfect for work lunches.
I hope these recommendations work for you. Next time when you are having a group lunch with your colleagues, consider delivery if the haze is bothering you. Don't forget to get a few cans of Coca-Cola to pair with your food and double the joy! Good food and drink goes hand-in-hand.
This article is brought to you in partnership with Coca-Cola. All opinions shared by me are my own.