Can foods make people happy?
Think about the sight and sound of the refreshing fizzy bubbles from a can of Coca-Cola®, and the tingling sensation as the liquid caramel goes down your throat – don't you agree it can help to lift up your spirits, especially when you are tired from the busy schedules that are so common in Singapore?
Coca-Cola is known as the universal icon of happiness for good reasons! Just like how a can of Coca-Cola can help to lift our spirits, some foods have been shown to be able to help create a positive effect on our mood.
Here's a list of four types of food which can help us to feel better, especially when paired with a can of Coca-Cola:
1.
Fish Soup from Le Fish at Toa Payoh Central                   
According to the Academy of Nutrition and Dietetics, fish is the primary source of omega-3 fatty acids. In fact, WebMD goes on to say that a study has found people with low levels of omega-3 fatty acids, particularly those found in fish, such as DHA, are more likely to have memory problems. Researchers say the results suggest diets lacking in omega-3 acids may cause the brain to age faster.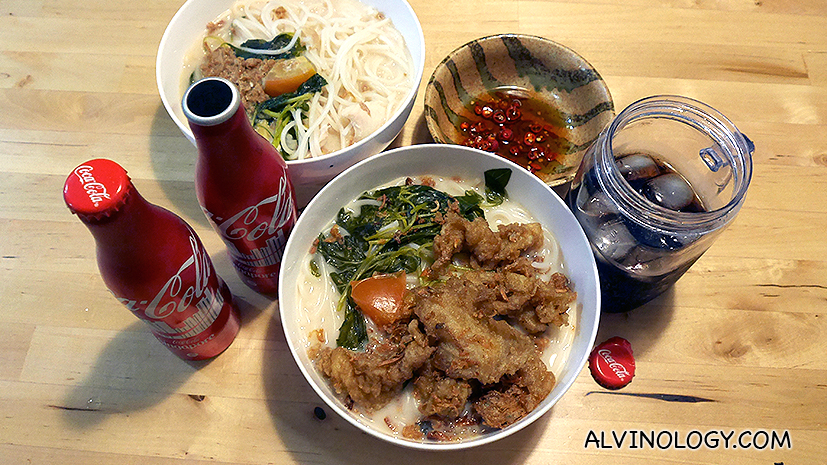 For quality fish soup with no MSG, consider visiting Le Fish at Toa Payoh Central, one of my favourite fish soup store in Singapore, started by an ex-colleague.
2.
Goreng Pisang from Toa Payoh Lucky Pisang Raja
This must be the secret to why the Minions are always so happy – they eat bananas all the time!
Located in Moon Sun Restaurant hawker centre in Toa Payoh Central, Toa Payoh Lucky Pisang Raja serves one of the best traditional Goreng Pisang in Singapore.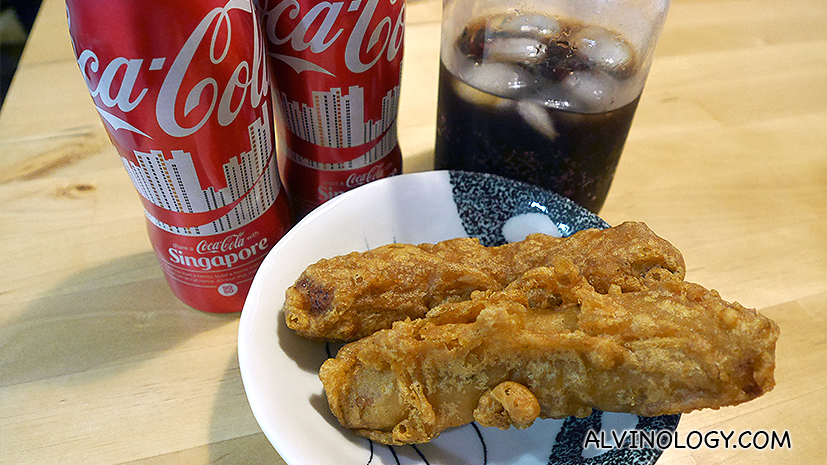 Everyone knows bananas are good for us, but not all may know that bananas contain L-tryptophan, which is changed into a brain chemical called serotonin. Serotonin helps control your mood and sleep.
3.
Walnut Paste from Mei Heong Yuen Dessert (味香园甜品)
Mei Heong Yuen Dessert is an institution itself in Chinatown, receiving flocks of locals and tourists alike in it's flagship store at Temple Street.
One of their signature dessert is their Walnut Paste (生磨核桃糊), together with many other warm pastes like Almond, Sesame and Peanut Pastes.
Why walnuts?
Walnuts are known to be a rich source of fiber, antioxidants, and unsaturated fatty acids, particularly alpha-linolenic acid. Alpha-linolenic acid is an omega-3 fatty acid, which researchers say could explain the beneficial effects on blood pressure.
If you find the warm dessert too hot, remember to enjoy it was a cold can of Coca-Cola for double the happiness!
4.
Mushrooms Hot Pot at The Mushroom Pot
WebMD tells us that mushrooms offer much that is good for us. They are a good source of protein as well as antioxidants such as selenium, which helps to prevent cell damage, and copper, a mineral that aids in the production of red blood cells. In fact, mushrooms are the only produce that contains significant amounts of selenium.
The Mushroom Pot serves many varieties of mushroom hot pots and is worth a visit with a group of friends to cheer up together over good food and ice-cold Coke.
5.
Maca Chicken Soup at Wo Peng Cantonese Cuisine in MyVillage, Serangoon Garden
Wo Peng Cantonese Cuisine is one of three restaurants under the Wo Peng Restaurant group, operated by owner and award winning Hong Kong Chef Julian Tam Kwok Fai. Chef Tam was the former Executive Chef of Furama Palace at the Furama City Centre Hotel for more than five years before he branched out on his own to open his first Wo Peng Restaurant on MacPherson Road in 2008.
Wo Peng serves a delicious maca chicken soup, with the receipe concocted by Chef Tam himself as he researched on new herbal ingredients to bring into Singapore.
Maca is used for many purposes, some of which include for enhancing energy, stamina, depression, and to boost the immune system.
6.
Clams Dishes at Putien
Homegrown Heng Hwa cuisine specialty restaurant, Putien, serves a wide variety of clam dishes, ranging from steamed bamboo clams to stir-fried chili live clams to soup.
My family is Heng Hwa and we often have family dinners and gatherings at Putien. Maybe it's that, the clams and a round of Coca-Cola for everyone that keeps us happy on these special occasions!
According to WebMD, clams are rich in selenium and studies have shown an association between low selenium intakes and poorer moods.
This article is brought to you in partnership with Coca-Cola. All opinions shared by the writer are my own.