Finally the sky is a little clearer and seems like the haze is slowly disappearing in Singapore. And so its time to head outdoor for some FUN Time! Here are 5 fun (and some FREE) things to do in Singapore this weekend!
Fun Things In Singapore To Do This Week
Go For a Family Feast at Starz Restaurant
Situated in the Hard Rock Hotel of Resorts World Sentosa, Starz Restaurant is well-known for its lavish buffet lunch and dinner spread with international and local cuisine. If you have children who become fidgety easily from sitting still, this is the best place to bring them to because of live stations, which allow children to feast their eyes on the works of chefs behind the scenes. It however, limits its complimentary offers of free meals to a maximum of four children, aged twelve and below, for every two paying adults.
You can also check out other places where kids eat free on Getgo Parents.
Visit Hello Kitty at Resorts World Sentosa
If you've still not heard, Hello Kitty Go Around is in Singapore! And she's celebrating her birthday on 1 Nov and you are invited to purchase a special birthday pass so you can meet her in person. Before you head down, you might want to check out this survival guide.
Grab a FREE Red Nose at DHL Jumbo Box
A yellow fellow shared that there is a giant (two-meter-high) DHL Jumbo Box near Chevron House on 29 and 30 October. In this special shipment it carries 25,000 red clown noses to bring everyone some FUN! You can pick up a red clown nose from the DHL Jumbo Box and stand a chance to watch TOTEM by Cirque du Soleil for FREE on Friday, 6 November.
Here's how to win with those red clown noses!
Step 1: Wear the red clown noses;
Step 2: Take a selfie or wefie and have lots of fun;
Step 3: Upload the photo to Facebook or Instagram with hashtags #simplyfun and #DHLDeliversTOTEM.
There are five pairs of VIP Rouge tickets to TOTEM (worth SGD616 per pair) to be won each day from 29 October to 2 November, and mystery gift packs to be given out from 3 November
onwards. Winners will be randomly selected by DHL and announced daily. Visit www.dhldeliverstotem.com.sg for contest Terms & Conditions and follow DHL Express Singapore Facebook page to monitor the winner announcements.
DHL is the Official Logistics Partner of Cirque du Soleil touring shows.
Catch one of the original Four Heavenly Kings Aaron Kwok LIVE!
A talented solo artiste, singer, dancer, and actor, Aaron Kwok is famous for his stage performances, which are choreographed with great creativity, impressive effects and impeccable stage productions.
Kwok has performed sold-out shows in Hong Kong, China, USA, Canada, Malaysia and Singapore, amongst many others. As with his previous concerts, expect entertaining stunts, special effects and more surprises.
This headlining act is presented by Sands Live, a concert series that feature the world's biggest artists performing in intimate, state-of-the-art entertainment venues at Marina Bay Sands.
More details here.
Catch a circus show at the Big Top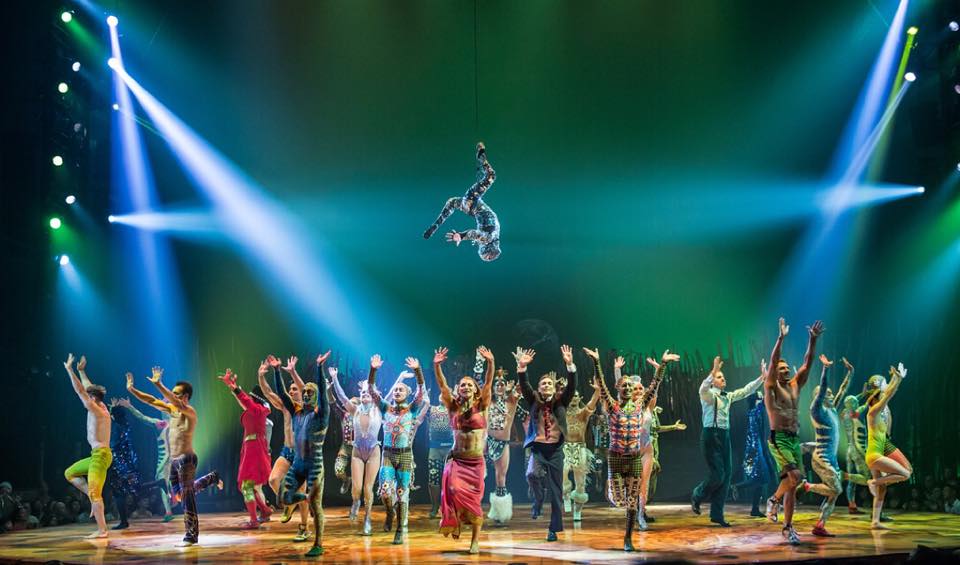 Since its 2010 World Premiere, more than 3.8 million people in 30 cities worldwide have been mesmerized by the intimacy and beauty of TOTEM, winner of the 2013 NYC Drama Desk Awards for Unique Theatrical Experience. Written and directed by Robert Lepage, TOTEM features a cast of 46 acrobats, actors, musicians and singers from 17 countries performing an impressive collection of jaw-dropping acrobatic acts, in an uplifting array of athleticism, comedy, soul-touching theatrics and surprising visual effects.
The long-awaited return of its trademark blue-and-yellow big top in Singapore is here and they are bringing an all-new, awe-inspiring production. TOTEM, a fascinating acrobatic journey into the evolution of mankind, opens on 28 October 2015 on Bayfront Avenue, next to Marina Bay Sands.
Details and ticketing information at www.cirquedusoleil.com/totem.