The term "hara-kiri" entered Singapore's political lexicon after the Minister for National Development, Khaw Boon Wan, made reference to how the CEOs and board of directors in Japan will commit hara-kiri, a form of Japanese honour suicide, when the company makes mistakes in the good old days. He was commenting in the context of the Workers Party (WP) team's handling of the Aljunied-Hougang-Punggol East Town Council (AHPETC) saga.
Today is day 3 of campaign for GE2015. Let's take a look at some of the five worst faux pas worthy of hara-kiri so far:
1. NSP's Cheo Chai Chen insulting all mothers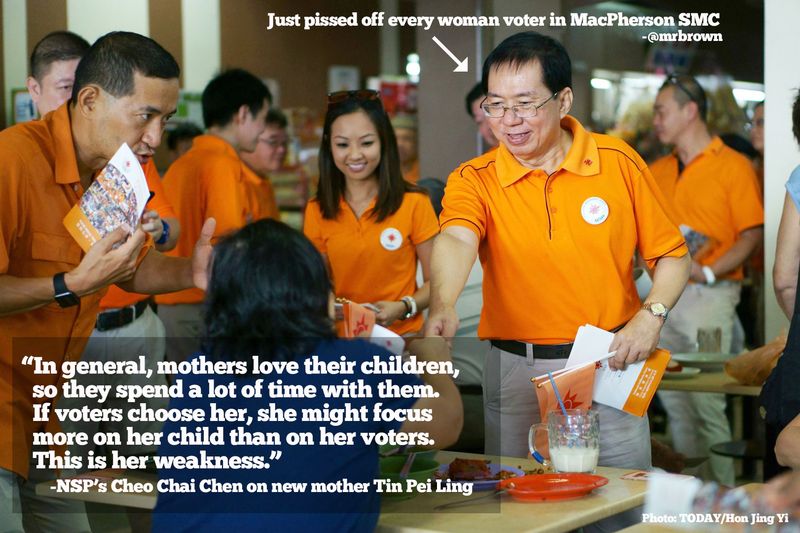 Cheo, 64, is contesting against the People's Action Party (PAP)'s Tin Pei Ling and the Workers' Party's (WP) Bernard Chen in Macpherson SMC.
In an interview with Today, Cheo has this to say about his female opponent: "The PAP's Tin Pei Ling has been working very hard. But she has just given birth, so voters should let her go home and rest, and take care of her child. In general, mothers love their children, so they spend a lot of time with them. If voters choose her, she might focus more on her child than on her voters. This is her weakness."
Seriously?
In one sweeping statement, this sexist dinosaur just insulted all mothers in Singapore, especially working mums, not to mention the sons and daughters of all mothers. One of his party's own candidate for Sembawang GRC, Kevryn Lim, is a single mother. Is Cheo telling people not to vote for her too?
After all the backlash, Cheo now claims he was just joking. Dude, I am sorry to say this, your single faux pas just rendered you as an invalid for this election. You just lost all female votes. Be prepared to lose your deposit.
2. M Ravi asking voters to vote for PAP 
No, M Ravi is not a PAP candidate. He is wearing yellow and contesting under the Reform Party in Ang Mo Kio GRC against Lee Hsien Loong's PAP team.
3. Jesse Loo asking voters to vote for WP
No, Jesse Loo is not a WP candiate. He is also wearing yellow like his teammate, M Ravi. They are both contesting under the Reform Party in Ang Mo Kio GRC against Lee Hsien Loong's PAP team. The team seems rather confused as to which party they belong to.
4. Samir Salim Neji on Kampong Bukit Batok
Neji, 45, is a new citizen from India who is contesting as an independent candidate against PAP's David Ong and Singapore Democratic Party (SDP)'s Sadasivam Veriyah.
In an interview with The Online Citizen, Neji shared this: "I stay in Telok Blangah, not in Bukit Batok, I have a lot of friends there for the last couple of years. I have been frequenting there very often so I know the neighbourhood, and that's the reason why I picked Bukit Batok. It looks like a second-gen city of Singapore. I love the kampong nature but we can add more parks and a better-looking living environment for the people there."
Wait. Kampong nature?
Singapore still have Kampong? I thought the PAP said they already brought the country from third world to first?
5. PAP's Chee Hong Tat is"pattern more than badminton"
Okay, technically, this guy didn't really say anything to qualify as a faux pas but his actions are even worse.
First, he made rude gestures and beat his chest like Tarzan at supporters and opponents alike: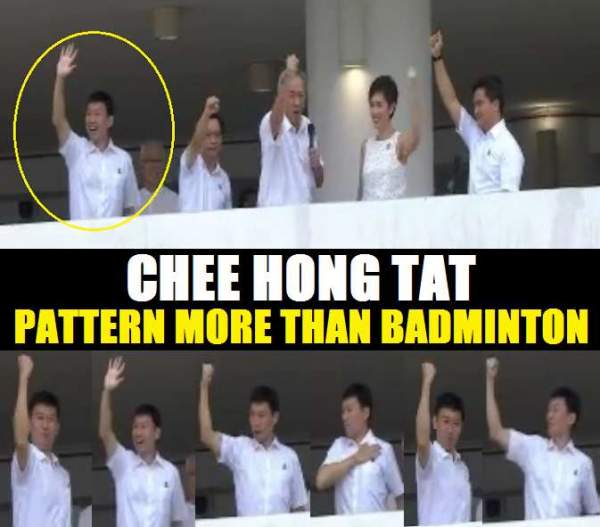 Next, he attempted to snatch a microphone from his own running mate. Well done, you just won a best Oscars for GE2015 for your diverse range of dramatic performances!
There are still 7 more days of campaigning left. Expect more faux pas. In politics, some time when you are not too intelligent, maybe it is better to say less and do more.