When it comes to ramen, restaurants serving the famed Japanese noodle dish are dime a dozen in Singapore. In Singapore's burgeoning culinary scene, do we have space for yet another ramen restaurant?
The answer is yes, according to Takuma Inoue, founder and CEO of Takumen. Established in 2010, Takumen is a popular online ramen delivery store in Japan. It features over 100 varieties of traditional ramen from well-known ramen houses across Japan, and delivers these ramen right to the doorsteps of their customers in Japan.
Now, Inoue has chosen to open the first-ever brick-and-mortar Takumen shop not in Japan, but surprise, surprise, in Singapore instead. Explaining why he has chosen Singapore, Inoue said: "Having experienced various types of ramen in Asia, we found that the taste of ramen in Singapore is closest to that of the authentic ramen in Japan." He added that Singaporeans tend to have a more discerning palate and hold a greater appreciation for Japanese culture and cuisine.
Takumen in Singapore will not showcase all the varieties available in Japan. Instead, Inoue has chosen only six out of the 100 over ramen brands to be presented at Takumen Singapore. Perhaps that is a good thing; I cannot imagine looking at a menu with 100 over options for me to choose from.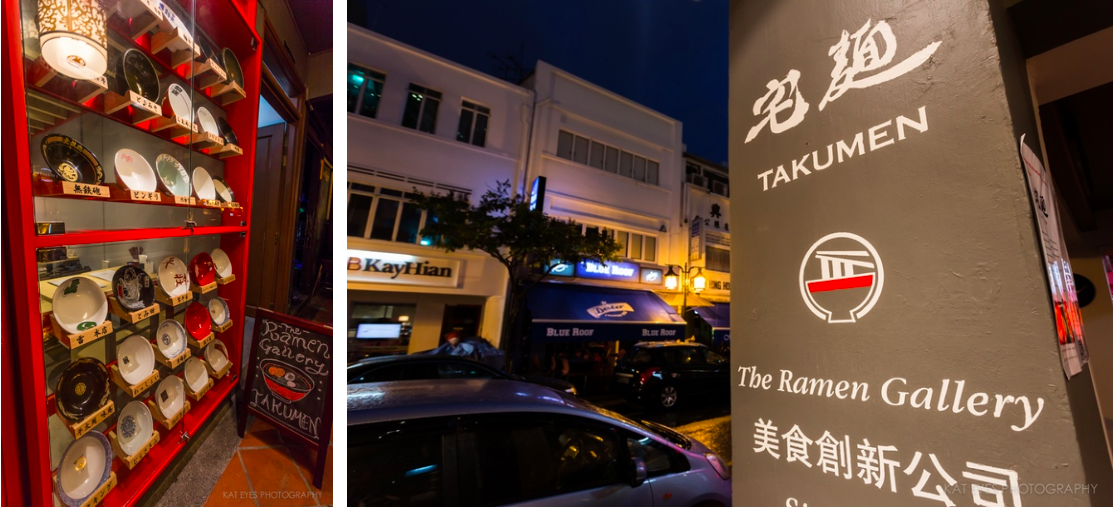 Located in the heart of the CBD area, Takumen at Circular Road has only 30 seats and is pretty understated in décor. When I was there for a media tasting session, there were several Japanese diners dining in the cosy restaurant. Now I might be wrong, but usually the presence of Japanese diners is an indication of good and authentic Japanese food to me.
Takumen Singapore offers two versions of each ramen on the menu – a Singaporean version and the authentic Japanese version. I was told that in Japan, the ramen broths are usually salty, but to accommodate the palates of health-conscious Singaporeans, Takumen also offers localised versions with less salt and oil.
I had the opportunity to sample four out of the six ramen options available. I could have asked for all six, but I didn't have the stomach for all. For all the versions I tried, I opted for the Japanese version.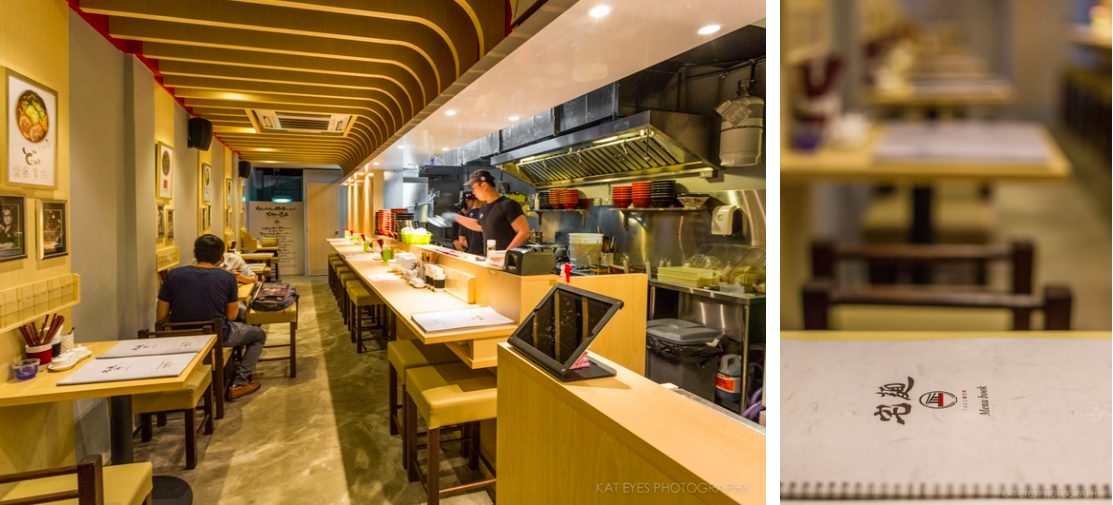 Tori Paitan Ramen from Hajime
The first ramen I tried was the Tori Paitan Ramen (S$14.90++) from Hajime. Mind you, this is no ordinary ramen; it has won the Tokyo Ramen of the Year Award not only once, but twice.
The broth is made by simmering chunks of chicken with vegetables for an arduous eight hours. At the first sip of the clear broth, the first thought that popped into my head was "chicken soup for the soul" – the broth felt like comfort food that warmed me from within. The taste of chicken was pretty strong and distinctive. Although I had the Japanese version of the ramen, I didn't find it salty at all.
The noodles, thicker and flatter than the thin ramen noodles more commonly used in Singapore, were springy. The ramen was paired with chicken breast slices. I usually don't like chicken breast meat as I find them tough, but surprisingly the chicken slices turned out to be pretty tender.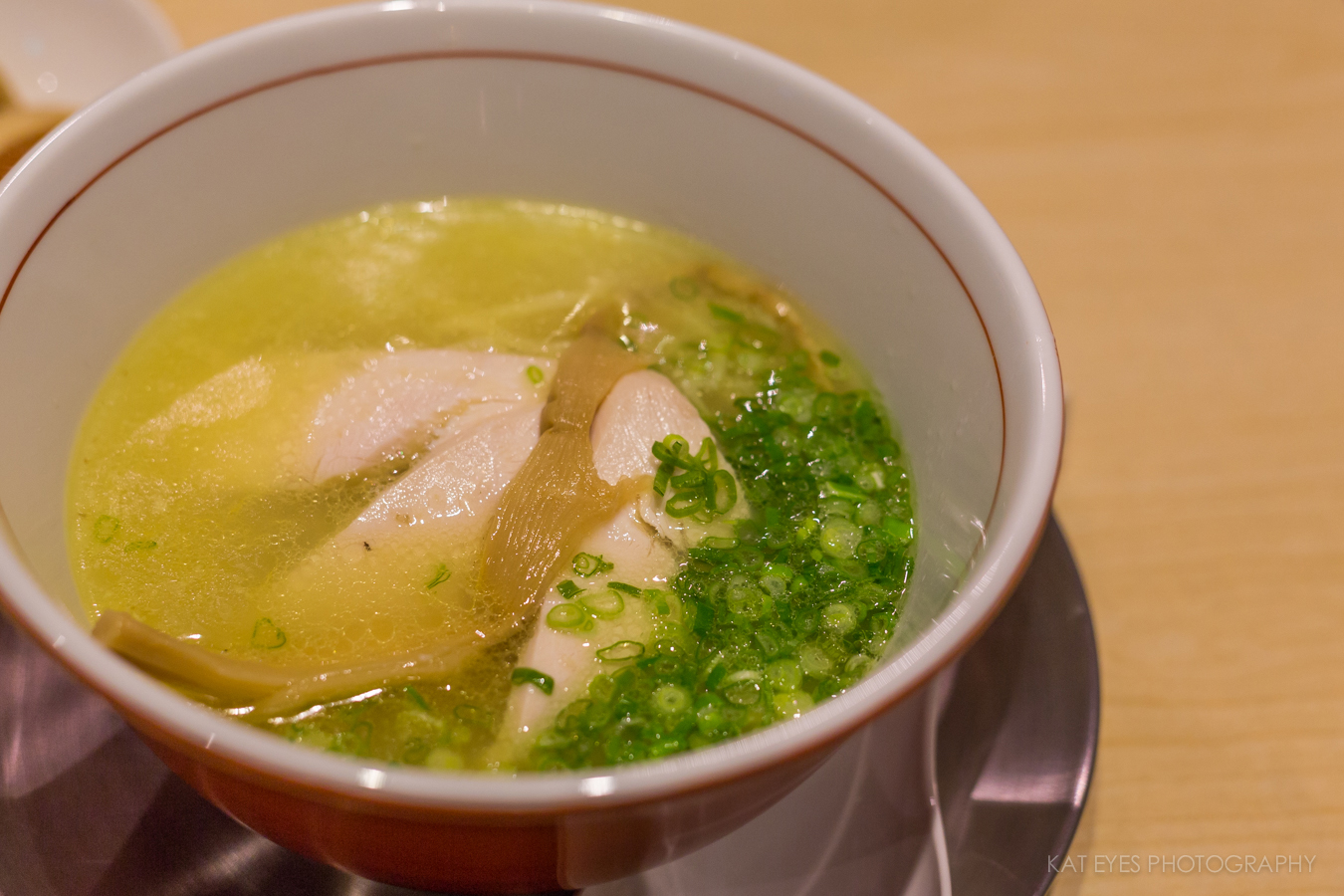 Ramen Kurume from Honda Shoten
The Ramen Kurume (S$15.90++) is essentially a tonkotsu ramen, which Singaporeans would be more familiar with. Served up by the House of Honda Shoten, this is an authentic version of the rich, savoury ramen from Kurume, where the first tonkotsu ramen originated.
The broth is prepared using only selected tonkotsu (pork bone) cooked over extremely high heat, resulting in a robust flavour. The rich broth was accompanied by chewy noodles, black fungus and decadent fatty slices of pork cha su. One small gripe I have was the ginger taste in the broth, but that's because I personally don't fancy ginger. Other than that, this ramen would be a safe bet for the less adventurous ramen eaters.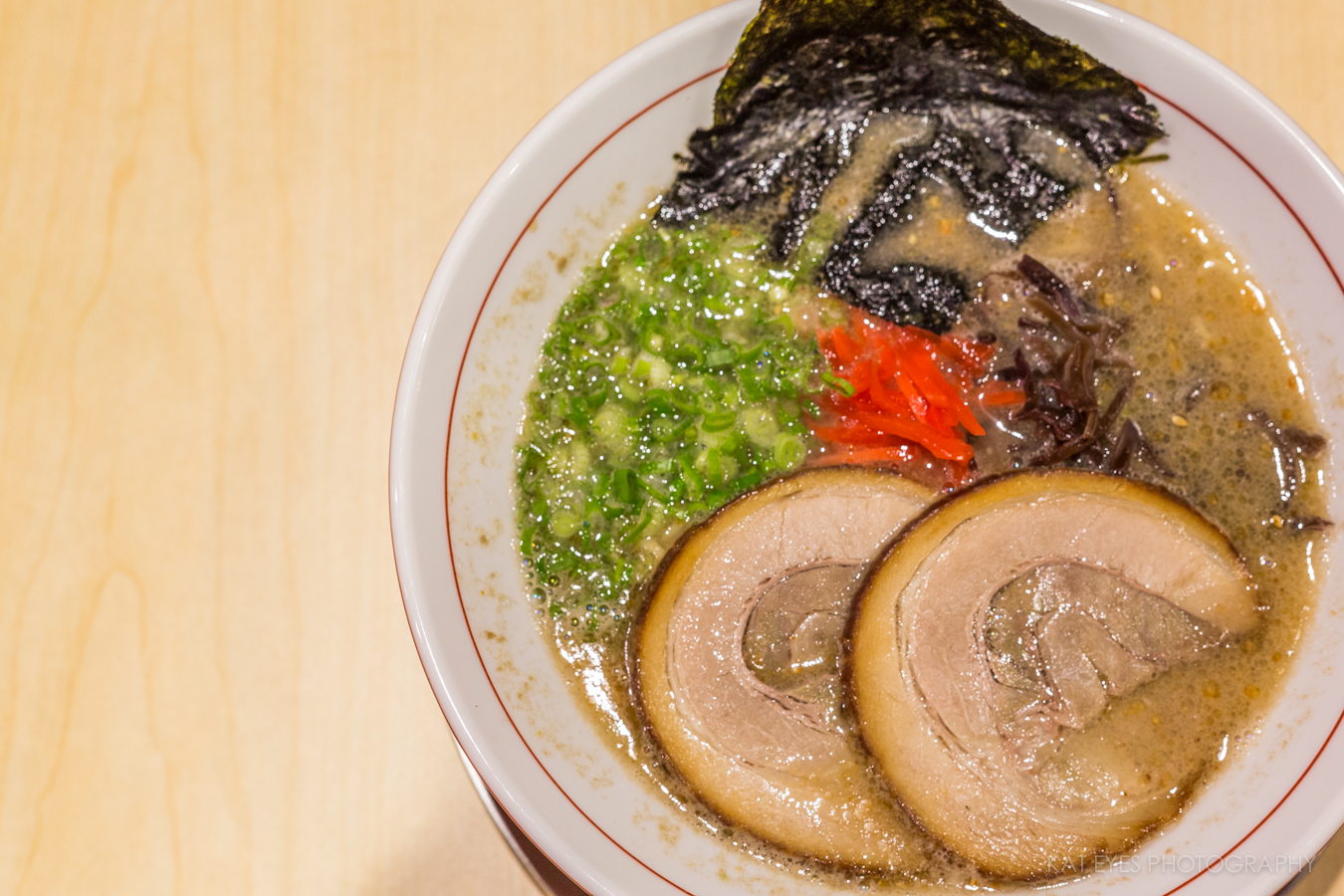 Yohohama Iekei Ramen from Sakutaya
The Yokohama Iekei Ramen (S$16.90++) was my favourite of all. It is a creation by Sakutaya, which is run by an alumnus restaurant of the famous Yokohama-based restaurant Rokkakuya. Sakutaya had taken 15 years to perfect the broth; the recipe ingredients comprise pork bones, marrow, chiyu (chicken oil) and a secret sauce.
The broth won me over with its thick consistency and intense taste. The cha su seemed to be less flavourful than the ones used for Ramen Kurume, but that was not a major issue for me. Paired with chewy flat noodles, this ramen was an overall winner in my books for the night.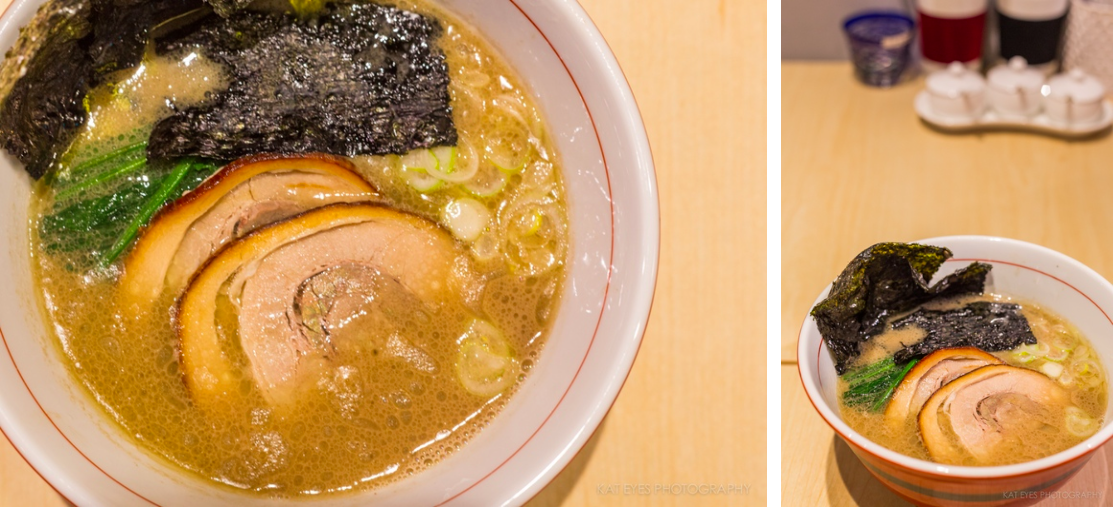 Jiro-inspired Ramen from Chibakara
I ordered the Jiro-inspired Ramen (S$18.90++) for one reason – it comes with the thickest slab of cha su I've ever come across in a ramen dish. The cha su, despite its thickness, was surprisingly tender and not as tough as I had expected it to be.
If you love your greens, you will like this ramen because it comes with generous servings of cabbage and bean sprouts. Unfortunately for me, I don't eat vegetables (yes, not at all). I didn't like the fact that the taste of bean sprouts still lingered strongly in the broth after I've swept all the veggies to one side.
The thick meat broth, coupled with the flat noodles, reminded me of our local dish Lor Mee. It was very rich and a tad too salty to me. The more seasoned ramen eater might appreciate the bold flavour. If like me, you're just a regular Singaporean who isn't a ramen connoisseur, I'd suggest you ask for the Singaporean version for this ramen.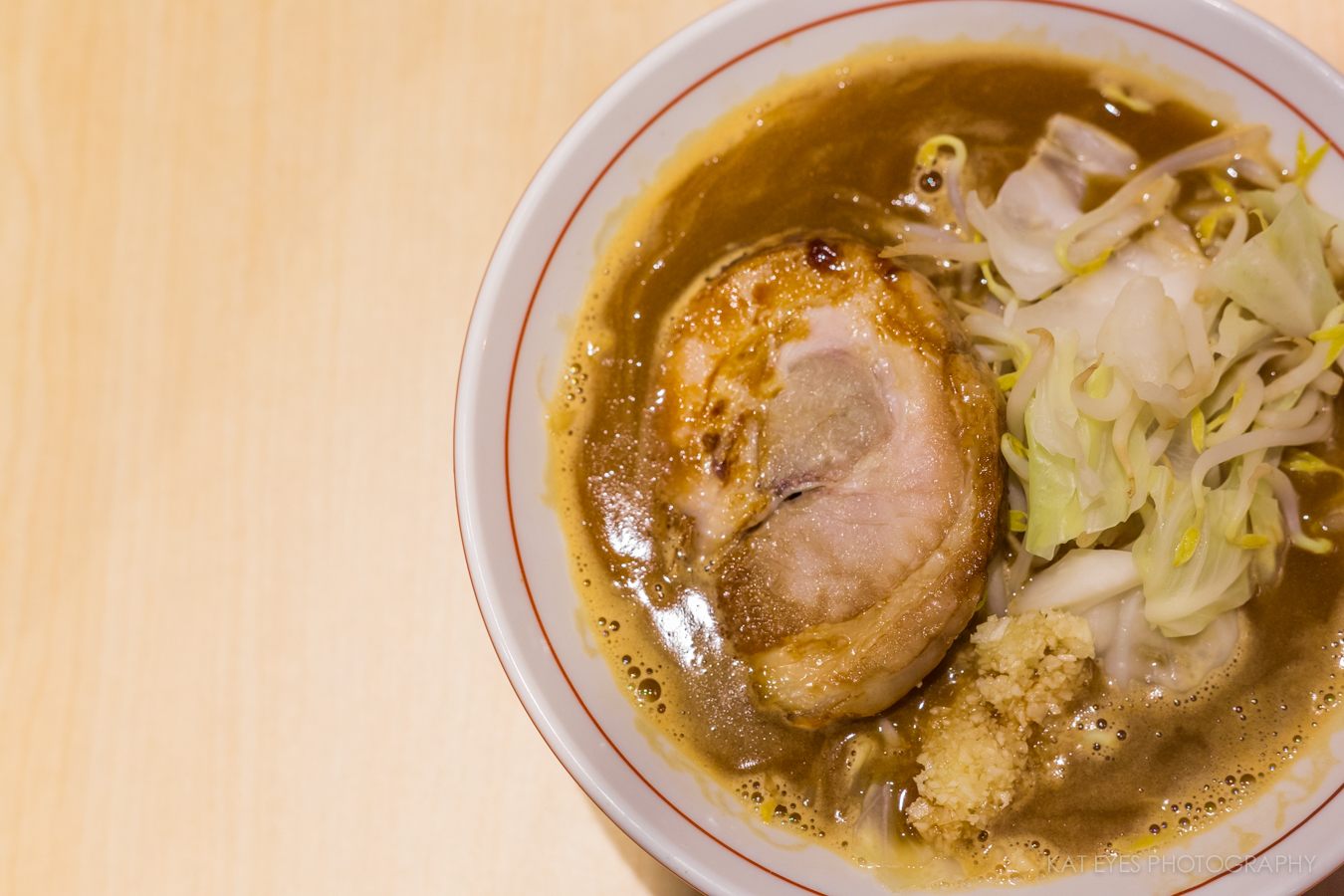 The two ramen dishes which I didn't try were the Bingiri ($19.90++) and the Miso Ramen (S$17.90++). The former is a spicy ramen made with Sichuan chillies and 'Dou Ban Jiang' (broad bean chilli paste). I don't take chilli and thus did not opt for this. While I did not order the Miso Ramen, I asked to sample the broth, which I found to be pretty interesting. Featuring a blend of five miso types, the slightly spicy broth has many bits of pork fat and a lot of sesame seeds.
Each of the ramen is unique in its own way. Even with just six varieties of ramen and not the 100 over found in Japan, I am pretty sure you will find one to your liking at Takumen.
Takumen
66 Circular Road
#01-­‐01
Singapore 049420
Tel: +65 6536 4875
Opening hours:
Mon – Thurs: 11:30 am to 3:00pm, 5:30 pm to 10:30 pm
Fri: 11:30 am to 3:00 pm, 5:30pm to midnight
Sat: 5:30 pm to midnight
Sun: 11:30 am to 3:00 pm
*Public holidays: 11:30 am to 3:00 pm
*****
ABOUT THE WRITER

A wordsmith by trade and photographer at heart, Kat leaves her footprints around the world and tell stories as seen through her eyes, heart and soul.  Follow her travel and culinary journeys on her blog and Instagram. She can be reached at [email protected].
PHOTOS: ALL RIGHTS RESERVED © KAT GOH