"Are you French?" I asked the guest relations girl.
"Oh yes!" she beamed. "How did you know? Was it my accent?"
"No, I guessed that from your name," I replied with a smile as I glanced at the nametag of Margaux.
The French element at Sofitel Bali Nusa Dua Beach Resort extends beyond the French girl who was walking me to my hotel room. I was greeted with "Bonjour" instead of the usual "Good morning/afternoon" by the hotel staff wherever I went.
The rotunda lobby sets the tone for the hotel. A soaring ceiling of timber architecture surmounts the lobby, making a grand statement. Sofitel, being a French luxury hotel chain under Accor, is renowned for bringing a sense of French splendour at its hotels. The design of Sofitel Bali Nusa Dua manages to combine French elegance with Balinese exotica beautifully. At the opposite end of the entrance is a sprawling view of the spectacular resort, overlooking the Indian Ocean.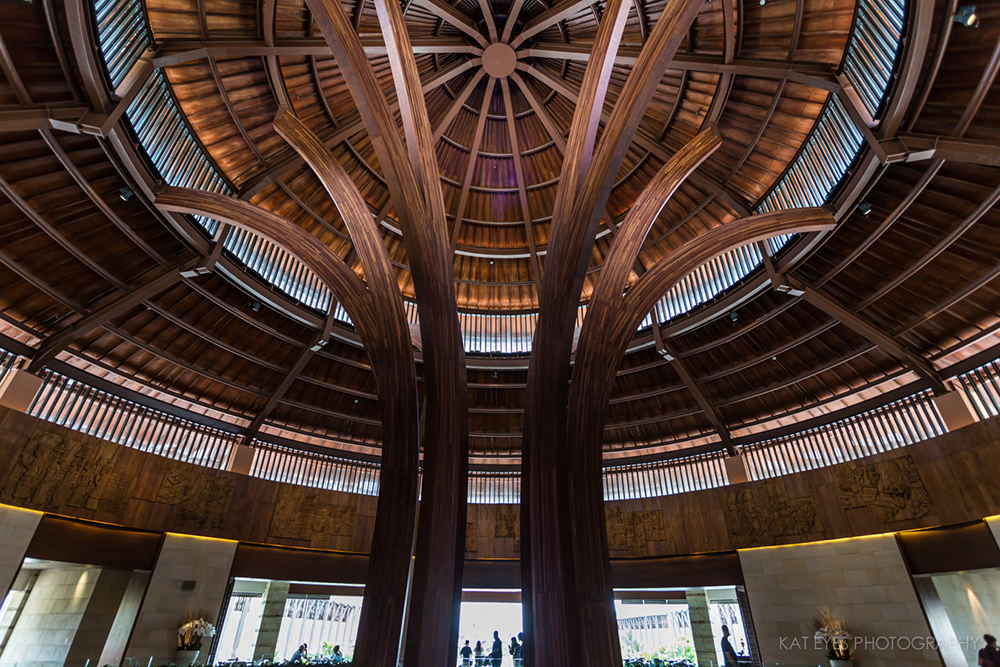 Located at the exclusive enclave of Nusa Dua (where all the high-end hotels in Bali are found), Sofitel Bali Nusa Dua features 415 rooms and suites, including 17 villas, 22 suites and 376 luxury rooms, each of which comes with plush amenities and high-tech fittings. It is Nusa Dua's only French-heritage-instilled luxury five-star beachfront resort.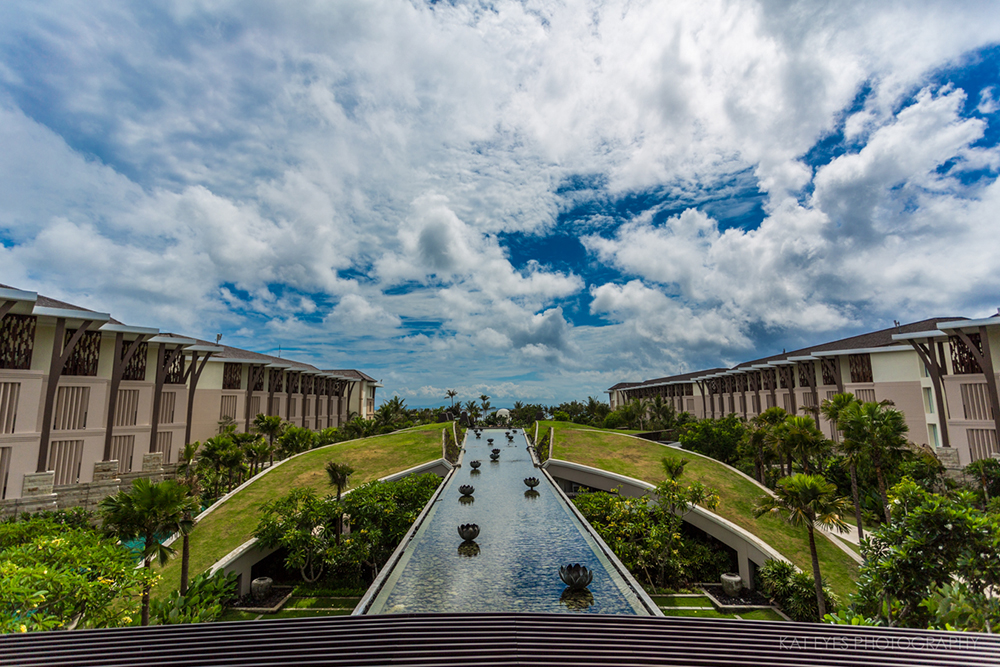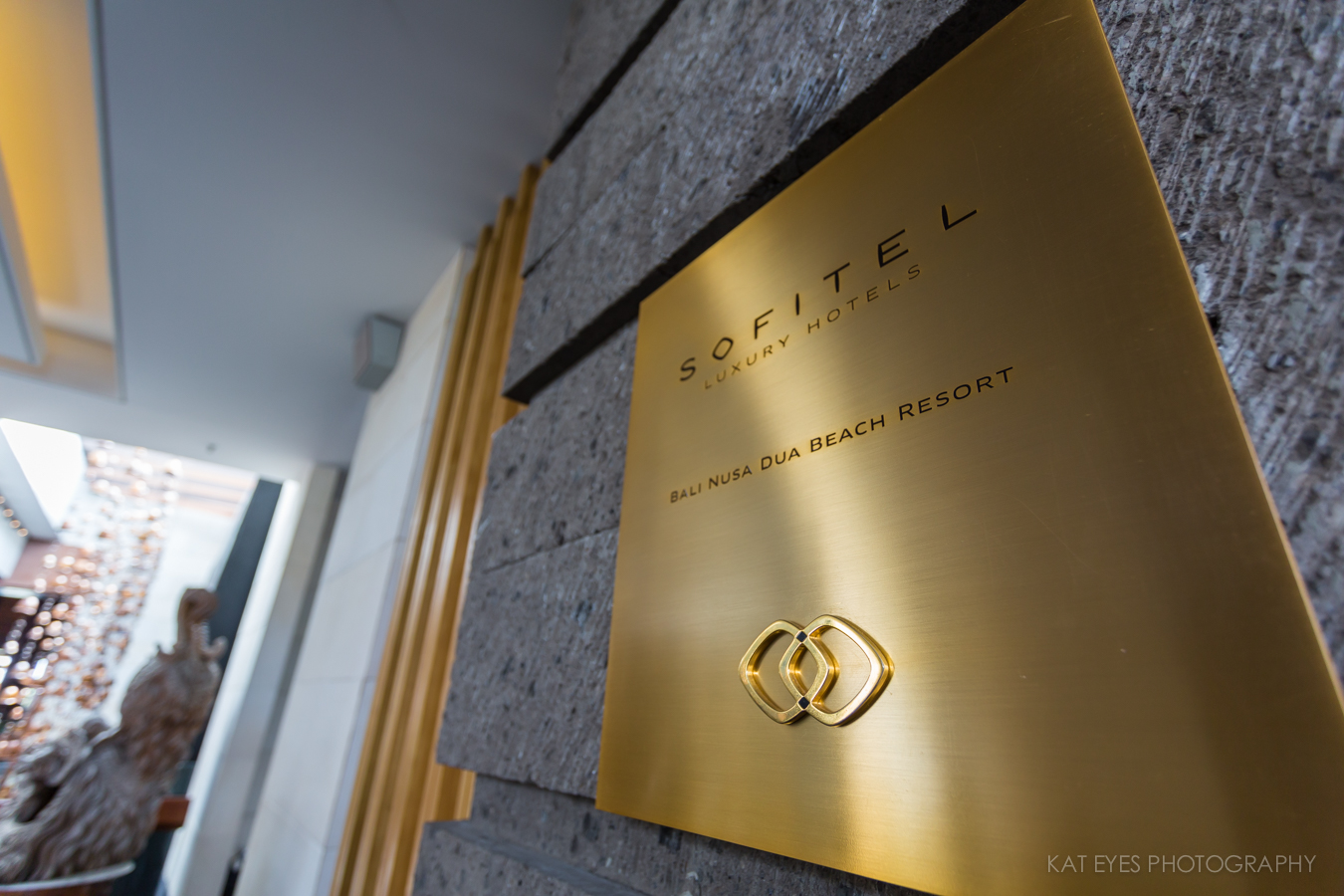 Few hotel rooms have wowed me in all my years of travel, but the moment I stepped into my room at Sofitel Bali, I truly went "oh my God" under my breath. The French-meets-Balinese style-ethos was maintained in the room décor – modern sophisticated furniture pieces were juxtaposed with Balinese-patterned fixtures such as the sliding bathroom door. It was luxurious without coming across as being overly opulent.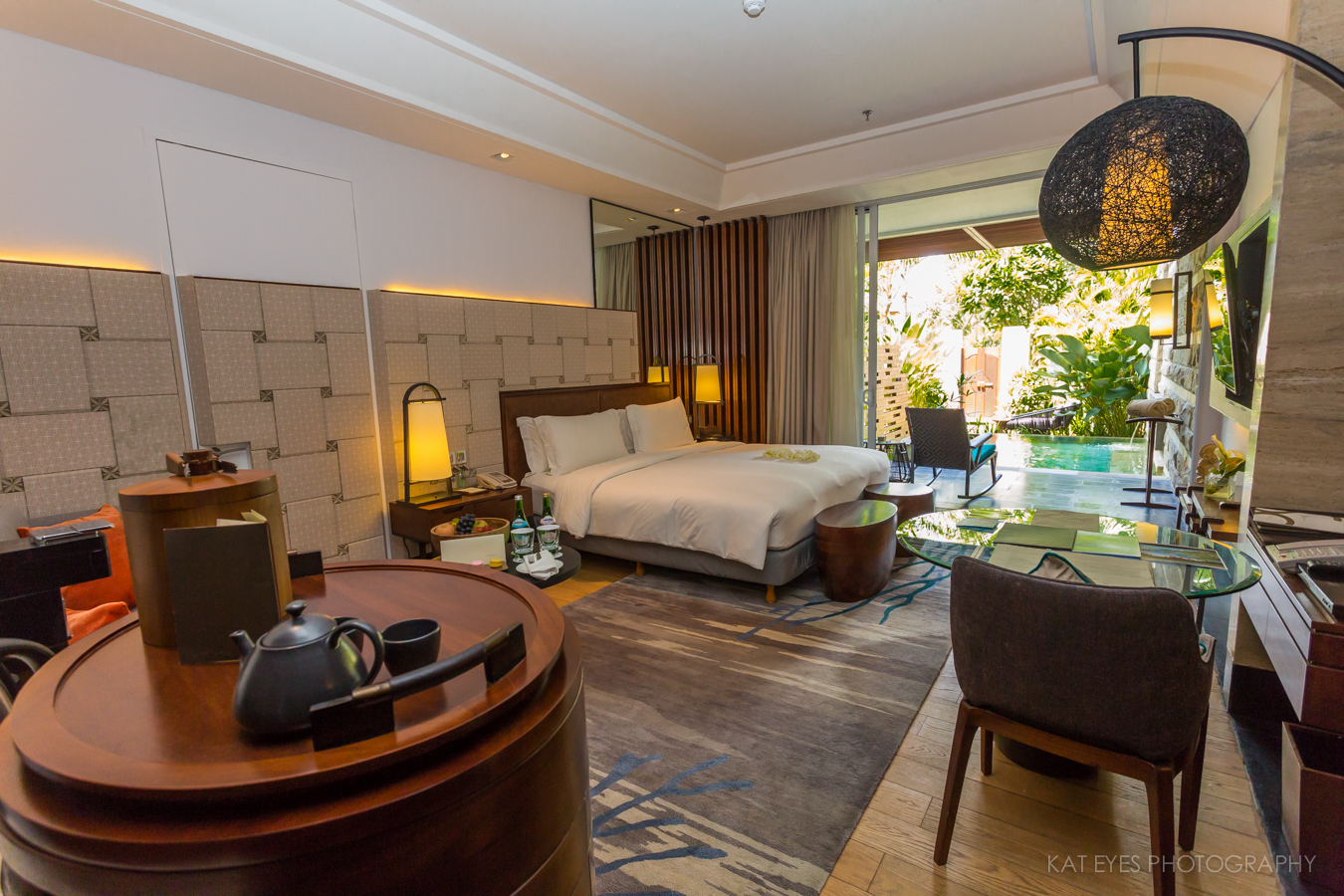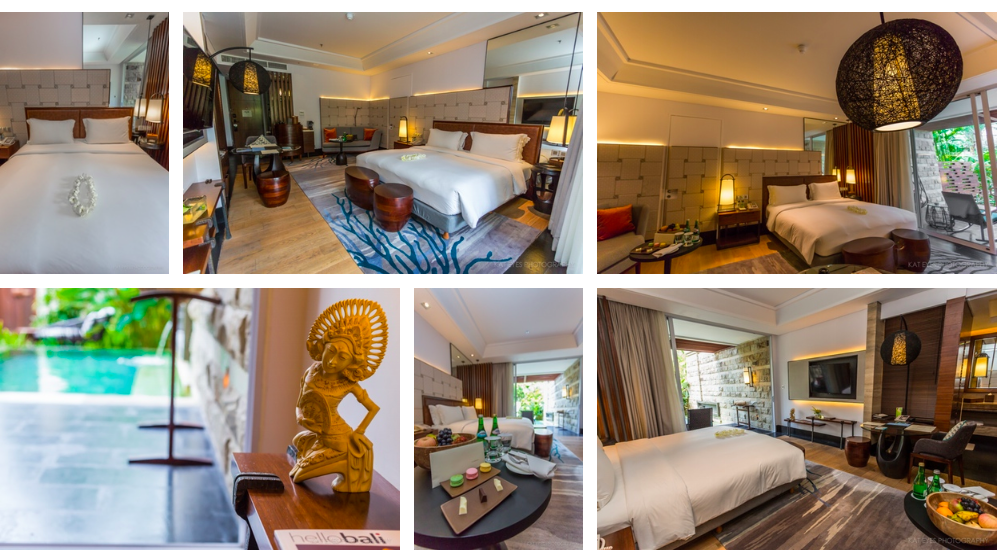 The immaculate attention to detail was evident even in the bathroom. A standalone bathtub stood out, with toiletries from Hermès Parfums on a wooden plank placed across the tub. Additional personal care items were placed discreetly in an exquisite wooden box. Plush bathrobes hung on the wall just next to the separate shower, were soft to the touch.

What won me over were the private terrace and the plunge pool. The hotel has other rooms that come with direct access from the room balcony to the lagoon pool and L'OH pool bar. Those rooms are apparently more popular with hotel guests. However, I was perfectly pleased with my private pool, being a person who values my privacy.
The minute I stepped onto the terrace from my room, it felt like I was transported into another world. The bamboo furniture and the greenery added a resort feel. Water gently cascaded into the pool from a water feature, creating a soothing melody that drowned out the outside world. As I took a dip in the pool, I couldn't help but feel relaxed. It was my own private Xanadu.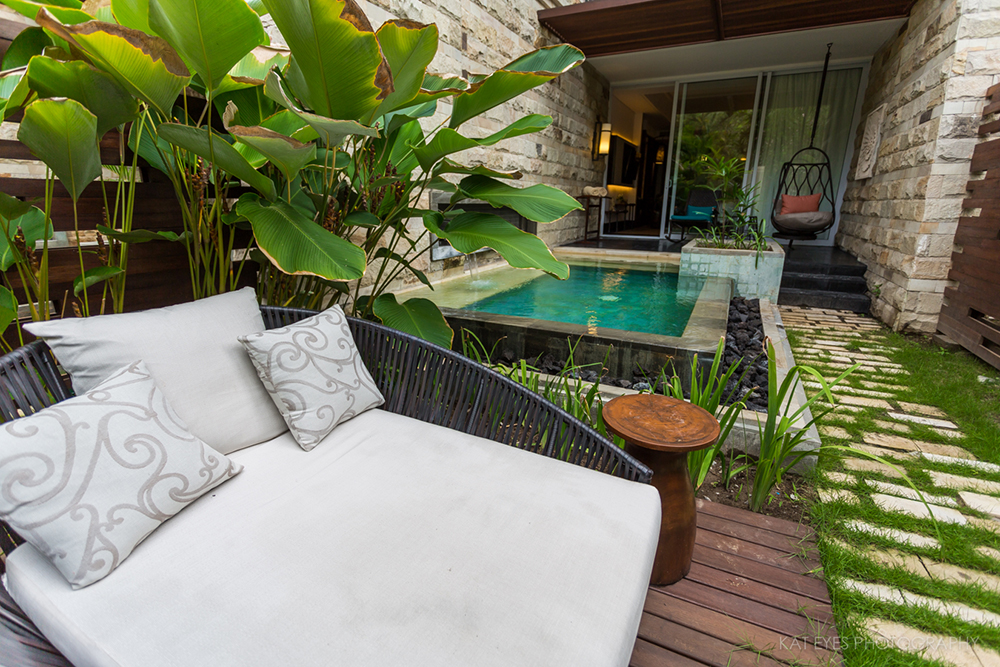 My room came with Club Millésime benefits, which means I got to enjoy Club benefits such as breakfasts, all-day refreshments, afternoon tea and evening cocktails at the dual-storey lounge within the hotel, along with the use of a private pool, library and business centre. Despite all these offerings, I only managed to visit the club lounge once because I was spending more time at the two quality restaurants within Sofitel Bali – KWEE ZEEN and Cut Catch Cucina.
KWEE ZEEN offers a Pan Asian menu with a food-market dining concept. There are different food stations spread across the sizeable restaurant, each highlighting a specific cuisine from Chinese dim sum to Japanese sushi to Indonesian favourites. I particularly loved the dessert area, which reminded me of a French patisserie, with its display of cakes and the scent of fresh pastries and breads. During breakfast, the chiller would be filled with yoghurt nicely packed in glass bottles instead of the usual plastic cups. (Yes, I am a sucker for packaging.)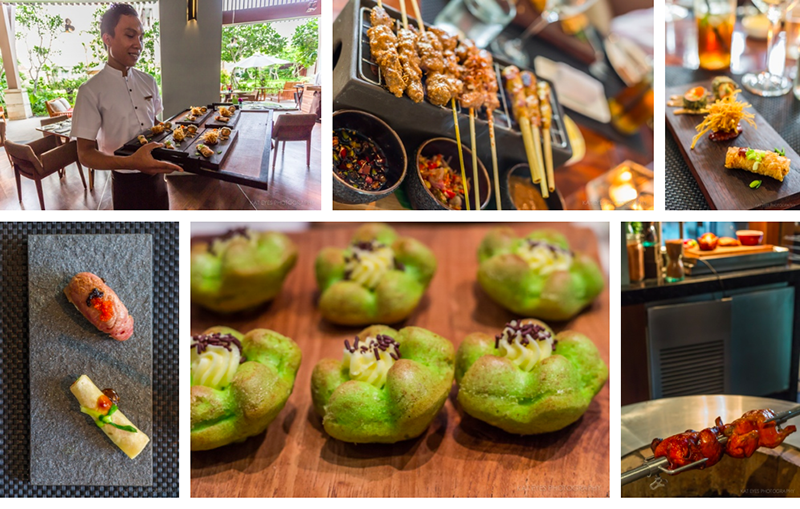 Cut Catch Cucina is a restaurant that caters to the more sophisticated palate. It boasts a steakhouse (Cut), a Sea Grill (Catch) and an Italian Osteria (Cucina) all under one roof. This is also the place where one of Bali's most fabulous brunches takes place every Saturday and Sunday. (Sofitel Bali's brunch was named one of the top 10 hotel brunches in the world in Condé Nast Traveler magazine.) Every weekend, the restaurant is packed to the brim with a lively atmosphere of scents, sights and sounds. The brunch menu offers both a buffet spread and a la carte items including foie gras, lobster and mixed grill, just to name a few. Hand to my heart, it was honestly one of the best Sunday brunch buffets I've ever had.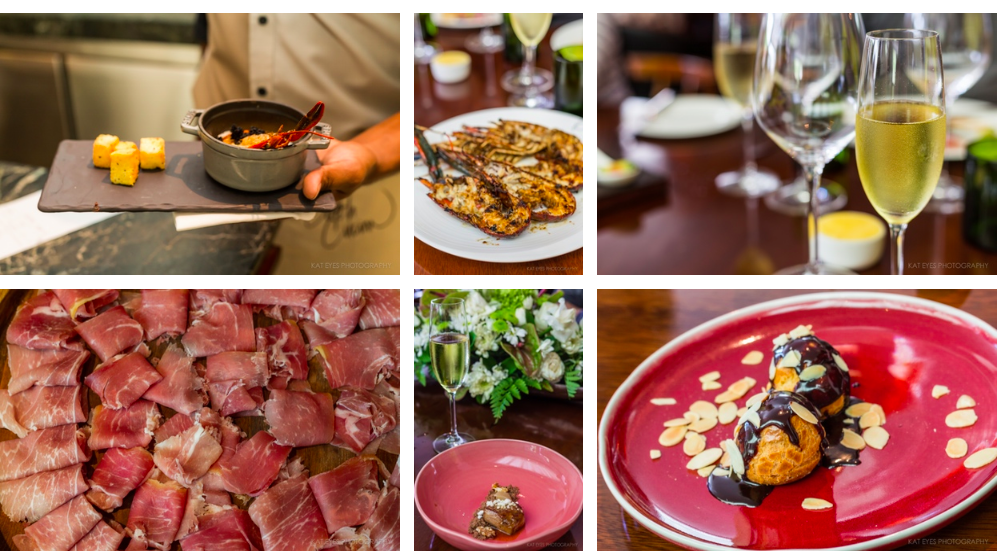 After my culinary indulgence at the Sunday Brunch, I headed off to So SPA for my spa treatment. No one does luxury better than the French. The spa is a picture of understated grandeur with its intricate floor-to-ceiling white partitions and adjoining indoor water feature. To pamper you from head to toe, the wellness sanctuary offers a wide array of treatments, such as massages, herbal baths, facials, body wraps etc. For more than 90 minutes, I basked in pure, unadulterated bliss in the form of a Balinese Boreh scrub and a Balinese Healing Massage.
Life is indeed magnifique at Sofitel Bali Nusa Dua.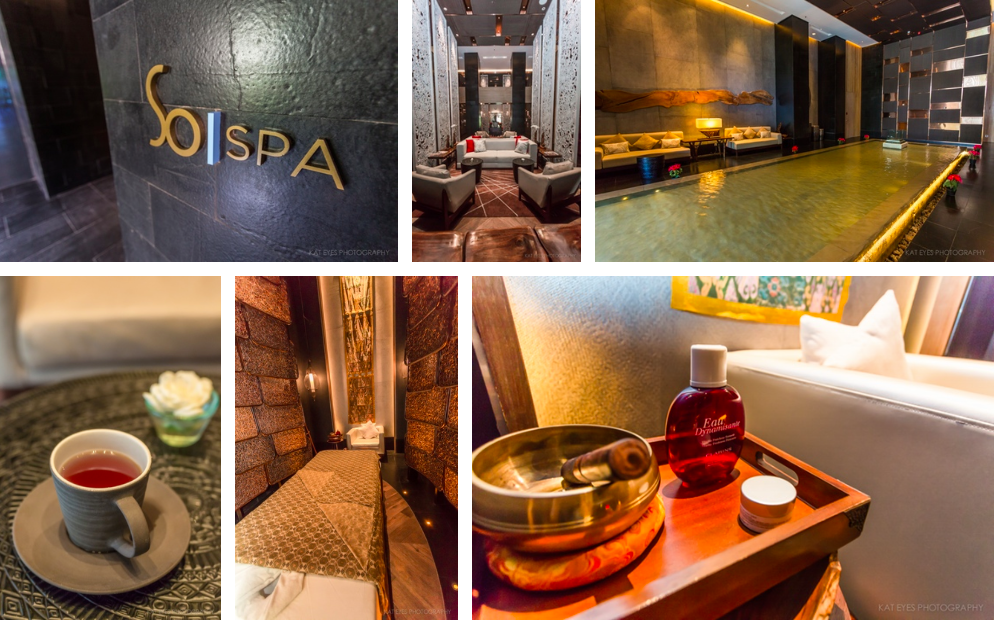 Sofitel Bali Nusa Dua Beach Resort
Kawasan Pariwisata BTDC
Lot N5, Nusa Dua
Bali 80363 Indonesia
Tel: +62 361 849 2888
Email: [email protected]      
www.sofitel.com 
 *****
ABOUT THE WRITER

A wordsmith by trade and photographer at heart, Kat leaves her footprints around the world and tell stories as seen through her eyes, heart and soul.  She can be reached at [email protected].
PHOTOS: ALL RIGHTS RESERVED © KAT GOH