O'Divino @ Sunshine Plaza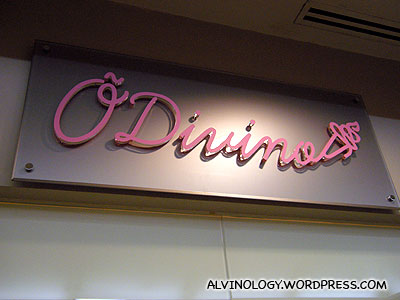 Rachel and I accidentally  chanced on this wonderful little traditional handmade gelato cafe in Sunshine Plaza. The boy who served us looks really young, probably no more than 16, but went about doing his job very seriously and professionally.
We ordered a double scoop, Ferro Rocher and Toffee flavour with Mars bar mixed-in. It's good! Not too pricey also compared to other gourmet ice cream cafes.
Since Sunshine Plaza is near to The Cathay which is where Rachel and I like to go for our movies, we will definitely visit O'Divino again. 🙂
More details on O'Divino –
Operating Hours:
11am – 8.30pm
Address:
91 Bencoolen Street
#01-54 Sunshine Plaza
Tel: 6337 7148
Technorati Tags: sunshine plaza, sunshine plaza singapore, singapore home-made gelato, singapore traditional gelato, o'divino, o'divino at sunshine plaza, singapore gelato cafe, gourmet ice cream, the cathay, singapore ice cream