The Foie Gras Assembly Line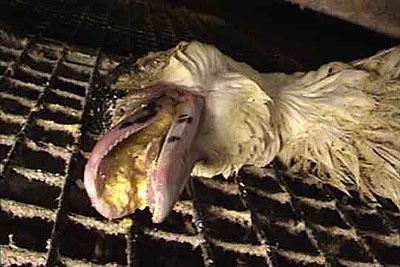 Via Wikipedia, foie gras (French for "fat liver") is an expensive food product made of the liver of a duck or goose that has been specially fattened. This fattening is typically achieved through gavage (force-feeding) corn.
The gavage process is quite cruel in my view – judging from the secretly recorded video below (WARNING: Please do not watch if you animal cruelty affects you):
[youtube url="http://www.youtube.com/v/8IWN8UGDyC0&hl=en&fs=1″]
The video is said to be recorded inside Elevages Perigord, Canada's largest foie gras producer. Even if I were to ignore the animal cruelty aspect, I am quite stunned by the amount of wastage that goes into foie gras production; with ducklings and grown ducks alike being killed and wasted by the bin-loads daily.
I have only eaten foie gras twice in my life to date. From now on, I will not be eating it any more.
Technorati Tags: Elevages Perigord, foie gras, canada foie gras, the foie gras assembly line, fat liver, dead duck, donald duck, overfeeding, force-feeding, animal cruelty, farm cruelty, gavage, gavage feeding, gavage process, foie gras production, foie gras farm