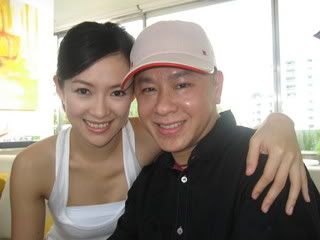 David Gan is an acknowledged veteran in Singapore's fashion industry, and owner of Passion Salon. He caters to the créme de la créme of the fashionable, counting many local celebrities and personalities as not only his clients, but his friends. Many a rising or even established star has trusted David with not just their hair, but their whole image.
Recently, David started his first personal blog on omy.sg.
Quite surprising as David had admitted before he is totally illiterate – he can't read and write, not even in Chinese.
Here's how he describe his blogs, in a video:
我的blog将会和大家分享我和艺人们合作的点滴,我和艺人的关系是很密切的。我会和大家分享这些日子来我在做些什么,和哪些艺人合作,她们的小秘密、我和她们的小秘密等等。

我很期待在这里和大家交流。我觉得网站是比较亲切的,比报纸来得亲切,可能记者访问后,有很多照片都无法刊登,在这里,我会和大家分享,让你们更深一层了解David Gan。
敬请大家期待啰。
Don't really know what he's saying, but the very idea of David Gan writing a blog does seem very interesting. I will make it one of my regular reads. 🙂
Technorati Tags: david gan, passion salon, david gan's blog, omy.sg, singapore, famous hair stylist, zhang ziyi, zoe tay, fann wong