If you are tired of the usual Christmas fares, consider these Peranakan cuisine inspired Christmas delivery meal options from Chilli Api, the events catering arm of The Chilli Padi Group.
The Chilli Padi Group is an established Peranakan cuisine food services company in Singapore, tracing its origins to 1997 with the opening of Chilli Padi Nonya Restaurant in the Tiong Bahru residential district. From those modest beginnings, Chilli Padi's operations have grown to include events catering (Chilli Api Catering), cafeteria management (Chilli Padi Nonya Catering) and dine-in restaurants (Chilli Padi Nonya Restaurant and Chilli Padi Nonya Café). The group was later acquired by ABR Holdings, the owner and operator of Swensen's ice cream restaurants in Singapore.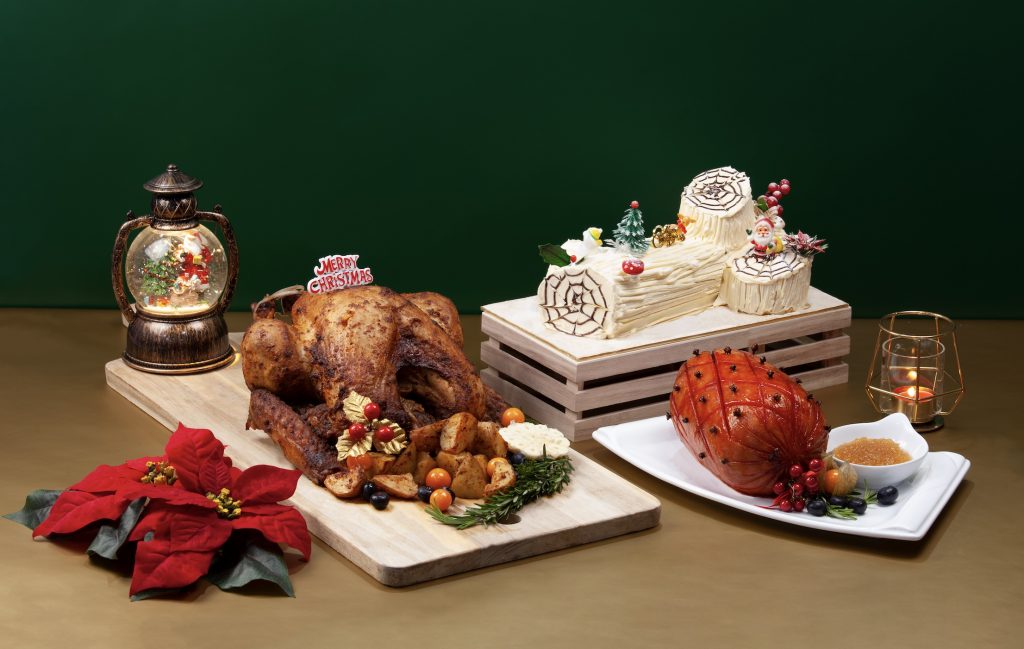 Highlights from Chilli Api's Christmas catering menu include their Traditional Roast Turkey With Chestnut Stuffing ($108), a Tree-rific Kueh Salat Ice Cream Log Cake ($58), and an IMPOSSIBLE Buah Keluak Brioche-Bun Slider Platter ($50.80).
Chilli Api's festive offerings are now available till 2 January 2022. Orders can be made via email ([email protected]), their catering hotline (+65 6247 9531), or their website. Note that all orders must be placed at least 2 working days in advance. Delivery fees of $20 or $25 apply depending on your postal code.

Ranging from $168 to $388, there are four Party Sets available with each set containing 6 or 8 courses.

For merrymakers craving festive staples, Yuletide Delights ($188 | serves 5 to 7 pax) and Holly Jolly Christmas Feast ($388 | serves 10 to 12 pax) feature tasty twists on classic roasts and comforting side dishes. Highlights include their fragrant Smoky Cajun Whole Roast Chicken and an indulgent Shepherd's Pie brimming with buttery mashed potatoes and plant-based beef mince, topped off with a creamy three-cheese crust oven baked until golden brown.
We tried the Shepherd's Pie and the kids absolutely love it, giving it two thumbs up. Although this is a meatless dish, it did not taste like we were missing out on the flavours.

For those with a taste for refined Nonya flavours, Modern Peranakan Delights ($168 | serves 5 to 7 pax) and Traditional Peranakan Feast ($278 | serves 8 to 10 pax) feature gems such as the piquant Pan-Seared Prawns With Tamarind Gula Melaka Glaze and moreish Avocado Buah Keluak Fried Rice garnished with chopped bunga kantan (rojak flowers) and kaffir lime leaves. The latter is an interesting modern Peranakan alternative to the usual Christmas carbs.
Free Ice Cream Cake!
In the spirit of giving, Chilli Api is including a complimentary ice cream log cake with every Party Set order. Offer valid whilst stocks last.
The Tree-rific and Nutty Or Nice ice cream log cakes were created as part of a special festive collaboration with Swensen's.

Orders of Traditional Peranakan Feast ($278) and Holly Jolly Christmas Feast ($388) will receive a Tree-rific Kueh Salat Ice Cream Log Cake (1kg | valued at $58) – a log of fragrant kueh salat ice cream with bunga telang (blue pea flower) marbling.

Orders of Yuletide Delights ($188) and Modern Peranakan Delights ($168) will receive a Nutty Or Nice Chocolate Peanut Buttercup Log Cake (500g | valued at $42) – a log of rich, velvety chocolate ice cream mixed with creamy peanut butter. Topped with gold-dusted chocolate balls, chocolate batons and almonds.
Promotion
Party Set orders with a minimum spend of $500 will receive a complimentary Festive Blessings Gift Set valued at $30.80.
To meet the minimum spend, customers may choose from a selection of add-on dishes in their Tok Panjang menu.
Each gift set contains a selection of cookies and sweet treats including Handcrafted Nougats, English Fruit
Cake, and freshly baked Black Forest Charcoal Chocolate Loaf.
Drawing inspiration from Chilli Api's Peranakan roots, the Festive Blessings Gift Set is packaged in an exquisite kebaya (traditional dress of Peranakan ladies) design tingkat. The tingkat, or tiffin carrier, is reusable as a decorative item or for storage of knickknacks.