If you are looking for a work desk to setup your Work From Home (WFH) station, check out the newest addition to Singapore's ergonomic furniture solutions, EverDesk+, an adjustable, standing desks brand from the same founders behind the ErgoTune ergonomic work chairs.
One Dream Desk, For All Your WFH Needs
EverDesk+ was crafted with the intention to create the perfect home workspace. To assist people with both their ergonomic needs and mental clutter, ErgoTune and EverDesk+ hope to be a go-to pair to not only instill healthy postural habits but also champion an ideal work environment.
I really like these visuals the EverDesk+ team shared on how they envision their standing desks can be used for different personas – ranging from content creators to designers to musicians and more.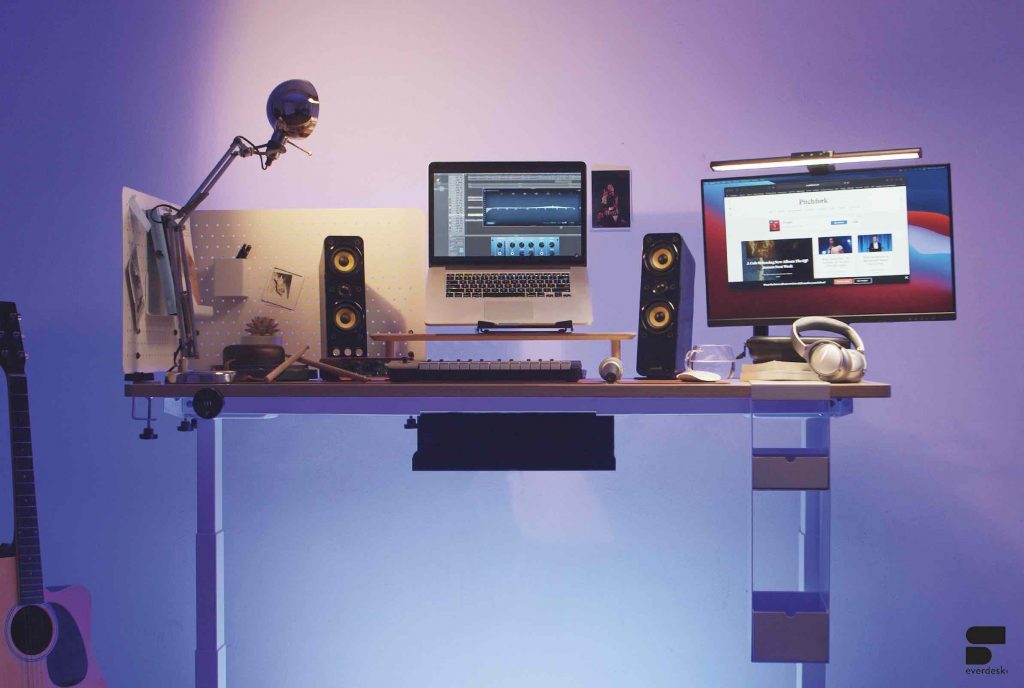 The customisation options are seemingly endless for everyone to curate and assemble your own perfect work station at home or in the office.
The eponymous, height-adjustable, smart standing desks from EverDesk+, are the result of the company's vision to build a dream work desk that keeps users healthy and active even while working, eliminates clutter through integrated cable management, and maximising space through an ecosystem of compatible accessories.
"With hybrid work being the new normal, people are demanding better workspaces at home," shares Damon Lye, Co-founder of EverDesk+.
"We extensively studied what people want from their home workspaces, and arrived at 3 core needs —  a healthier relationship with their desks, less clutter, and more space. EverDesk+ is our answer to these needs. We believe we have created a desk that makes working from home actually enjoyable, and that makes people actually excited about going to their desks."

– Damon Lye, Co-founder of EverDesk+
We got a version of their Natural Wood tabletop series, with a Raw Ashen Oak finish, complete with various add-on accessories ranging from Peg Boards to Monitor Arms to a Hover Lightbar to a UniGroove Cable Stopper and more. This is how our work desk looks like after assembly:
Asher loves his customisable work station from EverDesk+. Kids tend to get restless when doing their homework for some time. With the adjustable height, I can get him to work standing up from time to time to ensure he keeps up with his energy level to be more efficient.
When the accessories and the desk arrives, the unboxing experience is quite fun, setting up everything and personalising them in the manner that make the most sense to your individual quirks.
EverDesk+ Desk Control and Health Coach feature
Seamlessly integrated into the desk control, and the star of the show, is the Health Coach function, a smart feature that nudges users into healthy desk habits by reminding them to sit and stand at preferred intervals.
This is the perfect feature that I use to set reminders for Asher to stand up at regular intervals.
You can set reminders in the time intervals of 15, 30 and 60 minutes. Once the set interval is up, Health Coach emits a gentle vibration to remind the user to adjust the height of the desk, in order to switch between sitting and standing, and encouraging a healthy routine of movement that is proven to improve one's blood circulation and maintain good health, even while working. 
EverDesk+ UniGroove
Mess, clutter, and a lack of space are pressing issues faced by all of us who have had to hastily construct our WFH station.
EverDesk+ tackles this with the integrated UniGroove system, a smart solution for managing cable clutter, that also doubles up as a portal to a range of compatible accessories for optimising desk space. 
Say goodbye to a desk full of stray cables with the cable stopper, which can be slotted into the UniGroove to manage any cable – just plug the cable through the stopper and let it fall neatly below the desk into the cable management tray.
Further adding to its practicality, the UniGroove can also function as an upright phone or tablet holder for easy access and usability without taking up more desk space. 
To help users further maximise their desk functions, EverDesk+ also introduced a number of accessories that magically create more space.
For example, pegboard panels allow users to clip documents, stationeries, and knick-knacks around the desk, without the hassle of drilling a hole into their wall. We found this really useful for decorating the desk with personable items.
A series of modular tabletop shelves that can be secured in place via the UniGroove allows users more surface area to place additional items such as notebooks or plants.
Additionally, users can attach a float monitor arm to prop monitor screens up to the user's ideal height and angle without taking up any precious desk space at all.
For added convenience and comfort, the EverDesk+ adjusts itself to your preferred height at a light rotation of the desk control, and even comes with a child lock function so that they are not subject to uninvited desk movements.
To accompany this, the desk control's memory function also remembers up to 3 desk heights, so you can customise the height that is just right for you every time.
Equipped with a dual-motor system, the desk glides with smooth, swift movements and is able to hold a weight capacity of 120kg.
Built to last, each EverDesk+ part is rigorously tested and meets the specifications of international awarding bodies (including BIFMA, TUV, and E0 emissions) This ensures the quality and durability of the desks, which also come with a 10-year warranty.
We love the seemingly endless possibilities from EverDesk+ to curate and customise a perfect work station, all within a wallet-friendly price. On top of getting just the basic standing desk, do check out their full range of add-ons and accessories too to build your dream desk.
The EverDesk+ ($599-$749) comes in a variety of colours and finishes and is available for orders via the official website.