Downtown East is giving you all the fun you've missed, ramping up this year's Christmas celebrations with three additional attractions. This marks the biggest Christmas Programme yet at Downtown East – from the delightful new life-size gumball installation, Jurassic Dinosaur Adventure Interactive indoor playground, and Xcape Park outdoor playground.
Candy Pop
Can be found at the entrance of E!Avenue, the 4m-tall Candy Pops gumball machine is a quirky installation that features a see-through container that's filled with colourful gumball.
Downtown East has also transformed into a colourful theme park, taking visitors on a whirlwind of rides, games, and interactive adventures.
Jurassic Dinosaur – Adventure Park Interactive Exhibition
Come Christmas Eve, the D'Marquee (indoor dome) will become a primeval forest featuring different species of dinosaurs. Visitors can interact with these creatures which are perfect for Instagram as well.
The indoor playground incorporates a variety of games for children such as the Dinosaur Fossil Cave, Dinosaur Riding Area, Soft Playing Area, Volcano Trampoline, Dinosaur Train, Shooting Game, a 3m-tall Volcano Area and more!
Date: 24 December 2021 – 13 February 2022
Opens: 12 PM – 9:30 PM (Monday-Friday); 10 AM – 9:30 PM (Saturday, Sunday, Eve of Holidays)
Venue: D'Marquee
Ticket: $25 (Monday-Friday); $28 (Saturday, Sunday, Eve of Holidays)
D'Ultimate Xperience Box
Adrenaline can expect rides like the Meteorite, Viking Ship, and Swing Chair, while kids can go on the Waddle Boat and Spinning Tea Cup all at the Begonia Open Air Carpark. There's even a Dino inflatable park that has a 10m-high inflatable water slide and four other giant bouncers.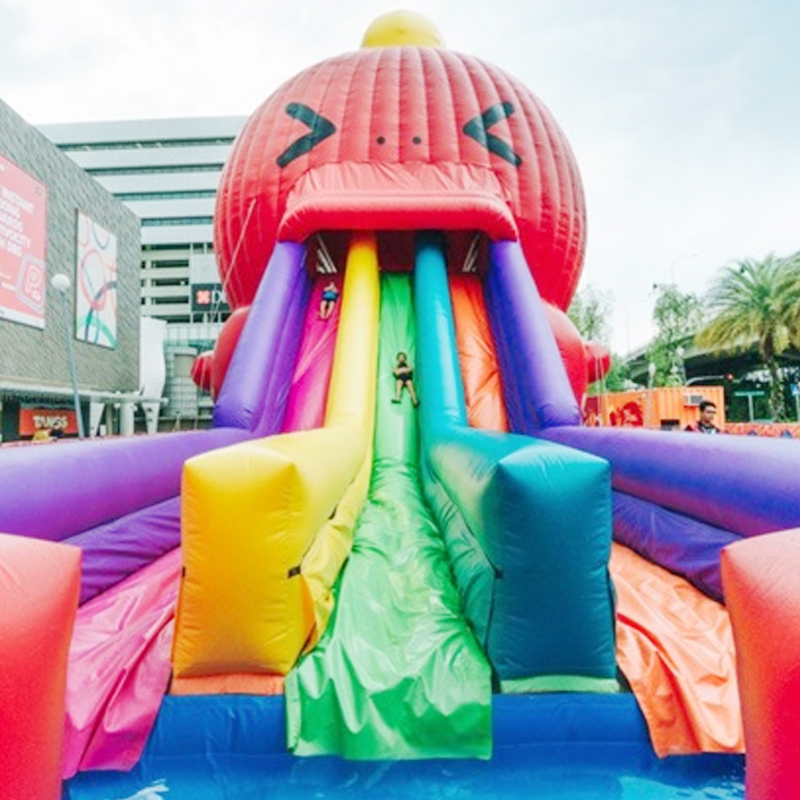 On 6 December, you can get a special 2D1N staycation Special box (worth $366) at only $210. It includes Wild Wild Wet Passes, carnival credits, and more!
Carnival at D'Ultimate Xcape details:
Date: Now till 22 March 2022
Opens: 4:30 PM – 9:30 PM (Monday-Friday); 12 PM – 9:30 PM (Saturday, Sunday, Eve of Holidays)
Venue: Begonia Open-Air CarPark
Ticket: $5 – $10 per ride/games; $8 – $12 for Dino Inflatable Park
Lucky Draw
Rewards Programme Plus! is extending even more treats for visitors from today till 31 December.
Shoppers and diners can win lucky draw prizes such as iPhone 13, SecretLab Chair, and more when they redeem a minimum of 200 LinkPoints on the same day. For those who redeem 1,000 Link Points, they have 3 lucky draw chances.
Spend and Redeem
From now till 25 December, spend a minimum of $30 (NTUC Plus! Members) or $50 (Plus! Members) to redeem a Christmas Wrapper.
For NTUC Plus! Members who spend a minimum of $50 or $70 for Plus! Members, they can redeem a scented candle.