With a variety of attractions and fun activities at Downtown East and after a well-rested night in the comfort of your SHOWroom, wake up energised and ready for ACTION!
All SHOWroom bookings come with two complimentary day passes to the Wild Wild Wet water park.
Capture your unforgettable experience on the 'gram' with D'Ultimate Xcape's two art installations that are photo-worthy at every angle. Be sure to visit them at different times of the day or night for a different perspective each time.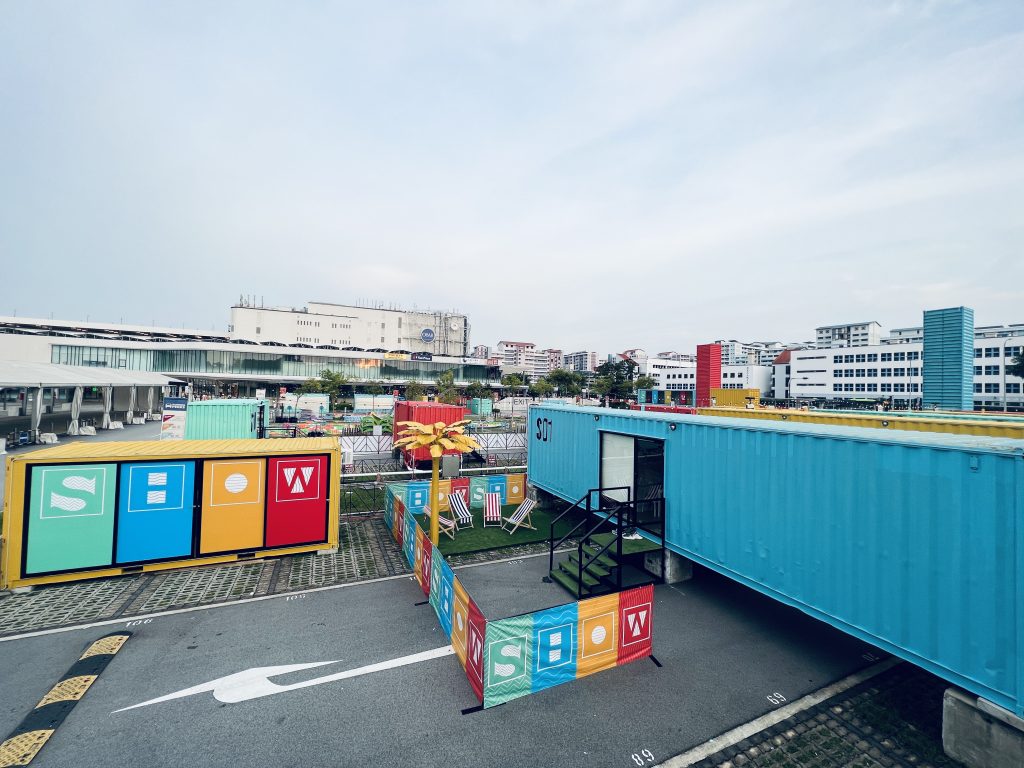 Proudly presented by Ultimate, 'Lumi Towers' shows that creativity knows no boundaries. Check out the awe inspiring four x 40-footer container art installation standing as vertical towers – each over 12 metres high – guarding over the SHOWroom compound. Each tower features its own unique design, bathed in a 'cloud' of neon lights spanning over Lumi Towers and all the SHOWrooms.
A second installation, 'Galleria' by Ultimate X Fara Design Studio, boasts a sustainable art gallery featuring art pieces made by Fara Feng, Art Director of Fara Design Studio.
Book a class with Fara and try your hand at Alcohol Ink Painting, Acrylic Pouring, Art Jamming, Paper Quilling, Punch Needle Embroidery, Resin Ocean Art, and Tapestry.
A deposit of $20 is required for each booking and fees defer according to selected class. Workshops are open to members of the public, but SHOWroom guests will enjoy an exclusive 20% off.
Slots can be booked here. There is also an option to walk-in and book, subject to availability.
The Ultimate SHOWroom Experience
SHOWroom got some high tech upgrades in every room so you'll enjoy your year-end escape in comfort and safety. It promises fresh air with the ECOM MASK 030+ air purifier, the world's first CIO2 patented technology air purifier that's globally compliant and proven to kill 99.9 percent of bacteria. The Moshi Deep Purple UV mobile phone sanitiser can remove bacteria and germs in just four minutes.
What's more, upon check-in, all our guests will also be receiving a SHOW Stay Safe Welcome Kit with:
ECOM Travel Size EA Mask Filter and Bion Spray
A handy EFIL Disinfectant Spray
Holistic Way Chewable Vitamin-C 500mg (Low-Acid)
Allureskin Potions Invisible Defence Sunscreen SPF 50+ PA++++ and 24K Gold Luxurious Mask
Healthier snacks from Shnack
D'Ultimate Xcape – Vacay To The East is available now till 20 March 2022. Bookings can be made here.
Price range starts from $188 per night for 20-footer rooms, and from $248 for 40-footer rooms – subject to room type and booking period.
From now till 31 October 2021, NTUC Members can enjoy an exclusive $30 off room rates and FREE Wild Wild Wet Day Passes (worth up to $140), based on room occupancy.
All bookings are subject to availability.