Sight Lines Entertainment presents the Halloween escape experience of 2021 – Murder at Old Changi Hospital. Written by award-winning playwright Chong Tze Chien, the highly-anticipated sequel finale brings genre-defining interactive escape room gameplay to Singapore's most haunted hospital.
Solve The Mysterious Murder at Old Changi Hospital
Murder at Old Changi Hospital continues Derrick Chew (Executive Producer, Sight Lines Entertainment) and Chong's mission to embrace technology, pioneering their own brand of "media-tainment" combining theatre, film, technology and gaming.
Their virtual escape room experiences – each more extensive than the last – has brought art lovers and new audiences a new brand of digital entertainment.
Audience-participants are drawn into the eerie halls of Changi Hospital, past and present, as Singapore's most talented paranormal investigators. Tasked by fellow paranormal investigator (Bright Ong) to uncover the events leading up to the alleged murder of a young canteen worker, Farah Aiyah (played by Munah Bagharib) and the disappearance of the four Commandos associated with the victim in 1996.
25 years on, distant cries continue to bedevil the abandoned hospital, leaving the mystery to be solved by viewers.
Set within Changi Hospital, viewers will brave the chilling narrative, piecing together physical evidence and puzzles, as well as video footage and flashbacks in 360-degree video format, to solve the cold case.
Along with tech partner The Doodle People, they will bring the suspense through the screens and into homes with AR interactions and immersive Spatial Audio surround sound.
The hunt unfolds in a non-linear format, with its flow completely determined by viewers. No two playthroughs will be the same as the choose-your-own-adventure mechanic allows for freedom of exploration with every choice determining what can and cannot be viewed.
An achievement system within the game is key to solving the case. Only players who have identified all the necessary evidence and identify the culprit within 90 minutes can truly solve the case.
Supporting Singapore's Next Top Talents
A returning cast of veteran actor Erwin Shah Ismail and multidisciplinary performance-maker Bright Ong, is joined by Munah Bagharib and young talents Joshua Lim, Jon Cancio, Andre Chong and Wayne Lim.
As part of Sight Lines Entertainment to support the local performing arts scene, the production has continued to engage and nurture the next generation of performers and theatre practitioners.
Emerging stars Chong and Lim, SOTA and LASALLE College of the Arts alumnus respectively, continue to be part of the many young talents gracing the entertainment company's new brand of productions.
Win the Grand Prize at Shangri-La Singapore
Audiences who successfully identify the culprit will stand a chance to win the Grand Prize, a 2D1N Luxurious Stay at Shangri-La Singapore's Valley Wing (valued at S$1,500++).
Set within a capacious one-bedroom suite, the lavish package includes butler service, bespoke turn-down menu and well-appointed creature comforts. To further pamper the audience members who solve the cold case, the stay comes with breakfast for two in the exclusive Summit Room, daily afternoon tea and evening canapes at The Valley Wing Lounge and Unlimited all-day champagne at The Champagne Bar.
The last day of entry for the Grand Prize is 7 November 2021 (11:59 PM). The winner of the Grand Prize will be announced after 7 November 2021.
Late Night Munchies with Chix Hot Chicken
Singapore's first Nashville-style fried chicken amps up the late-night experience with two bundles:
Murder at Old Changi Hospital Bundle (for 1-2 pax, S$21.99)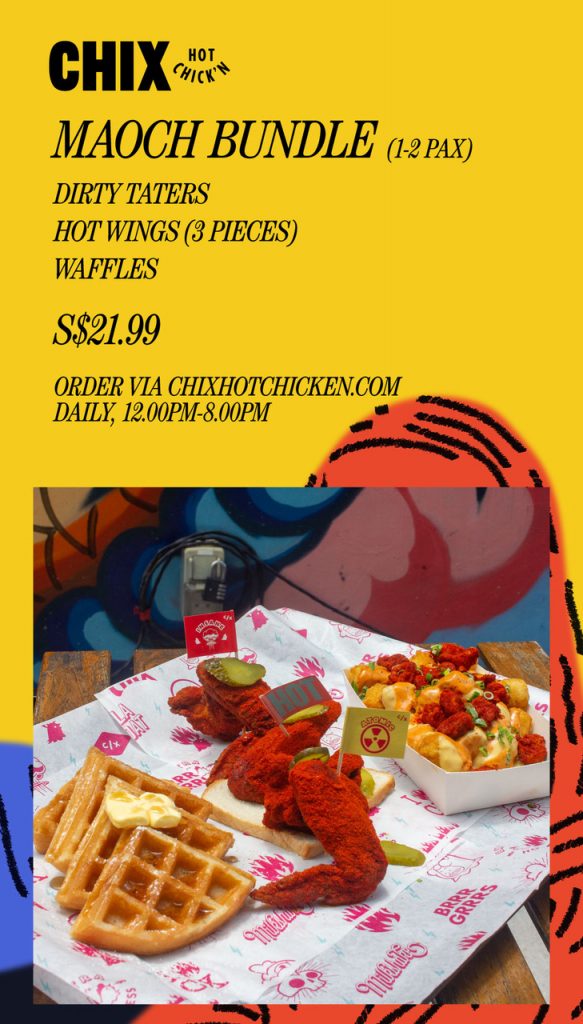 Munah's Bundle (for 3-5 pax, S$51.99)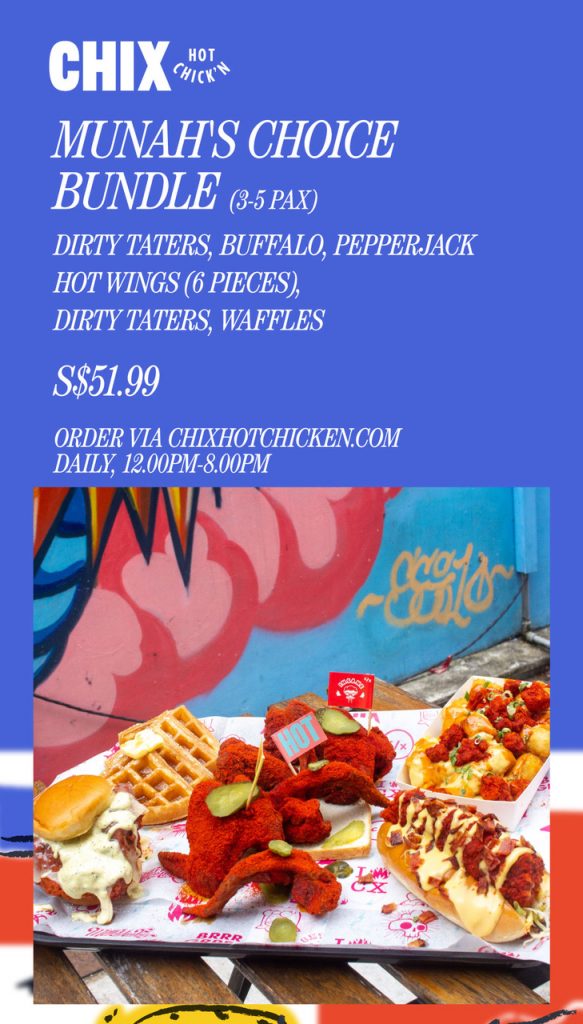 The special bundles are available here, daily from 12.00pm to 8.00pm. Delivery fee ranges from S$5 to S$9, depending on distance.
The virtual escape room experience will screen for approximately 90 minutes from 8 October till 7 November 2021, every Friday to Sunday at 8:30 PM and 10 PM.
Tickets are priced from an accessible S$45 per entry (for group access via one device; excluding booking fee), with options for clue and time extension add-ons. Clues can also be activated here for additional costs at specific points in the experience.