Home-grown brand, Vallio recently launched their long-lasting and contactless Quantum-ION sanitising solutions for retail, offering consumers cleaning protection that has been used for commercial purposes. 
Said to be certified by the World Health Organisation (WHO) and the Food and Drug Administration of Philippines (FDA), Quantum-ION is made in Singapore and exclusively distributed by Vallio locally and globally.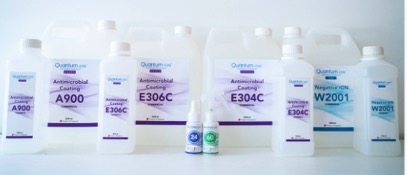 According to Vallio, many antimicrobial products in the market only eliminate pathogens on a purely contact-basis.  These products, especially those which are alcohol-based, are  also unsafe for the skin.
Vallio's Quantum-ION is said to be a contactless, water-based anti-microbial solution that adheres to surfaces for more prolonged periods using Resonance Technology, allowing it to withstand routine wiping and cleaning.  It also improves air quality and is safe for children and pets, extinguishing common concerns of toxicity and flammability of common sanitisers.
Note that Quantum-ION Resonance Technology is patent-pending worldwide. 
Quantum-ION is claimed to eliminate pathogens such as bacteria, virus, mold, fungi, algae even before they reach the surface. The key ingredients comprise of Nano Silver, Ionic Copper and Nano Titanium Dioxide.
More details are available on the official website, with online purchases available for both commercial and retail customers use.