UOB is expanding its range of digital wealth management solutions as it sets out to serve more of ASEAN's growing population of underserved increasingly affluent consumers.
As many of them think investing is difficult and requires significant sums or do not have the knowledge or confidence to do so, UOB sees immense opportunities in helping these consumers grow their wealth simply.
SimpleInvest – Investing made easy
UOB has designed a suite of simple digital solutions that democratise the access to wealth management services and enable customers to protect and to grow their assets easily, using just their mobile phone. The latest in this series is SimpleInvest which helps customers to kickstart their investment journey with as little as $100.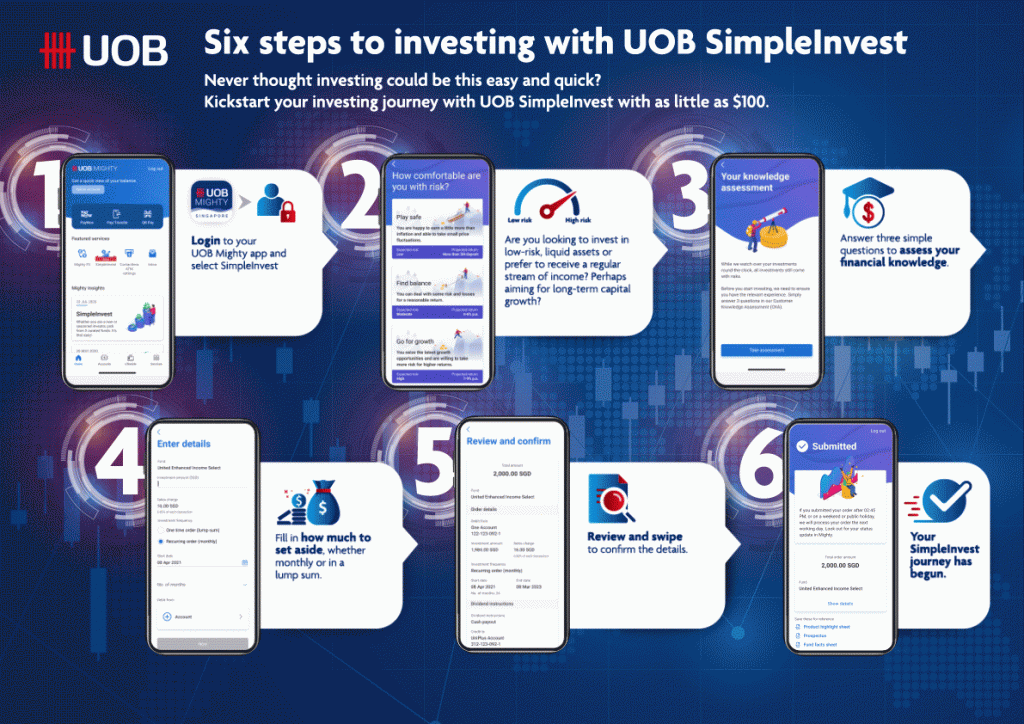 With SimpleInvest's easy-to-understand approach towards investing, customers simply choose from three solutions on its award-winning UOB Mighty app that fulfil the investment objectives of Liquidity, Income or Growth.
Customers who choose Liquidity can invest in UOBAM's United SGD Money Market Fund, which seeks better returns than cash by investing in low-risk and liquid assets such as high-quality bonds, government securities, money market instruments and bank deposits.
UOB has also partnered UOB Asset Management to develop the Income and Growth solutions which invest in funds screened and selected by UOB. These funds are actively managed by renowned international asset managers such as Allianz, Fidelity International, JPMorgan Asset Management, Schroders and UBS Asset Management that manage a total of almost US$10 trillion in assets globally.
Investors seeking to generate regular income can choose the United Enhanced Income Select Fund, an income solution which invests in a spectrum of yielding assets. The United Enhanced Growth Select Fund is for investors looking to take advantage of changing structural trends, such as healthcare, artificial intelligence, sustainability, that are reshaping economies and financial markets.
SimpleInvest comes on the back of the Bank's launch of SimpleInsure in December 2020. With SimpleInsure, UOB customers can use UOB Mighty to apply for PRUCancer 360, a cancer insurance plan which provides 100 per cent payout for all cancer stages, with just a few clicks and a simple health declaration.
To find out more information on UOB's SimpleInvest, please visit here.