Sunday Catering, the delivery-only, sister brand of ribs specialty restaurant, Morganfield's, has rolled out a festive menu for Easter 2021 that is perfect for meat lovers. Last year, they rolled out a popular Christmas festive menu, to great reviews.
If you trust Morganfield's with your meat, you can trust Sunday Catering to deliver at the same high standards too for your Easter feast.
First established in 2020 during the Covid-19 pandemic, Sunday Catering seeks to remind everyone of the power of food to bring comfort and togetherness by delivering sumptuous, lovingly prepared family roast for you to enjoy at home with your family and loved ones.
When it comes to Easter feasting, a Spring food feast would come to mind. Think fresh Spring vegetables, lush green herbs, and tender lamb and delicate Spring chickens. You can almost taste the sunshine and these serve as the inspirations for Sunday Catering's Easter festive menu.
Served family-style like their Christmas menu, the Easter menu comes with a generous roast surrounded by tons of hearty side dishes and plenty of their scratch-made gravy.
Below are the special festive menu items you can look forward to.
Easter Specials Roasted Leg of Lamb – $225
Whole bone-in leg of lamb from a young tender free-range Australian lamb. Sea salt, garlic, rosemary. Slowly roasted and not overpowered with seasoning. Accompanied with House Gravy and Mint Chimichurri. Approximately, 3kg before cooking.
A traditional Easter roast, we like the big-ness of the leg of lamb, easily feeding six to eight people with sides. You get to specify the doneness of your lamb when you make your order and it will be served piping hot, cooked to perfection. We like how the meat is tender and flavourful, yet without the usual thick, gamey mutton flavour. The accompanying Mint Chimichurri is delightful and add zest to the meat, with a slight spicy, minty note.
Roasted Spring Chicken Pair – $40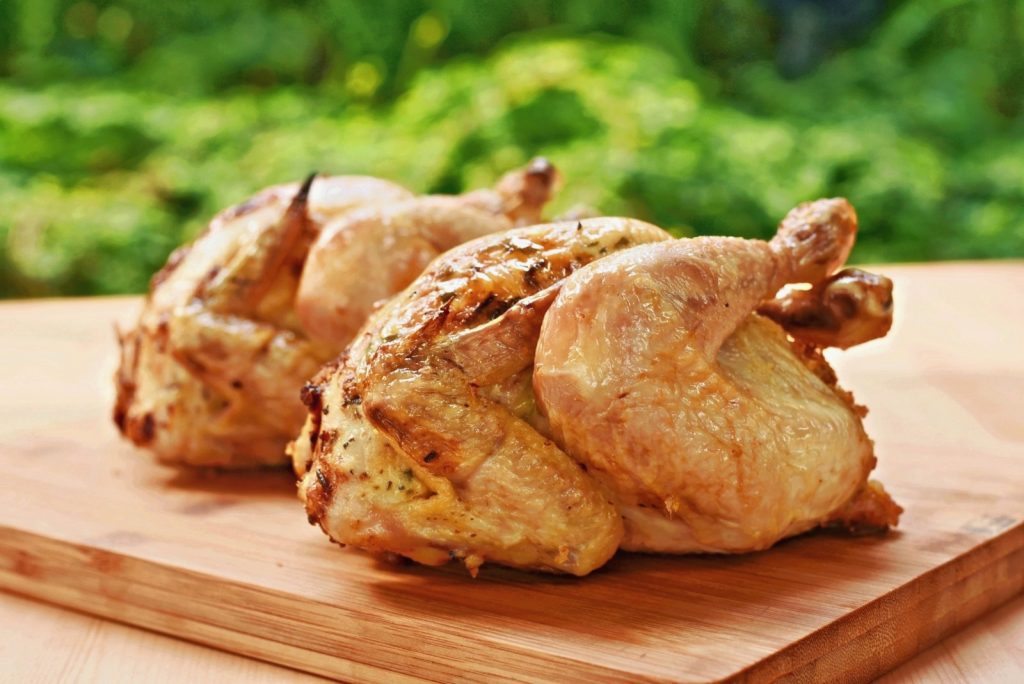 A pair of delicate Spring chickens. Brined, stuffed and trussed. Generous rub of herbs and butter. Slow roasted. Accompanied with House Gravy. Approximately, 500g each before cooking.
The size of the spring chicken makes it perfect to serve one whole bird per diner. We really like how tender and well roasted the meat was. The stuffing and trussing help to keep the birds moist and cook more evenly. The accompanying gravy was thick and flavourful. We kept the gravy as a bread dip, even after finishing the chicken.
Roasted Spring Vegetables – $18
A celebration of the Spring harvest. Asparagus, zucchini, bell peppers. Roasted and lightly dressed. Goes well with Sunday Catering's Mint Chimichurri sauce.
There is a variety of sides from carrots to green peas. For the Easter menu, it is recommended to go with their Roasted Spring Vegetables for the full Spring theme.
Here is how your order from Sunday Catering will looking like when it is delivered to your door:
The mouth-watering content in the two boxes:
Easter Promo Code
In a special partnership with Sunday Catering, Alvinology.com readers can enjoy an additional 10% off all orders from now till 26 Mar 2021 with our unique promo code < ALV10 >.