Singapore's veteran actor, known widely as Ah Ge (阿哥), Li Nanxing is quite the food connoisseur. Previously, we have seen him endorsing his favourite Japanese restaurant, Sens Sushi & Grill (SENS) as well as cook up up a storm during Mother's Day at Fullerton Hotel:
After the successful launch of his Ah Ge Dried Scallop Hae Bee Hiam Croissant at Bakers & Co. at Taste Gourmet Market, Li Nanxing has now launched his own signature bottled Dried Scallop Hae Bee Hiam: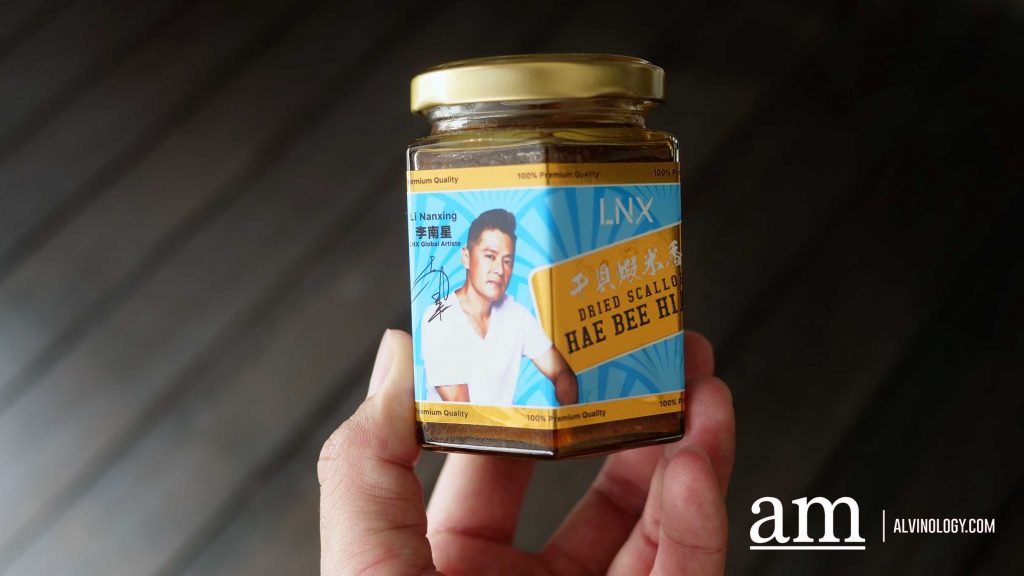 Ah Ge's Dried Scallop Hae Bee Hiam is lovingly prepared using his family heirloom recipes handed down through generations, with Ah Ge adding his own take to the dish and generously sharing a taste of his childhood to all during this festive season. Savouring them always bring back fond and nostalgic memories for Ah Ge, who grew up enjoying them. Now available in bottled version, it is packed with robust flavours and packs a punch in every bite, making it a perfect pairing for many dishes.
We sampled the Hae Bee Hiam and like the fact that it is not overly spicy and is milder in flavour. It is a little wetter in texture than the usual dry, ultra spicy Hae Bee Hiam and goes well as a hotpot condiment or to go with other savoury food items. The scallop flavour is lighter than the usual shrimp flavour we are accustomed to and offers something different.
Here's how the condiment looks like inside the bottle:
For Ah Ge's fans, you will be happy to know that each bottle of Hae Bee Hiam will also feature Ah Ge Li Nanxing's signature. Each bottle brings you a little closer to Ah Ge's heart, knowing this came from his family recipe.
Manufactured and launched exclusively in Singapore by seafood purveyor Far Ocean, Ah Ge's Dried Scallop Hae Bee Hiam is exclusively available at Cheers and Fairprice Xpress at S$15.90 per 170g jar.