Huawei has definitely been busy lately. During the recent launch of their Mate 30 series in Munich, Germany, the group also unveiled the new generation of their smartwatch range, the Huawei Watch GT 2. Like the Watch GT, it aims to simplify your life with a whole slew of workout experiences, smart health and fitness management, and convenient daily services to boot.
Huawei Watch GT 2 range
Use it to enhance your fitness regime, to monitor your health, or simply to stay on top of work and personal responsibilities. Just in time for its Singapore launch, here's our review of Huawei's latest smart wearable!
Better battery and performance
With the new Kirin A1 chipset we first saw in the Huawei FreeBuds 3, the Watch GT 2 boasts an upgraded battery performance from its predecessor. It also offers faster transmission and wider coverage with its Bluetooth and Bluetooth Low Energy (BLE) 5.1 systems.
For instance, we found that we could leave a phone to charge at a power point and still receive mobile notifications on the Watch GT 2 one floor and several rooms down.
The Watch GT 2 has also kept its dual-chip design and improved its smart power management from the Watch GT, which shows in its low power consumption. After a full day of heavy use, the battery life went down by only 7%—living up to and possibly besting the Watch GT's original two-week battery life.
It's worth nothing, though, that our review set was the Sport Edition for Males (46mm). The unreleased Sport and Classic Editions for Females (42mm) are set to last for a week instead, based on typical usage. Still, that's way longer than the 18 hours you get with the Apple Watch 5 and the 24–60 hours of the Samsung Galaxy Watch Active 2.
Refined design and display
One major difference from the Watch GT is the 3D glass screen and borderless design, which flows seamlessly into the bezel—also made thinner here. This contributes to a much classier look overall, and allows you to fully appreciate the 1.39-inch (454 x 454 pixels) full-colour AMOLED display. That's 1.2-inch (390 x 390 pixels) on the 42mm series.
Huawei Watch GT 2 Sport Edition (46mm) in Matte Black, featuring borderless design with thinner bezel
It offers good contrast and colours as well as a clear display. The full-screen touchscreen supports swiping in four directions, touch, double tap, and touch-and-hold commands. Plus, different watch faces are available to suit different occasions.
Huawei Watch GT 2: 42mm series on top, 46mm series at bottom, featuring different watch faces
What we really appreciated was the responsive lift-to-wake function, which presumably allows you to conserve battery by keeping the screen off when it's not in use but also ensures that you can check the time at just a quick glance.
As for the watch itself, it's about 10.7mm thick (at its thinnest point, sensor area not included) and 41g (without the strap)—a little bulky on women, but that's to be expected. The 42mm series will be 9.4mm thick and about 29g. We haven't tried the leather strap of the Classic, but the Sport uses a fluoroelastomer (synthetic rubber) strap which is comfortable and feels super durable.
Huawei Watch GT 2 Classic Edition (46mm) in Pebble Brown with leather strap, S$328
Huawei Watch GT 2 Sport Edition (46mm) in Matte Black with fluoroelastomer strap, S$268
Improved fitness and health management
With its industry-leading heart rate monitoring accuracy, the Watch GT 2 is especially useful for those with a history of heart problems. We found that the heart rate range is adjustable, and the watch can be programmed to set reminders or alarms in any case of abnormality.
For the stressed and sleepless, the Watch GT 2 evaluates your sleep quality to identify your sleep issues and offer useful suggestions and analysis. It also features all-day stress monitoring and breathing training to counter pressure, as well as reminders to get up and stretch after long-term sitting (which can be deactivated if you don't like those).
If you're an exercise buff, though, you'll definitely appreciate the tons of preinstalled professional training courses on the Watch GT 2, from introductory to advanced levels. Along with generic statistics like heart rate, speed, distance, and so on, it also provides functions to record and calculate things like SWOLF swimming efficiency index, stride frequency, and workout effect.
Additional everyday functions
Once paired with the Huawei Health app on your phone, the Watch GT 2 can also send push notifications with vibration for any apps you choose. Personally, we liked that we could view full messages on the watch—it's perfect for when you don't want to be that rude person on your phone in the middle of a meeting.
There's also a "Phone Finder" function which sends a prompt tone to your phone and a one-button accept or reject for incoming calls. Though taking watch calls is only available on the 46mm watches as the 42mm ones don't have a microphone or speaker, it's one of our favourite features as it really amps up the convenience.
Adding storage space for music and the option to pair Bluetooth headphones were a couple of other features that we enjoyed, as they allowed us to listen to music while exercising and without having to use our phones. The Watch GT 2 has 4 GB ROM, with 32 RAM on the 46mm and 16 MB RAM on the 42mm.
Pricing, availability, and special offers
The Huawei Watch GT 2 46mm series was just launched in Singapore yesterday, and the Sport Edition is available now at S$268 at all Huawei Concept Stores, selected consumer electronic stores, and the Huawei Official Store online with Lazada. The Classic Edition will be available starting this weekend, 12 October, at S$328. Ladies, look out for the 42mm series at a later date!
Also, customers will be able to enjoy attractive offers of up to 50% off Huawei products this entire week of 10.10, including the more compact and affordable smart wristband Huawei Band 4 at just S$48.
Huawei Band 4, S$48
From 7 – 13 October, head on over to VivoCity to get the Mate 20 at S$528 (U.P. S$998), the P30 Pro in 512GB at S$1,398 (U.P. S$1,698), and many more special deals on other Huawei phones, tablets, wearables, and accessories. Each purchase comes with an exclusive gift bundle worth up to S$360.
Check out the great offers below and make your trip down before stocks run out: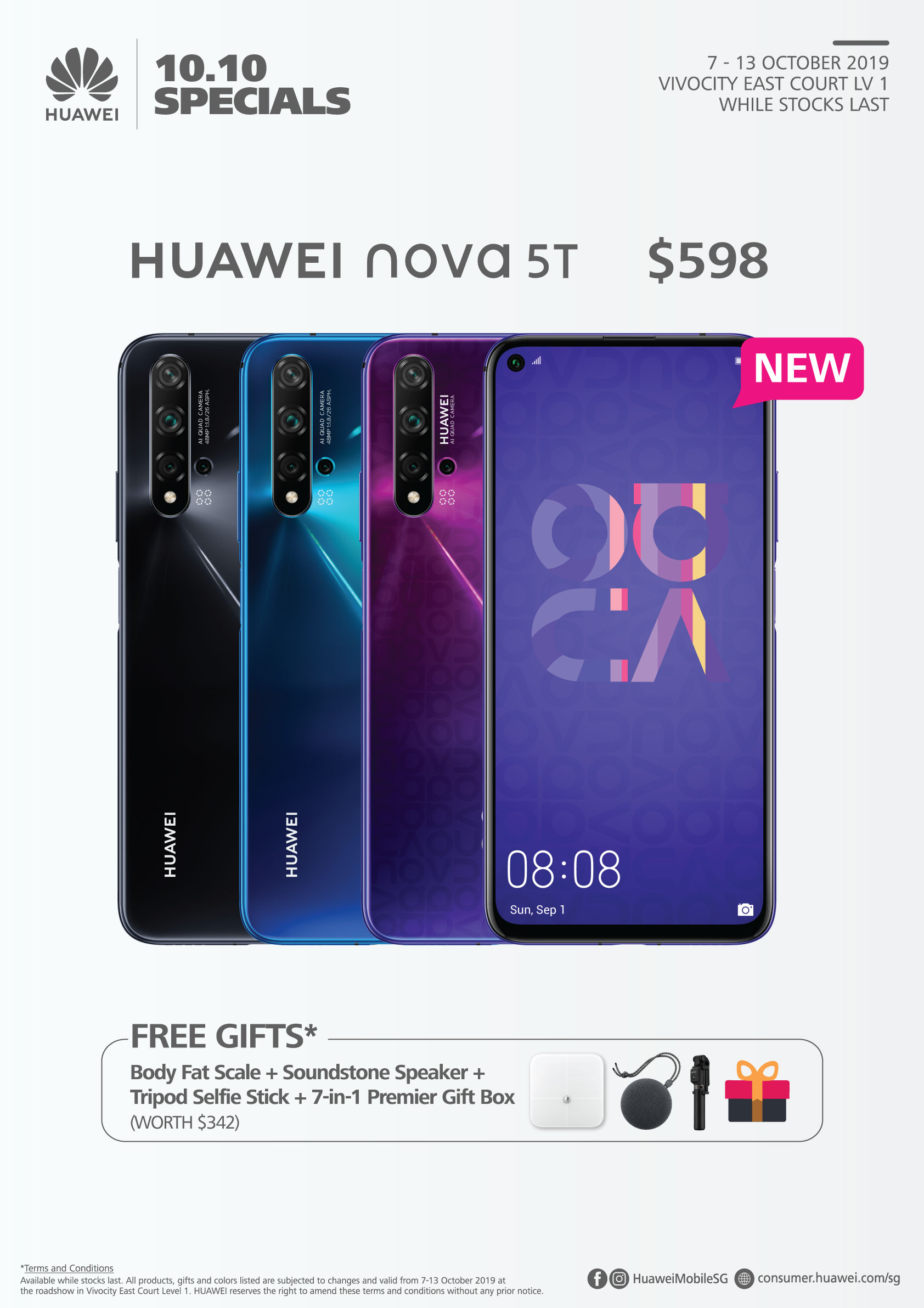 The latest flagship Mate 30 Series won't be on display or on sale during the VivoCity roadshow, but registration of interest for the Mate 30 Pro 4G is now open until 15 October. It'll be made exclusively available for purchase to 200 registered users chosen at random, so try your luck here!
Huawei 10.10 Roadshow
Address: VivoCity East Court Level 1,
1 Harbourfront Walk, Singapore 098585
Opening hours: 7 – 13 October, 10am to 10pm daily