For the first time in 25 years, local favourite Pizza Hut is launching a new crust—the "Light x Airy", designed to cater to evolving consumer preferences and a whole new generation of millennials.
They've also opened their very first Fast-Casual Dining Concept Store at the new Paya Lebar Quarter (PLQ) Mall, a cosy and welcoming space where people can gather to enjoy good food and company.
We got to check out both the new crust and the new place on Monday, and they certainly didn't disappoint.
Light x Airy photobooth at Pizza Hut PLQ
New crust, fresh flavours
There are tons of reasons to love pizza. Simplicity, customisation, great taste, ease of eating… we could go on and on. The Light and Airy Crust is a lovingly-crafted, San Francisco-inspired sourdough crust that enhances everything we love about pizza, with a focus on taste and quality.
Along with the crust, Pizza Hut is introducing two new toppings, Alfredo Prawn and Truffle Shuffle. Their crust texture is, as the name suggests, much lighter and airier than their regular pizzas.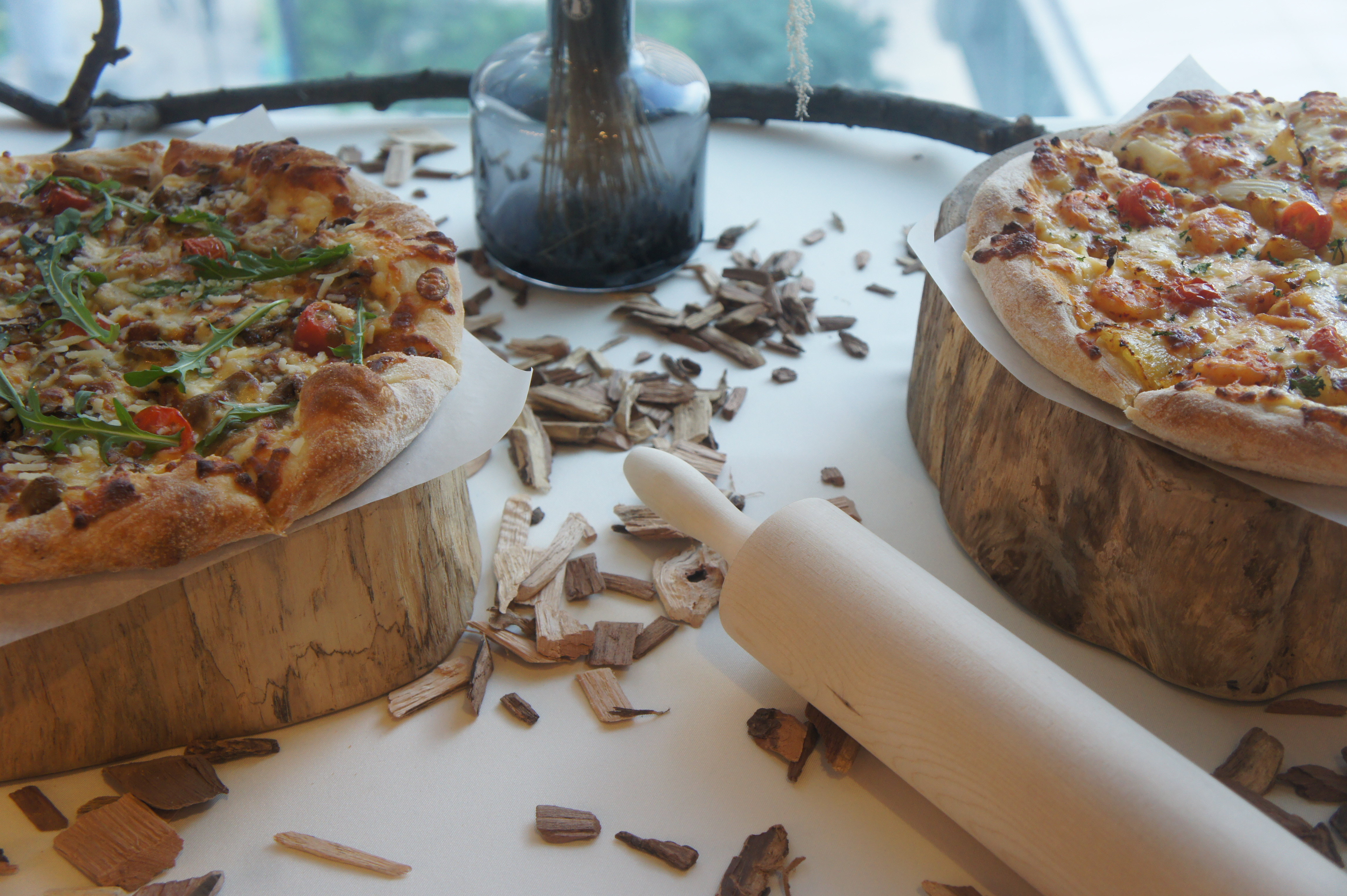 Light x Airy Crust Pizzas: Truffle Shuffle and Alfredo Prawn
Though it may not be as thick as a normal crust, it isn't thin and crispy like the thin ones either. Instead, the Light x Airy Crust has a fluffy texture on the inside that gives you the same satisfying fullness of thick crusts while maintaining its lightness.
The Alfredo Prawn, with an alfredo sauce base and mozzarella cheese, is topped with marinated prawns, pineapple slices, onions, cherry tomatoes, and parsley.
Alfredo Prawn with Light x Airy Crust
Also using an alfredo sauce base sprinkled with mozzarella cheese, the Truffle Shuffle features an all-new marinated truffle mushroom trio (White Button, Shimeiji, Shitake). Cherry tomatoes, rocket leaves, shredded parmesan cheese, and truffle oil finish off the rich flavour of the pizza.
Truffle Shuffle with Light x Airy Crust
We personally enjoyed the Truffle Shuffle best. After all, who doesn't love truffle? We also liked the lightness of the crust better than their regular pizzas as it doesn't feel as dense and carb-heavy. In fact, it's alarmingly easy to eat—because it doesn't weigh the stomach down as much, we found ourselves eating more slices than usual.
The slight sourdough taste—not too sour—brings out the flavours of the pizza toppings and really gives the pizzas that homemade feel. Although Pizza Hut's Stuffed Crust still holds a special place in our hearts with all that cheese, the Light x Airy Crust is a pretty strong contender as well.
With their artisanal nature, the Light x Airy pizzas are made to order and best enjoyed fresh out of the oven. They will be exclusively available as dine-in dishes in all 24 Pizza Hut outlets islandwide from 7 October 2019, with a regular going at S$23.50 and a large at S$29.50. In addition to the two new flavours, diners can also opt for any one of Pizza Hut's existing flavours on a Light x Airy Crust.
Cosy fast-casual restaurant space
Pizza Hut PLQ has been officially open since 30 August 2019, and features specially-chosen design and technological elements meant to bring diners a more comfortable and convenient dine-in experience.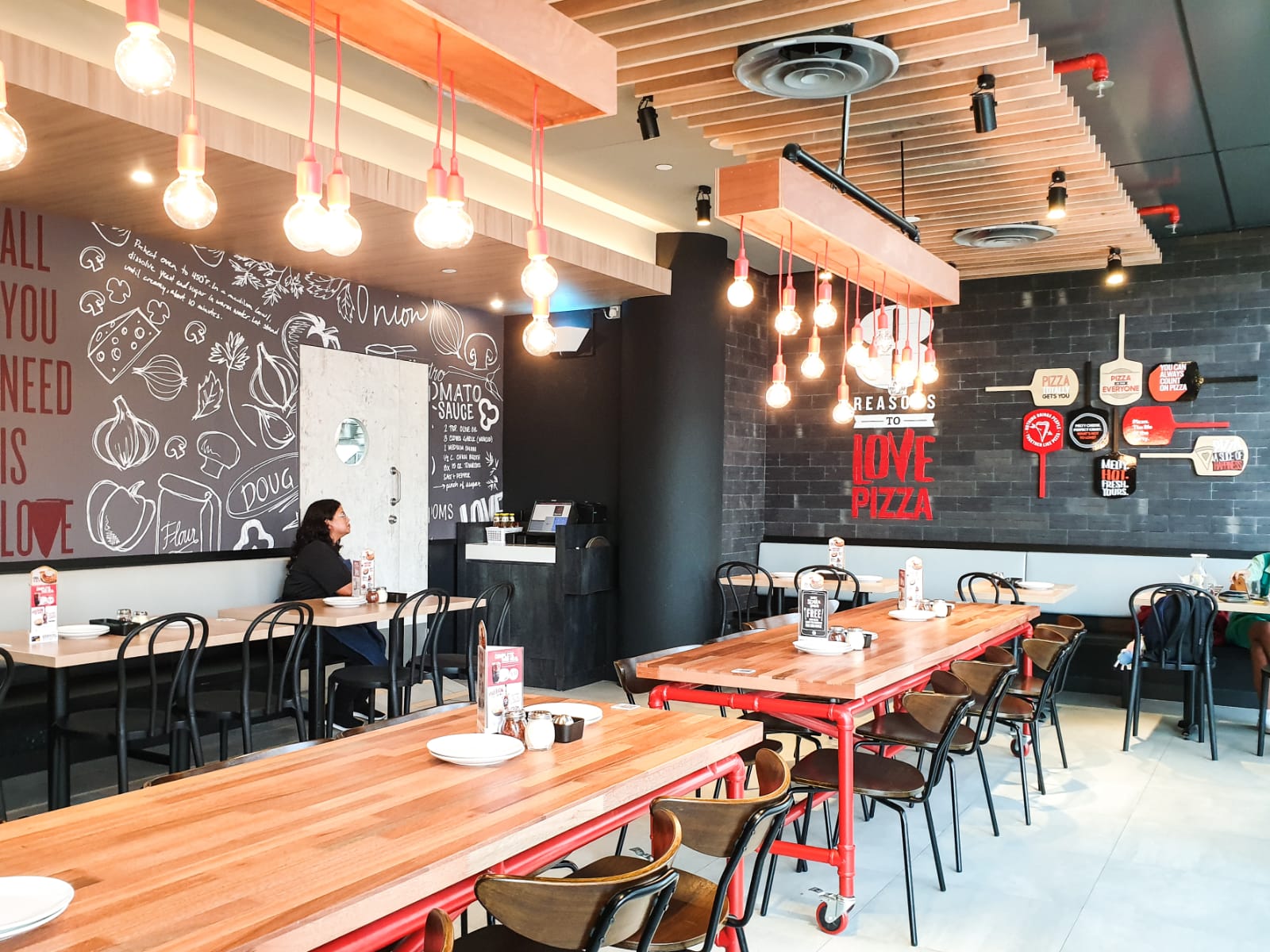 Warm and welcoming fast-casual dining space
The open-concept kitchen allows you to observe your meals being prepared, giving you the assurance of quality and freshness. It also creates more anticipation and whets the appetite, leading to greater enjoyment of the food itself.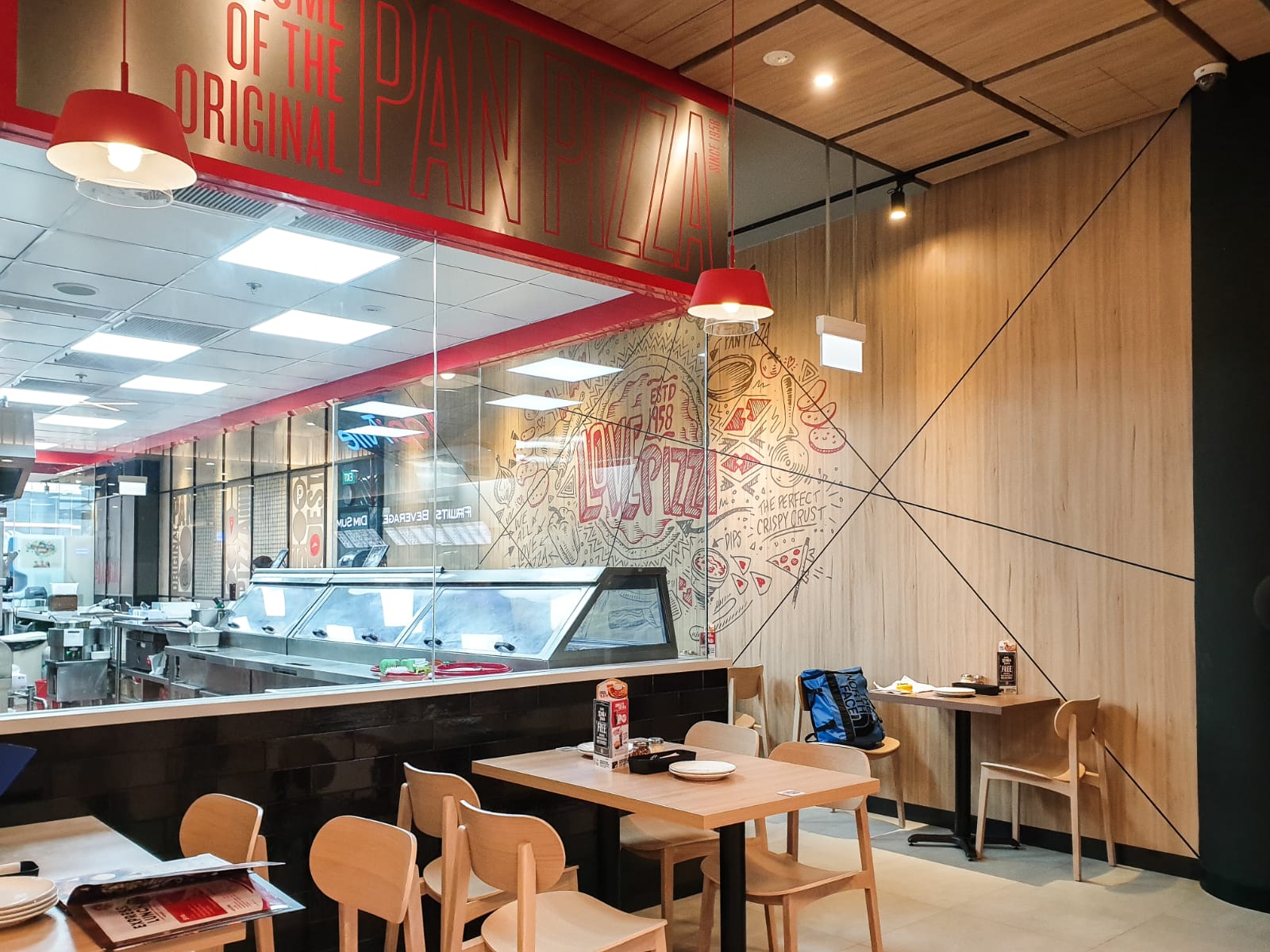 Open-concept kitchen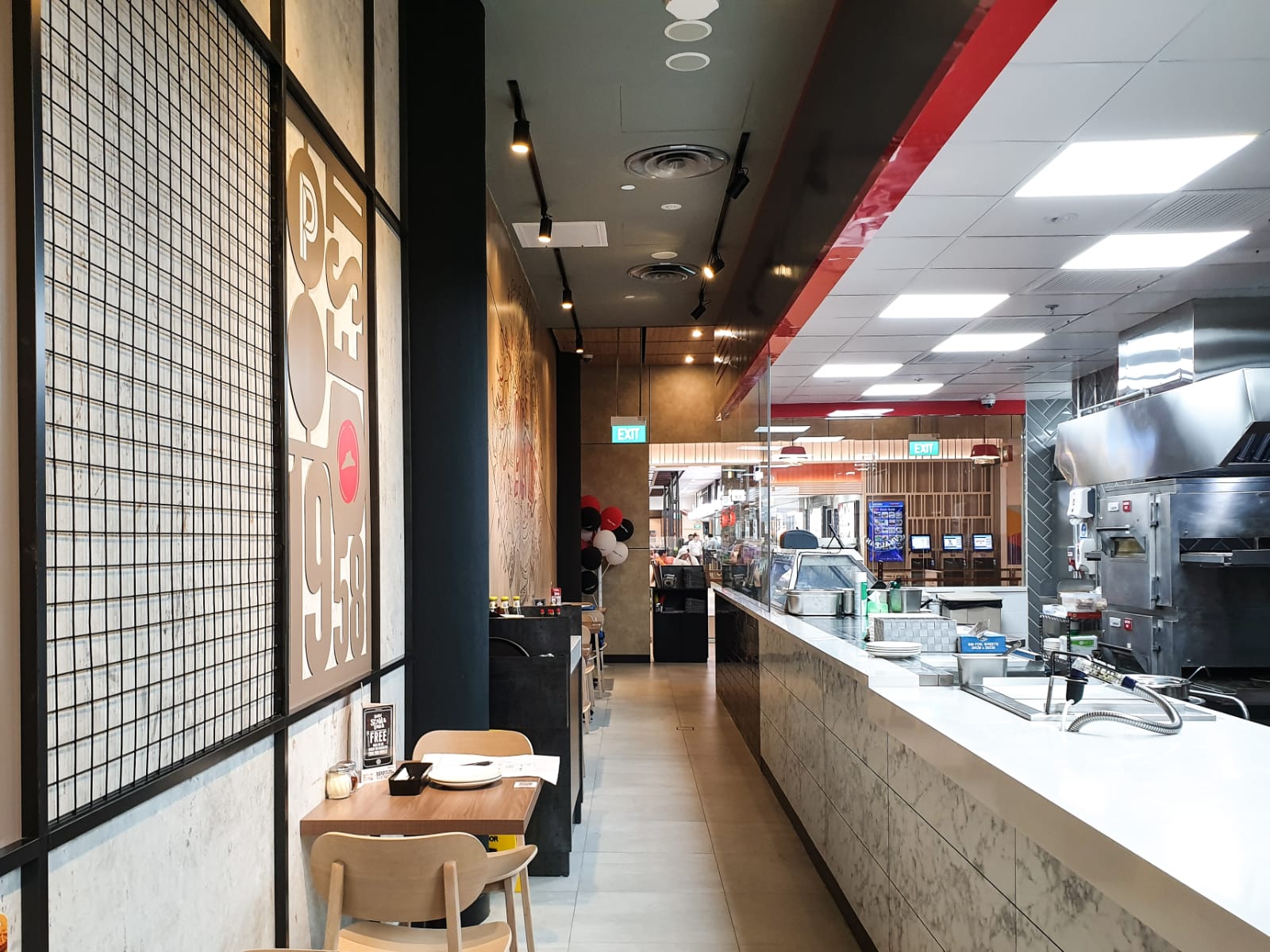 Open-concept kitchen
Plus, this outlet is the very first Pizza Hut in the world to offer their seamless bring-your-own-device (BYOD) ordering experience. A scannable QR code is provided at each table for you to order food and make payment without having to go the counter or catch the attention of the staff.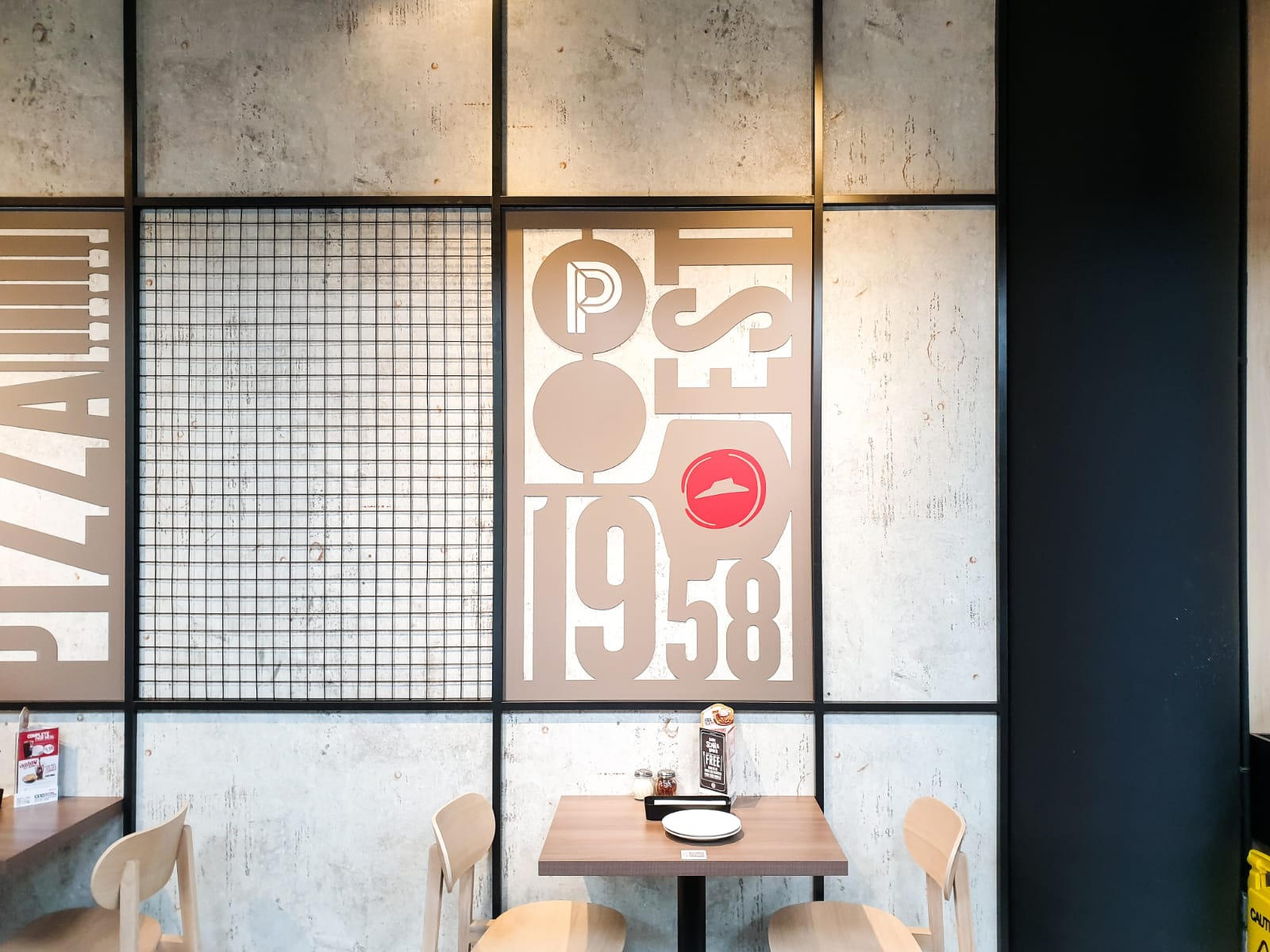 Upgraded table service with scannable QR codes
With the fast-paced life of the typical Singaporean in mind, efficiency is one of the key points in Pizza Hut's new dining concept. Cue the implementation of a new Express Lunch option. Based on a recent DBS study which found that the average daily CBD lunch queue takes 24 minutes, Pizza Hut guarantees that Express Lunch orders will be fulfilled in 15 minutes or less, from the point of ordering to food being served.
By cutting down the waiting time, Pizza Hut hopes that diners will be able to take greater pleasure in their food and company even in the midst of their busy schedules. They've installed full-length windows which look out onto the open PLQ Plaza, enhancing the bright and relaxing atmosphere of the restaurant, and will be rolling out additional outlets with the same concept.
Be sure to head down to your nearest Pizza Hut from next week onwards to try the Light x Airy Pizzas, and check out the PLQ outlet when you're in the area! You won't be disappointed.
Pizza Hut PLQ
Address: Paya Lebar Quarter Mall,
10 Paya Lebar Road #04-10, Singapore 408533
Opening hours: 11am – 10pm daily