If you're looking to buy a brand new smartphone for your tech-savvy teenager but don't want to spend more than a thousand dollars, you'll be happy to know that Samsung and Huawei have both come up with worthy contenders for this market category.
Today, Huawei launched its latest junior flagship smartphone, the nova 5T, pitting it against the Samsung Galaxy A80 which was released in Singapore in July. Both phones are targeted at Generation Z and millennials, so we decided to try them out to see how they measure up.
Design and features
One major aspect that's important for the younger crowd is the design of the phone. The Galaxy A80 has a curved Gorilla Glass back that comes in three colours: Angel Gold, Ghost White, and Phantom Black. Sleek and clean with an almost completely bezel-less screen, it feels almost like one of Samsung's flagship models.
Samsung Galaxy A80, L–R: Ghost White, Angel Gold, Phantom Black
The nova 5T, on the other hand, features a flat back with curved edges and a tiny hole punch on the top left of the screen. It has a reflective, holographic back that comes in three colours as well: Midsummer Purple, Crush Blue, and Black. Like some of the phones in the P20 and P30 series, the Midsummer Purple colourway of the nova 5T sports a dazzling gradient. In fact, it is the first Huawei phone which boasts a holographic finish with the "nova" logo subtly embossed all over its back.
Huawei nova 5T, L–R: Black, Crush Blue, Midsummer Purple
Samsung's New Infinity Display, making its debut on the A80, is certainly impressive. The screen is almost purely display, and there are no unsightly notches. In this new age of pop-up phone cameras which aim to maximise screen space and viewing experience, Samsung has introduced a rotating camera within the frame itself for a sleeker overall look and better selfie-taking experience.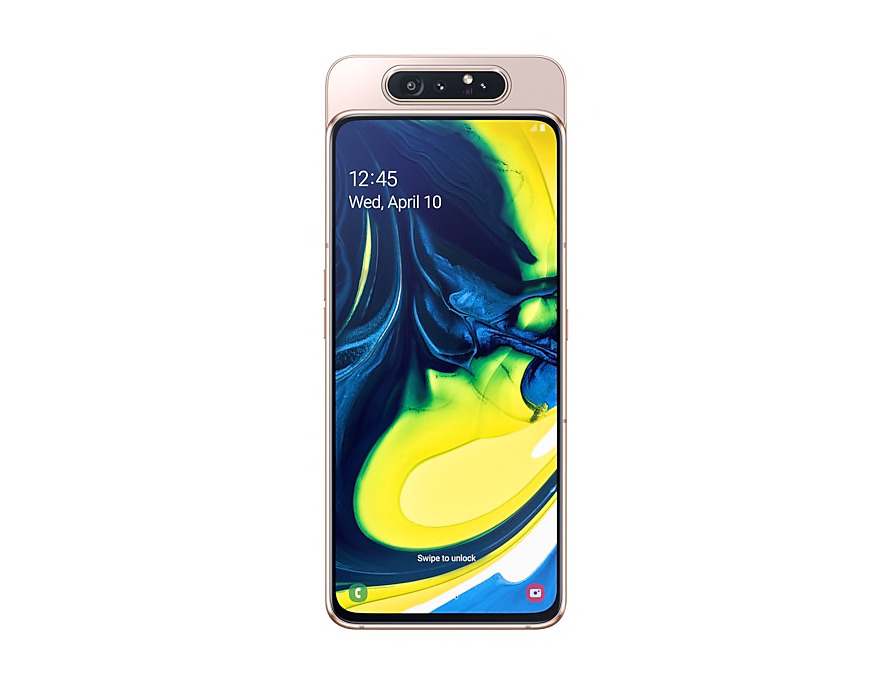 Samsung Galaxy A80's rotating selfie camera
When you switch to selfie mode, the frame extends so that the camera is able to rotate. It's a visually more pleasing step up from shark-fin cameras, but the slider panel is still prone to problems, such as collecting dust and dirt. The rotating part can also be manually manipulated, which may make it prone to damage by restless hands.
With all that in mind, the nova 5T's punch-hole selfie camera feels a lot more secure, although it is less attractive. Still, with the Huawei Punch FullView Display, its placement is far from random.
Tucked away in the left corner at only 4.5mm, it usually stays in your peripheral vision because the important icons like time and battery life are displayed on the top right corner. Also, when playing games in landscape orientation, it's completely covered by the hand.
4.5mm hole punch on Huawei nova 5T screen
Samsung is famous for its Super-AMOLED displays, and the colours on the A80 are as vibrant as ever. The nova 5T falls slightly short, but still hits the mark with accurate colours and good contrast levels.
As for their weight and dimensions, the A80 is decidedly bulky at 220g and 165.2 x 76.5 x 9.3 mm. Its size makes it hard to manage with one hand, especially for those with smaller hands—a good portion of its young target audience.
Samsung has elected to put the volume rocker and power buttons on opposite sides of the phone, and the fingerprint sensor on the bottom of the screen is a little counter-intuitive. All of this makes for some rather unwieldy manoeuvring even when trying to perform basic functions.
Meanwhile, the nova 5T has all its buttons on the right side of the phone, and the fingerprint sensor is conveniently located on the power button itself, right where you would normally hold the phone. At 154.3 x 74 x 7.8 mm and 174g, it's also much more compact and more comfortable for one-handed use.
The nova 5T also includes a facial recognition option. Both phones do not come with a memory card slot or 3.5mm jack, but that's easily remedied with a USB-C adaptor.
Cameras
The camera quality on a phone can be make-or-break for younger users. Huawei has been impressing us with its revolutionary smartphone cameras so far, and the nova 5T seems to be keeping up with its quad rear camera.
With the rotating camera, though, the Samsung Galaxy A80 uses its triple camera set-up for its front camera as well. That theoretically puts its selfies at the same quality as its main camera photos.
Both camera set-ups include wide-angle lenses and depth sensors, with an additional macro lens on the nova 5T that doesn't seem to make much of a difference. They both do great in daylight, but it's in low-light photos that the nova 5T really surpasses the A80. In brightly-lit night scenes, the A80 tends to overexpose, and its wide-angle shots lose clarity:

Samsung Galaxy A80 (Night mode) on the left, Huawei nova 5T (Night mode) on the right

Samsung Galaxy A80 (Wide angle) on the left, Huawei nova 5T (Wide angle) on the right
The nova 5T also adjusts better to backlight and creates more vibrant, saturated colours. Of course, colour preference is up to the user, but we personally prefer the nova 5T colours as they minimise the need for editing. It's a plus point for those who take and post lots of photos.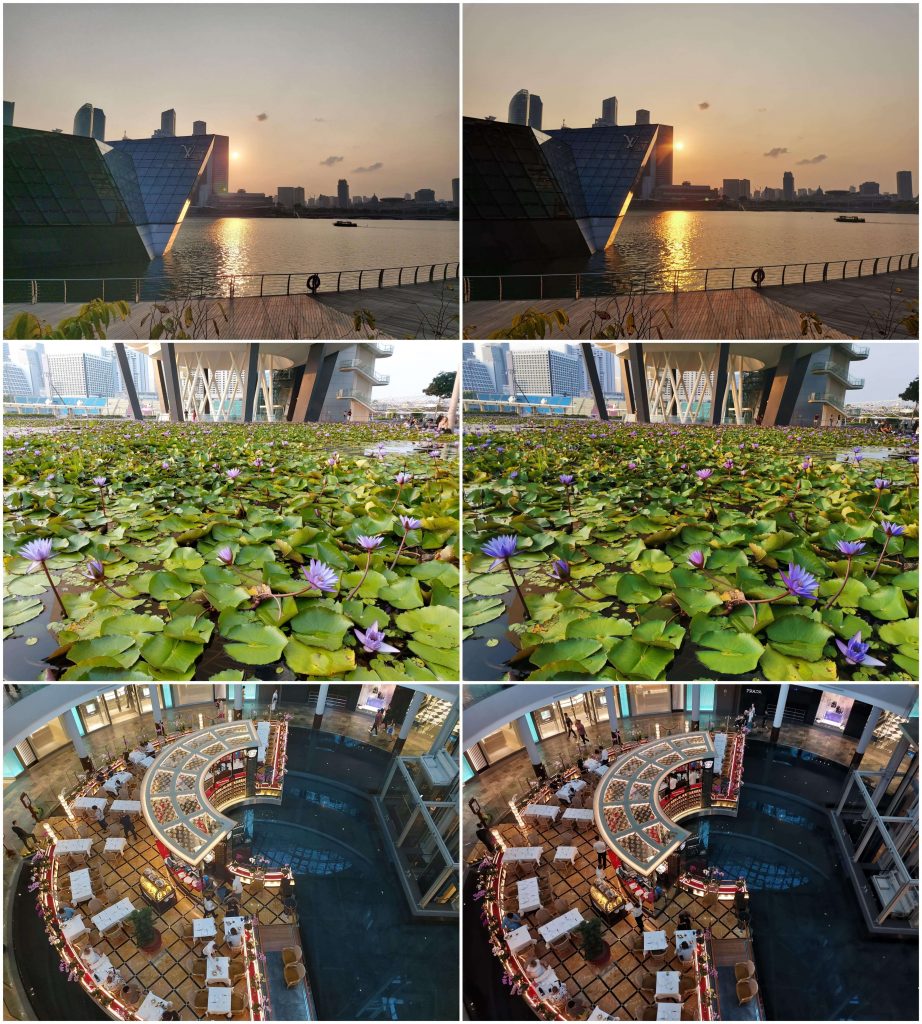 Samsung Galaxy A80 on the left, Huawei nova 5T on the right
We were most excited to try out the A80's unique selfie camera. One helpful feature is that when taking selfies, you can toggle between wide angles depending on how many people or how much background you want to capture.
Still, the depth or time-of-flight sensor is undoubtedly the best selfie feature of the phone. In Live focus modes, it helps to create the background bokeh effect so popular among Instagram users. The nova 5T also does this in portraits, but because the A80 front and rear cameras are the same, the depth sensor can be used even in selfie videos, and works remarkably well.
However, the A80 appears to have an auto-beautifying or whitening effect in selfie mode, even when the beauty mode is off, producing selfies which appear much more edited and unnatural than we would like. The nova 5T gives a more natural, accurate colour reproduction.
Samsung Galaxy A80 on the left, Huawei nova 5T on the right
This is strange, given that the same camera set-up is used to take portraits which look much more natural. Several modes also disappear in selfie mode, like Night, Panorama, and Slow motion, which to us defeats the purpose of using the same cameras.
Surprisingly, because of these issues, the nova 5T does much better on the selfie front. Like the night photos taken with the rear camera, it works better with selfies in low light than the A80. It also has an AR lens mode with a bunch of fun 3D filters and effects, similar to those you find on Snapchat and Instagram Story.
Battery life and performance
On a full charge with moderate use, the A80 gets in about 9 hours and the nova 5T about 10. They both charge pretty quickly, and both can get up to 50% in less than 30 minutes. The nova 5T is just slightly faster, but the difference is probably negligible.
Both phones run on Android 9.0 (Pie), with the A80 using One UI and the nova 5T using EMUI 9.1 on top of it. The nova 5T's GPU Turbo 3.0, in particular, really stands out in graphic-intensive gaming performance, but the A80 runs pretty smoothly as well and is unlikely to cause any issues for casual gamers.
That said, after using both phones for a few days, the A80 simply feels much slower. Whipping out your phone to take a quick selfie with the A80 is more complicated as you need to wait for the camera to pop up. Opening, closing, and switching apps also takes slightly longer on the A80 than it would on the nova 5T. The A80 seems to run best when gaming and watching videos.
We might also be biased because of the irritation caused by the A80's unreliable fingerprint sensor. More often than not, it took multiple attempts to unlock the phone, and we sometimes defaulted to using the PIN instead. This is where the lack of facial recognition becomes a drawback for the A80. Even the unlocking itself took about twice the time of the nova 5T.
The nova 5T, in comparison, unlocks almost instantly and without any issues. Its fingerprint sensor, as mentioned, is placed in a much more intuitive location, and it also has facial recognition for those who want to use it. Perhaps due to the flagship-level chipset, its day-to-day performance and processing power feels much faster and more responsive than the A80, which uses a mid-range chipset.
Another issue we had with the A80 was the aforementioned volume rocker and power button on opposite sides. Most Gen Z and millennial phone users use their phones to access online content such as music and videos. However, you can't place the A80 horizontally on a hard surface without accidentally changing the volume or turning off the screen.
Pricing and verdict
Both are phones with lots of great features and pretty designs, but Samsung's attempt to maximise the A80 screen has come with a bunch of compromises that make it difficult to justify the party-trick camera. Perhaps the only areas in which it performs better than the nova 5T are the display and front camera depth sensor.
This decision becomes even easier to make when you look at the respective prices of the phones. Though the trouble with fingerprint unlocking alone would turn us away, the A80's problems might be excusable with a cheaper price. But it costs S$898, almost flagship-level price with hardly any flagship-level attributes.
With many other better and cheaper options on the market, it's hard to see why anyone other than diehard Samsung fans would spring for the A80. Outperforming it at only S$598, two-thirds of its price, the nova 5T is more than a steal. We can't wait to get our hands on our very own nova 5T phones!
With its predecessor the Huawei nova 3i selling out its most popular colour within an hour of its launch last year, it's better to be safe than sorry. Pre-order your Huawei nova 5T here from now till 12 September 2019, and receive a pair of Freebuds Lite (worth S$188).
The Huawei nova 5T will be available in stores from 14 September 2019 at selected Telcos, selected Huawei Concept Stores, selected consumer electronics stores and Lazada (Huawei Official Store).
[Update] Video review