Huawei Consumer Business Group (CBG) announces its latest offering to the nova lineup – the HUAWEI nova 5T. Designed to offer an accessible premium experience, the HUAWEI nova 5T is perfect for the aspirational and fashion-conscious social media user, with its slick, futuristic design and 32MP selfie camera.
More than just a consumer electronic device, the HUAWEI nova 5T is an essential digital partner in the modern age: avant-garde and fashionable, pushing the boundaries of style and functionality. With its AI HDR+ algorithm, users can create incredible portrait shots – even in the dark.
The HUAWEI nova 5T is powered by the premium Kirin 980 AI processor and comes with 8GB of RAM. Together with the powerful EMUI 9.1 operating system, the components combine to offer a lag-free, fluid experience equal to high-end models.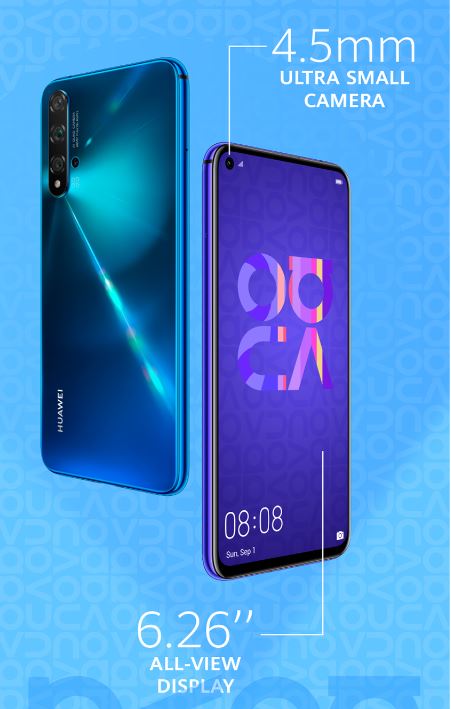 The handset's 22.5W HUAWEI SuperCharge technology ensures the phone can be charged quickly, while the industry-leading GPU Turbo 3.0 – a hardware-software integrated graphic processing acceleration technology – provides a full-frame gaming experience and reduces latency for slicker gameplay.
The HUAWEI nova 5T has a 6.26-inch HUAWEI Punch FullView Display and weighs just 174 grams thanks to its wafer-thin 7.87 mm thickness, offering an immersive display on a slender body.
The handset is available in three colour schemes: Crush Blue, Black and Midsummer Purple. The Midsummer Purple edition brings new vibrancy to smartphone aesthetics. It features the nova star symbol engraved on an elegant purple glass case, which refracts light to produce shimmering waves of contrasting colour and shadow.
Five AI Cameras
The HUAWEI nova 5T's 32MP ultra-clarity camera captures minute detail with unmatched sharpness, right down to fine strands of hair. Equipped with four rear AI cameras that support high-definition, ultra-wide-angle, macro, and depth of field photography, the HUAWEI nova 5T is able to capture rich and clear images within a single shot in all scenarios, from vast landscapes to close-up shots.
It also combines AI-powered image semantic segmentation and partition optimization technology with the 48MP HD lens, 16MP wide-angle lens, 2MP macro lens, and 2MP bokeh lens, which can clearly present details in the photo and balance the exposure under all lighting conditions.
AI-enhanced photography technology such as AI Image Stabilization (AIS), Auto Exposure Lock (AEL) and Auto Focus Lock (AFL) combine to ensure images are sharp and detailed. HUAWEI nova 5T users also benefit from powerful automatic video editing capabilities.
HUAWEI nova 5T notable features
Refined Ergonomics on a Slender Phone
Colorful, Vibrant 3D Design on a Flat Surface
More Immersive Viewing on HUAWEI Punch FullView Display
A Highly Dependable Selfie Camera
32 Million Pixels for High Resolution Selfies
AI HDR+: Unfazed by Backlit Portrait Shooting
Beautification Tailored just for You
Powerful Quad-Camera Configuration for All Shooting Scenarios
Vivid 48 MP HD Imaging with Lifelike Details
Breathtaking Handheld Night Photography
Ultra Wide-angle Lens
Playing Around with Macro Shooting
Bokeh Lens and Hardware-level Portrait Blurring
Versatile Camera with Next-Level Video
AI Spotlight Reel
AI Colour
Channel Immersive Surround Sound Effects
5 W SuperCharge to Juice Up Battery
Lightning-charged Gaming Experience
Flagship Chip Makes the Hardcore Technology
Industry-leading GPU Turbo 3.0
A More Secure File System that Gives You More Storage Space
Huawei Share Makes Data Sharing Easy
EMUI 9.1: Empowering Your Mobile Life
The HUAWEI nova 5T is powered by the EMUI 9.1, which provides an immersive experience with significant performance and system speed enhancements. In addition, Huawei's proprietary Extendable Read-Only File System (EROFS) increases the average random read speed by 20%. It also helps you save system storage space by reducing the ROM size. It can convert files into read-only files, improving the security of the device.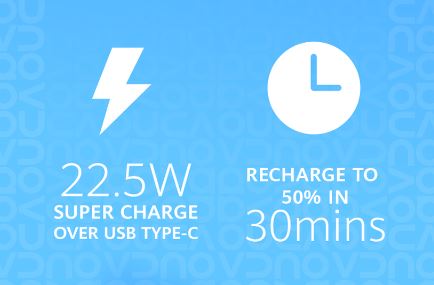 With the 22.5W HUAWEI SuperCharge technology, users can rest assured that their HUAWEI nova 5T will not run out of battery, even under heavy use.
Pricing and Availability
The HUAWEI nova 5T will go on sale in Singapore from 14 September 2019. Pricing and availability will be announced on 5 September 2019.
Visit here for more information.