Local pop singer Joi Chua will be captivating audiences with her singing prowess in her much-anticipated solo concert JOI CHUA <FLOW> CONCERT IN SINGAPORE this coming 29 November 2019, 8 PM at Singapore Suntec Convention and Exhibition Centre, Hall 601-604.
Best known for her classics like "Sunrise", "One Day I Will", and "Waiting for A Sunny Day", this milestone marks the singer's first full-fledged concert in Singapore as she celebrates 20 years since her debut in the music scene.
Like the evolving nature of water, <FLOW> fuses the diverse dimensions of Joi Chua into a night of musical convergence, paying tribute to home ground Singapore that has witnessed her growth and success across the years. Like water, <FLOW> is set to be a voyage of an illustrious musical career that has embraced all shapes and forms for a singer who continues to pursue her dreams.
Joi Chua first rose to success in the early 2000s to become one of Singapore's most well-loved Mandopop artiste and has since flourished from humble beginnings on home turf Singapore to successfully amplifying her reach to audiences around the region.
Her melodious voice got her the nomination for the "Best Female Singer" category in the prestigious "The Golden Melody Awards" in 2007.
Since setting up her own optometric practice in 2011, the multifaceted artiste went on to compose and produce her own indie EP "Perspectives" in 2012 and won the "Best Composition Melody" award by Singapore E-Awards 2013 for the co-written song "Darkness" with Jim Lim.
Her debut female lead acting performance as a singing carpark attendant in Royston Tan's movie 3688 also won rave reviews in 2015. In 2017, Joi performed her own solo concert <I Am Me> in Suzhou and Chongqing and released her new self-written album I am Me with a totally new makeover – presenting short-cropped hair and a modern and confident attitude to inspire women of all ages to be brave in pursuing their passion and to be themselves.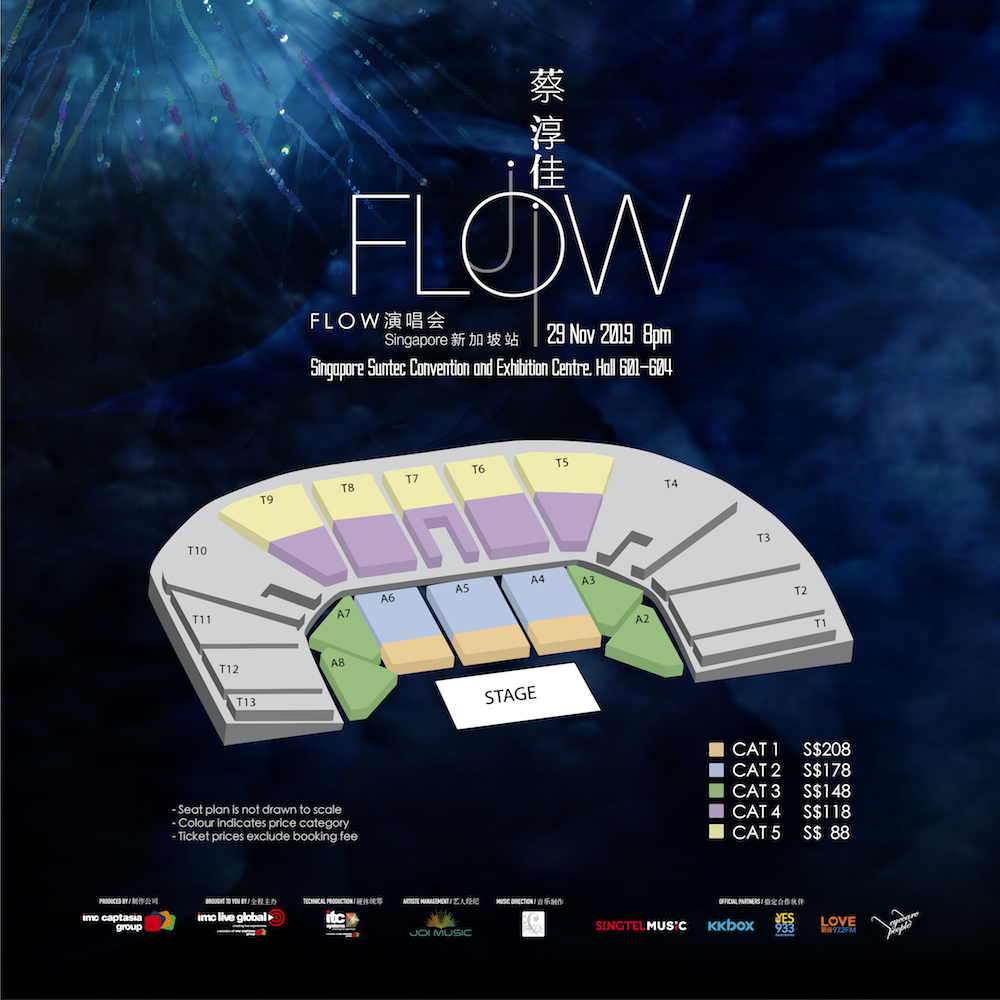 Tickets to JOI CHUA <FLOW> CONCERT IN SINGAPORE, with prices ranging from $88 to $208, will be available via SISTIC on 4 September to IMC Live Global Fans in a pre-sale. General public sales will commence on 5 September and Singtel mobile customers will get to enjoy an exclusive 10% discount off tickets from 10 September onwards.
Fans will receive a free 30-day KKBOX premium membership with every ticket purchased, with compliments from Official Partner KKBOX.