Since it first entered the local fashion radar back in 2016, anello has become a household name among young and old, men and women alike. On 17 April 2019, it finally opened its first official store in Singapore, located at Jewel Changi Airport.
Grand opening of anello® Jewel Changi
Takeshi Yoshida, the founder and president of brand owner Carrot Company, shared at the official launch on 23 July that the company has been waiting to open an anello store here for about two years.
Takeshi Yoshida, Founder and President of Carrot Company, at the grand opening of anello® Jewel Changi
"To choose the best partner who can hold and look for the same future plan with us is the hardest part," he explained. "We sincerely hope that Singapore will become the hub of the whole Asian market, including East Asia."
What makes anello special
For those unfamiliar with the bag brand, anello is famous for its highly functional yet minimalist bags.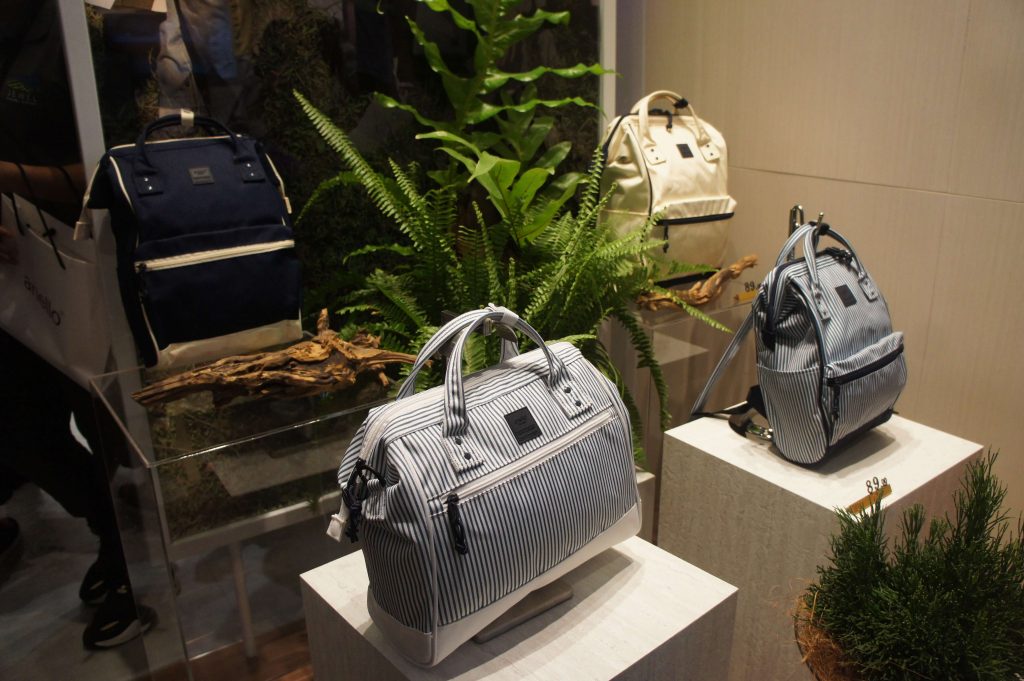 anello® Jewel Changi display
It prides itself on its kuchigane concept, which uses a hidden wire inserted under the top zipper so that the bag can open wide while maintaining its shape.
This makes it exceptionally popular with mothers and students, who like that they can fit everything they need in one bag without it looking too bulky or cumbersome.
Shutdown of fake anello sellers
Anyone who has previously tried to buy an anello bag in Singapore would likely have met many dealers of fake anello bags online. Thankfully, anello is well aware that they have many counterfeit makers and dealers in the Singapore market. According to Yoshida, they are working with Singapore Customs and the police to get rid of these fake products as soon as possible.
Plus, now that anello has a physical store here, it's easy to get your hands on the real thing! With the official opening of its Singapore flagship store, anello has also brought a greater variety of products, including exclusive and limited edition boutique collections. It's the best place in Singapore to shop for your anello products.
anello® Jewel Changi display
Exclusive Boutique Series products
New this month is the EXPAND Series, exclusive to anello boutiques, featuring a BackPack (S$139) with long-lasting water-repellent nylon fabric and water-stopping zippers. It also comes with a side handle, a belt on the back which can be attached to a suitcase, multiple pockets, and a carabiner snap ring.
EXPAND BackPack (S$139) in Brown — also available in Black, Navy, and Dark Pink
Add-on accessories such as the Multi-Pouch (S$35) and 15" Tablet/Laptop Sleeve (S$68) can be attached to the backpack's shoulder strap or fit snugly into the backpack. And of course, there's a Kuchigane Backpack (S$129–135) to round up the series as well.
EXPAND Kuchigane Backpack (S$129–135) with Multi-Pouch (S$35) in Brown and Black — also available in Navy and Dark Pink (Kuchigane Backpack only)
anello® Jewel Changi also carries the Osaka Flagship Store Limited Editions, so named because they are otherwise available only at anello's Osaka flagship store. These water-repellent BackPacks (S$119–129) and Shoulder Bags (S$80) are available in-store right now.
Osaka Limited Edition BackPack (S$129) in Black on right — also available in Navy
Osaka Limited Edition Shoulder Bag (S$80), L–R: Beige, Black, Khaki, Lavender
L–R: Osaka Limited Edition BackPack (S$119) in Black, Shoulder Bag (S$80) in Black and Beige — also available in Lavender
In the fourth quarter of 2019, the Anello® WPC Collection is also coming to anello® Jewel Changi as an Osaka Limited Edition series. In a collaboration with well-known Japanese umbrella brand WPC, anello has created the perfect rainy day BackPacks (S$119–149) in both bright and dark colours to suit a variety of tastes.
Osaka Limited Edition (Anello® WPC Collection) BackPack (S$119), L–R: Coral Pink, Lime Green, Baby Blue
Black and Navy options are available for this WPC collaboration in a larger size.
The Spring-Summer 2019 Collection's "Punching hinge clasp" BackPack (S$99–109) is yet another overseas limited edition collection, characterised by tiny piercings on the smooth, matte eco-leather.
Spring-Summer 2019 "Punching hinge clasp" BackPack (S$99–109), L–R: Ivory, Gold, Blue Grey, Black — also available in Lavender and Beige
Also coming in the fourth quarter is the "Exotic Journey"-themed Autumn-Winter 2019 Collection, with bags and accessories to complement frequent travel and daily life.
Autumn-Winter 2019 Collection "Exotic Journey", more details to come soon
Autumn-Winter 2019 Collection "Exotic Journey", more details to come soon
Future plans for anello and Carrot Company
Having established a presence in the Asian market, anello intends to attend several trade shows in Europe next year and to bring their products to the European market.
anello is constantly looking for ways to refine and improve their products. The kuchigane backpack's back zipper, for instance, was added after a customer commented that it would be nice if it were easier to take out and put in items.
"For the customers, we believe in supplying what they are looking for and at the exact timing they need." Yoshida commented.
Pocket-size pouches at anello® Jewel Changi's store counter
In their latest effort to reinvent themselves, anello aims to become more environmentally-friendly. They are currently searching for the best sustainable materials for their products, which need to be both durable and light.
Yoshida also mentioned that anello plans to produce products other than bags and wallets in future, but these plans have not yet been confirmed. We look forward to seeing more of what they have in store for us!
anello® Official Store
Address: #B1-275 Jewel Changi Airport, 78 Airport Boulevard, Singapore 819666
Opening hours: 10am – 10pm daily
Telephone: +65 6962 2128