Two weeks ago, Huawei officially launched its new Harmony operating system (OS), which it has been teasing since Google and other US companies began to set restrictions on its business and products.
James Lu, Head of AI Product Management, shared at a media briefing in Singapore on 23 August that Harmony OS is currently intended for in-house products like wearables, HUAWEI Vision, and head units for cars, as well as ecosystem partner products.
These exclude their signature smartphones and tablets, which will continue to operate on Huawei's Android OS, EMUI. Google's Android ecosystem is already mature and Huawei will continue to use EMUI on their handsets for as long as possible. Still, in the case that they are no longer able to use Android, Harmony OS will be ready.
That said, Lu stated that rather than attempting to replace any existing OS, Harmony OS is designed to be an effective "OS for all scenarios". Huawei aims to deliver a seamless experience for users, and as such has pinpointed a future problem that users may face—multi-device interconnection.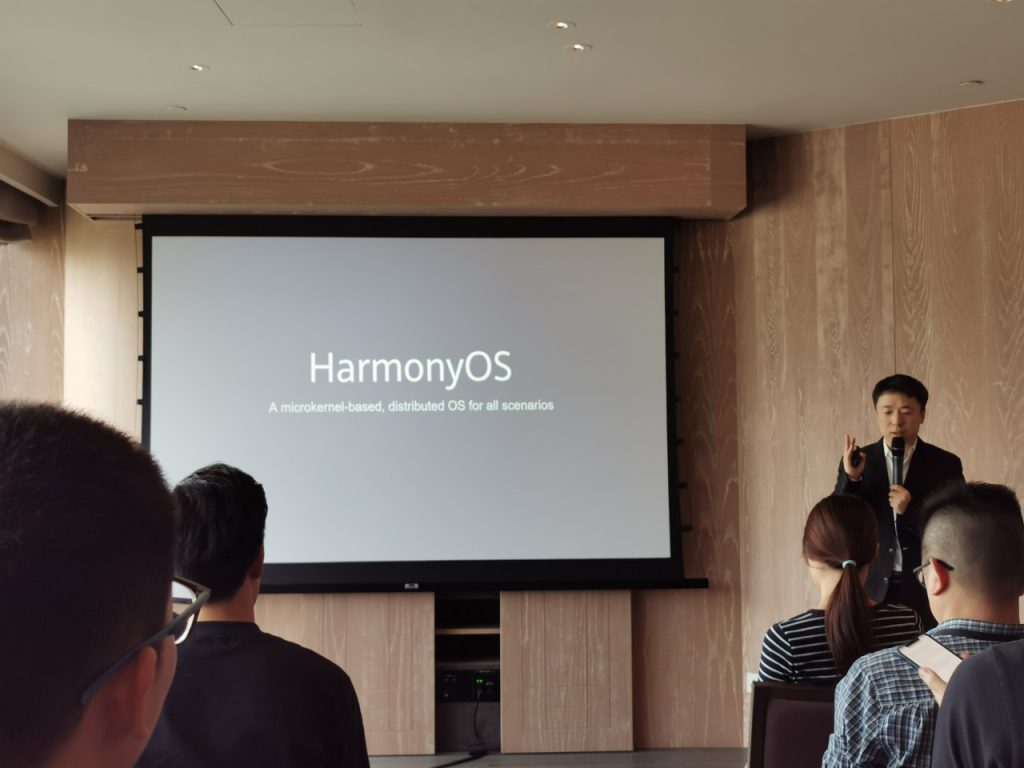 Harmony OS presentation by James Lu, Head of AI Product Management, Huawei Consumer Business Group
A product becomes "revolutionary" when it solves a problem that no one else has, he explained, and that's where Harmony OS comes in. It tackles the problem of multiple device use and connectivity between those devices, across brands and ecosystems.
"I believe that Harmony OS has a future," Lu said, "because it solves a problem that has not yet been solved."
Multi-device connectivity for consumers
Even now, consumers already have multiple devices for different uses, each with their own strong points and hardware capabilities. For instance, a TV is good for watching shows because of its screen, but a speaker will have better audio. We currently deal with this issue by pairing them via Bluetooth or WiFi, or connecting them with cables.
Harmony OS, however, eliminates the trouble of pairing by automating the process. Right now, all these devices run on different OSs because of their specific hardwares, but the decoupled Harmony OS will be able to run on multiple hardwares and devices.
The idea is to combine the strongest hardware points of multiple devices such that they can work as a virtual super-device.
App compilation for developers
Lu added that Harmony OS also takes the load off app developers by doing the work of adapting apps for different devices. Right now, developers have to put in extra effort to develop their apps for multiple OSs, which is especially difficult for smaller companies.
With the HUAWEI ARK Compiler, developers will only have to develop an app once and it will be able to run on all devices. Furthermore, it will be adapted to suit different device platforms and user interfaces. It also supports multiple coding languages, so developers can use languages they are already familiar with.
Harmony OS is open-source, and not only limited to Huawei. Like the Android OS, everyone can contribute to make it better, and it can be used on many devices. Both consumers and developers have the freedom of choice.
When further questioned about this decision, Lu responded, "If only Huawei uses Harmony OS, we cannot move the OS forward."
It is "healthy", he said, for it to be open-source. After all, Huawei's ultimate goal is to have a unified OS that can deliver a better cross-device experience, and that surely requires input from tech partners, developers, and consumers alike.
Future plans for Harmony OS
Harmony OS has already made its debut on the Honor Vision TV, but Huawei also plans to move its PCs, wearables, and automotive head units on board next year. Speakers, headsets, and VR glasses will follow by 2022.
Huawei handset users need not worry about not being able to experience these features on their smartphones and tablets, as Lu confirmed that they will be present from EMUI 10.