The inaugural event under a three-year collaboration between Sentosa Development Corporation (SDC) and The Walt Disney Company Southeast Asia, Sentosa Sandsation: Star Wars Edition is Southeast Asia's largest sand sculpting festival, spanning almost 3,000 square metres and running from 31 August to 15 September 2019, between 10:00 AM and 8:30 PM daily.
Entry into the event is free for all.
All Singapore residents will enjoy free island admission between 31 August and 15 September 2019 via:
Sentosa Express trains: Singapore residents without an EZ-Link card can present their NRIC or valid identification pass to our guest ambassadors for free entry.
Drive in: Singapore-registered vehicles (except motorcycles) can enter Sentosa for free during this period.
From the Beach Station transport hub, take a 750-metre stroll down Siloso Beach to where Sentosa Sandsation: Star Wars Edition is. Alternatively, guests can hop on the dedicated shuttle loop service which runs from Beach Station to Imbiah Lookout to Siloso Point. The shuttle runs from 12 PM to 9:30 PM daily for the duration of the event with an interval of approximately 15 minutes.
Other free and low-cost ways to enter Sentosa
VivoCity – stroll across the Sentosa Boardwalk and into Sentosa for free.
SBS Transit Service 123 into Sentosa, as no additional island admission fee is charged.
Cycling in or on your Personal Mobility Device
Grab promo code "SANDSATION" – enjoy $5 off a ride into Sentosa. The promo code is valid for one-time redemption per user and available from 10 AM to 10 PM (except between 12 PM to 2 PM).
Sentosa Sandsation: Star Wars Edition Highlights
20 Star Wars-themed sand sculptures – Embrace the light side of the Force with Yoda, Luke Skywalker, Han Solo, Chewbacca and Rey or harness the power of the dark with Darth Vader, Jabba the Hutt, Boba Fett and Kylo Ren.
Sand sculpting workshops and 'live' demonstrations – Happening throughout Sentosa Sandsation: Star Wars Edition with three timeslots at 11: 00 AM, 2:00 PM and 5:00 PM on a first come first served basis, this would be the perfect place for you to learn from the masters.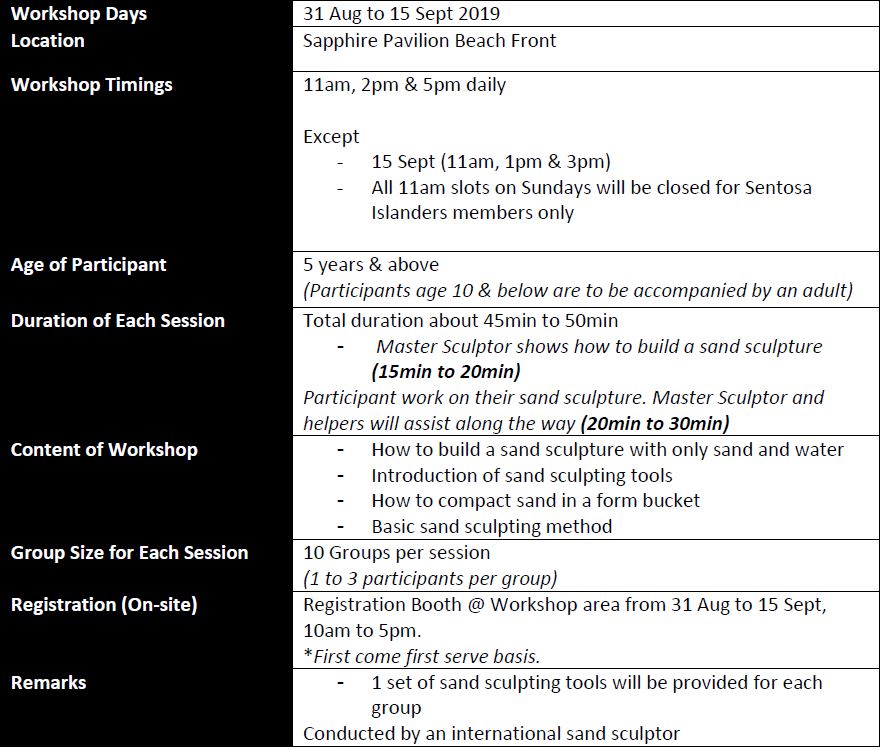 Sentosa International Sand Sculpting Competition – Watch the world's best sand masters compete to craft fantastic sand art masterpieces at the third edition of the Sentosa International Sand Sculpting Championship, which will be held from 31 August to 2 September.
Exclusive merchandise – Get your hands on exclusive bespoke Star Wars-themed merchandise, such as glow-in-the-dark T-shirts and customisable tote bags, at the retail area at Sentosa Sandsation: Star Wars Edition
Free movie screenings – Guests can also make it a whole day out with free movie screenings at Palawan Green. Happening at 7.45pm on 31 August, 1, 14 and 15 September, grab a picnic mat and enjoy family bonding time on the green.
Renowned International Sculptors
Kevin Crawfowd (Australia)
Jakub Zimacek (Czech Republic)
Benoit Dutherage (France)
Fergus Mulvany (Ireland)
Katsuhiko Chaen (Japan)
Wiaczeslaw Borecki (Poland)
Pedro Mira (Portugal)
Dimitry Klimenko (Russia)
Ilya Filimontsev (Russia)
JOOheng Tan (Singapore)
Oscar Rodriguez (Spain)
Susanne Ruseler (The Netherlands)
Dan Doubleday (United States of America)
Meredith Corson (United States of America)
Sue McGrew (United States of America)
JOOheng Tan will not take part in the International Sand Sculpting Championship.
More magical events at Sentosa over the next three years
As part of the collaboration between SDC and The Walt Disney Company Southeast Asia, guests can look forward to unique and creative experiences at Sentosa, inspired by Disney's beloved characters and stories, over the next three years.
Sentosa FUN Shops and Singapore Cable Car Gift Shops, operated by One Faber Group (1FG), will also offer special bespoke merchandises exclusively produced by Disney and 1FG in conjunction with this collaboration. These include gifts like T-Shirts, tote bags, mini puzzles, mugs and neck pillows, and will go on sale from 31 August.
For more information, please visit here.