IMC Live Global will be bringing 2019 LEE SEUNG GI ASIA FANMEETING <VAGABOND VOYAGE> to Singapore on 26 October 2019 and to Bangkok and Kuala Lumpur on 19 October and 30 November 2019 respectively. The long-awaited fan meeting tour, which is exceptionally special and meaningful for Lee Seung Gi and his fans as it marks the 15th anniversary of the artiste's debut, has already seen full house shows in Japan and Chinese Taipei.
Vagabond Voyage takes inspiration from the 32-year old singer-actor's latest Korean drama of the same name Vagabond (2019), where he plays the role of a stunt actor called Cha Dal Gun opposite Korean singer-actress Bae Suzy in the action-thriller drama. The highly-anticipated spy drama is set to premiere on September 2019 on SBS and Netflix to worldwide audiences.
Lee Seung Gi has received numerous accolades in the singing, acting and hosting fields. Having debuted in 2004, he has released several hit songs such as:
Will You Marry Me
Because You're My Woman
Return
He is also famously known for his roles in dramas such as:
A Korean Odyssey (2018)
My Girlfriend Is A Nine-Tailed Fox (2010)
Gu Family Book (2013)
He currently has a regular variety show Master in The House that airs on SBS since 2017 and he will be seen in new SBS variety program, Little Forest. Scheduled to premiere in August, he along with other cast members will run an environmentally friendly day-care where children can play and enjoy nature. Netflix's original detective variety show, Busted, will also be welcoming Lee Seung Gi in its second season.
The fan meet will be a night of getting up-close and personal with the artiste as he shares about his experiences. Fans will be treated to a memorable night spent with the multifaceted artiste showcasing his singing, acting and variety skills. IMC Live Global will also facilitate a group photo-taking session for all VIP and selected ticket-holders after the show. All VIP ticket-holders will receive a mystery gift from the artiste and 100 lucky fans will walk away with autographed posters.
Tickets to 2019 LEE SEUNG GI ASIA FAN MEETING <VAGABOND VOYAGE> in SINGAPORE will be available via regional ticketing agent AirAsia RedTix, beginning with a pre-sale for IMC Live Global fans, who are subscribers to the IMC Live Global Newsletter. Register here before the pre-sale dates.
Pre-sale dates: 19 August 2019, 10 AM – 10 PM for IMC Live Global Fans
Public sale date: 20 August 2019, 10 AM
2019 LEE SEUNG GI ASIA FANMEETING <VAGABOND VOYAGE> Event Details
Date & Time: 26 October 2019; 7 PM
Venue: Singapore Expo Convention & Exhibition Centre – Hall 7
Tickets and Fan Benefits:
VIP – SGD 248 [All VIP Gift, All Photo-taking (30pax/group), 50 pcs signed posters]
CAT 1 – SGD 218 [300 Photo-taking (30pax/group), 20 pcs signed posters]
CAT 2 – SGD 178 [150 Photo-taking (30pax/group), 20 pcs signed posters]
CAT 3 – SGD 138 [10 pcs signed posters]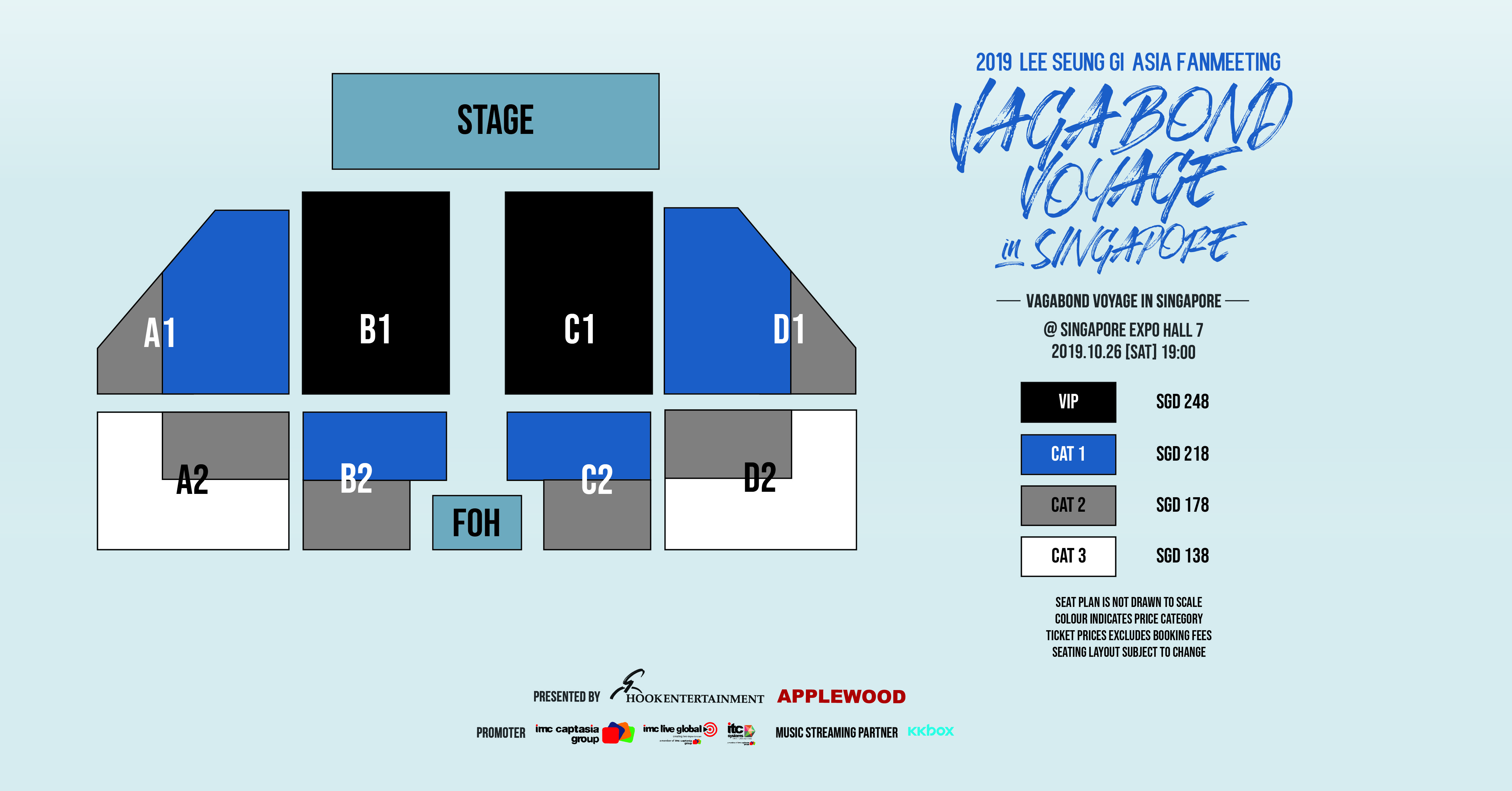 Tickets are fully numbered seating and exclude SGD 4 booking fee.
Ticketing Agent: AirAsia RedTix
Official Hashtags: #LeeSeungGiVagabondVoyageInSingapore #LeeSeungGi #HookEnt #APPLEWOOD #IMCLiveGlobal
For latest concert information and updates, please visit here.