Is Singapore's fast-paced lifestyle wearing you down? Rejuvenate, freshen up, and recharge by treating yourself to a facial spa right at the comfort of your home. 
To complete your experience, you don't just need good beauty products but the right devices to do the work on your skin. Aside from being reasonably affordable than most medical procedures, these portable devices are designed to meet specific skin care needs.  
They can tighten our skin's tissues, eliminate dark spots and bags under the eyes, minimise fine lines and wrinkles, and so much more. You can even bring along most of these devices with you when you travel!
Now you can own not just one, but a trio of beauty gadgets each with a different function, at attractive prices that will leave you change for the latest anti-ageing facial serum. 
TOUCHBeauty, the leading UK brand in beauty and personal care, is launching three bestselling and affordable facial devices in Singapore. 
Head over to Robinsons Department store* on August 7 and be the first one to purchase their Microcurrent Facial Roller, Sonic Eye Device, and Light Therapy Device while stocks last.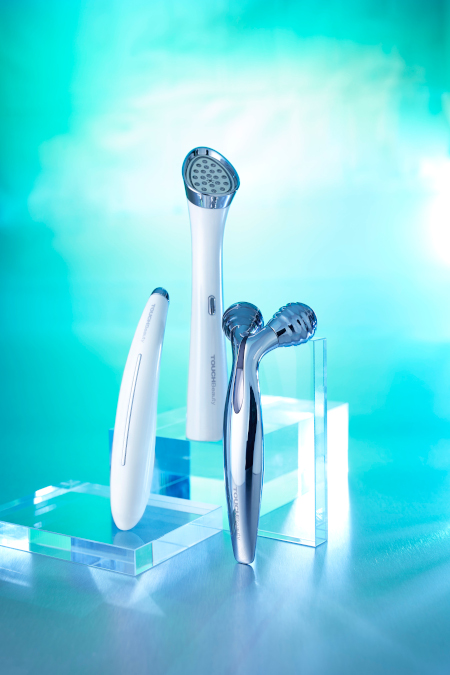 Made to work on all types of skin, this powerful trio fights the early signs of aging and targets skin issues with their respective features.

1. Microcurrent Facial Roller for Facial Contour and Firming
Too much exposure to the sun or cold weather is one of the leading causes of skin damage and aging. If it's impossible for you to stay indoors the whole day, make it a habit to use the Microcurrent Facial Roller. Powered by mild microcurrent technology, it gently massages, contours, and lifts your skin to create a youthful complexion. Feel instantly relaxed and see your skin turn from saggy and dry to firm and energised. It penetrates deep into the skin's muscles to create this lasting effect on your face, neck and arms. 
Priced at only SGD $148 and $79 (PWP), enjoy the leisure of using this device anytime you want, when you need it!
2. Sonic Eye Device to Brighten Eye Contours

Dark circles are easy to spot but hard to hide. But what's the best solution? 
TOUCHBeauty thinks you need a more practical remedy than makeup and concealer. 
Hence they designed Sonic Eye Device, a special technology that combines warm treatment and sonic vibration to smoothen, illuminate, and brighten the eye area. 
The The 42ºC warm treatment boosts absorption and efficacy of eye creams and 
serums to replenish and smoothen the eye area, while sonic vibration gently massages the delicate skin under the eyes to increase blood circulation and relax strained eyes. 
This handy and finger-like device can be your everyday companion whether at work or at home. It only costs $98 but it can be yours for only $28 (PwP).|
3. Light Therapy Device
Colour wavelengths of visible light can be a good source of energy for skin cells. Specifically, it repairs and rejuvenates damaged cells and kills bacteria caused by acne, leaving the skin bright and refreshed. 
Enjoy all these benefits when you get TOUCHBeauty's Complete Light Therapy Treatment. This device features three heads with different light therapy wavelengths to offer a complete treatment for skin concerns. 
The 630nm Red Light stimulates the production of collagen and increases cell regeneration. The 415nm Blue Light treats active acne and prevents breakouts, while the 590nm Yellow Light reduces dark spots and leaves a calming effect on the skin. 
To increase precision, each light treatment features a 12-minute smart auto-timer. The device will shut down automatically after 12 minutes of use.
*Robinsons The Heeren, Robinsons Raffles City and Robinsons Jem