108 MATCHA SARO, the high-quality Matcha Dessert Shop that originates from Asahikawa, Hokkaido, Japan, is set to make its highly-anticipated debut in Southeast Asia and Singapore on 26 July 2019 at #B1-K05, Suntec City mall.
Well-loved for its mouth-watering Obanyaki, Parfait, Warabi mochi and Soft Serve Ice-Cream cone, what sets 108 MATCHA SARO apart from its peers is the authenticity and quality of its key ingredients that include Uji Matcha powder from Kyoto that is used in its Matcha desserts and Taiwan's Pingtung Wandan red bean used in its Obanyaki and Parfait.
108 MATCHA SARO's Uji Matcha powder is made in collaboration with traditional tea masters using ancient blending techniques and the highest grade of quality tea leaves from Uji. The picked tea leaves are first steamed and dried in a Ro, a unique furnace designed for this process, resulting in a tea-base called Tencha. The leave stems and veins from the Tencha is then removed, and the remaining tea leaves are stone-ground to a fine powder for use.
Famous for red beans with a rich, distinct flavour, Pingtung, Wandan produces 80% of red beans grown in Taiwan. Using these red beans, the paste produced is specially customized for 108 MATCHA SARO in terms of the sugar level, consistency and texture for optimum taste.
Currently, there are four 108 MATCHA SARO stores in Japan and four in Taiwan.
A Taste of 108 MATCHA SARO'S Bestsellers
A must-try is 108 MATCHA SARO's best-selling item, Obanyaki (from S$2.90) that comes in five different flavours, namely:
Red Bean Paste & Matcha Dough
Red Bean Paste & Original Dough
Matcha Custard & Original Dough
Custard & Original Dough
Red Bean Paste with Warabi Mochi & Matcha Dough
Each freshly-made soft, fluffy dough is filled with a generous amount of red bean paste or custard that makes 108 MATCHA SARO's Obanyaki a perfect dessert after a meal or at any time to satisfy a craving for a comforting snack.
Other 108 MATCHA SARO best sellers include its Warabi Mochi, handmade fresh daily, with a choice of eight pieces (S$4.90) or 24 pieces (S$12.90). Unlike typical mochi made from glutinous rice, Warabi mochi is made of warabi starch – where warabi is a type of fern, and the starch comes from the rhizomes.
For a more indulgent treat, customers can delight in the Matcha Parfait Deluxe (S$8.50) that comes in a combination of Soft Serve Ice-cream, Warabi mochi, Red Bean paste and White Mochi.
Full Menu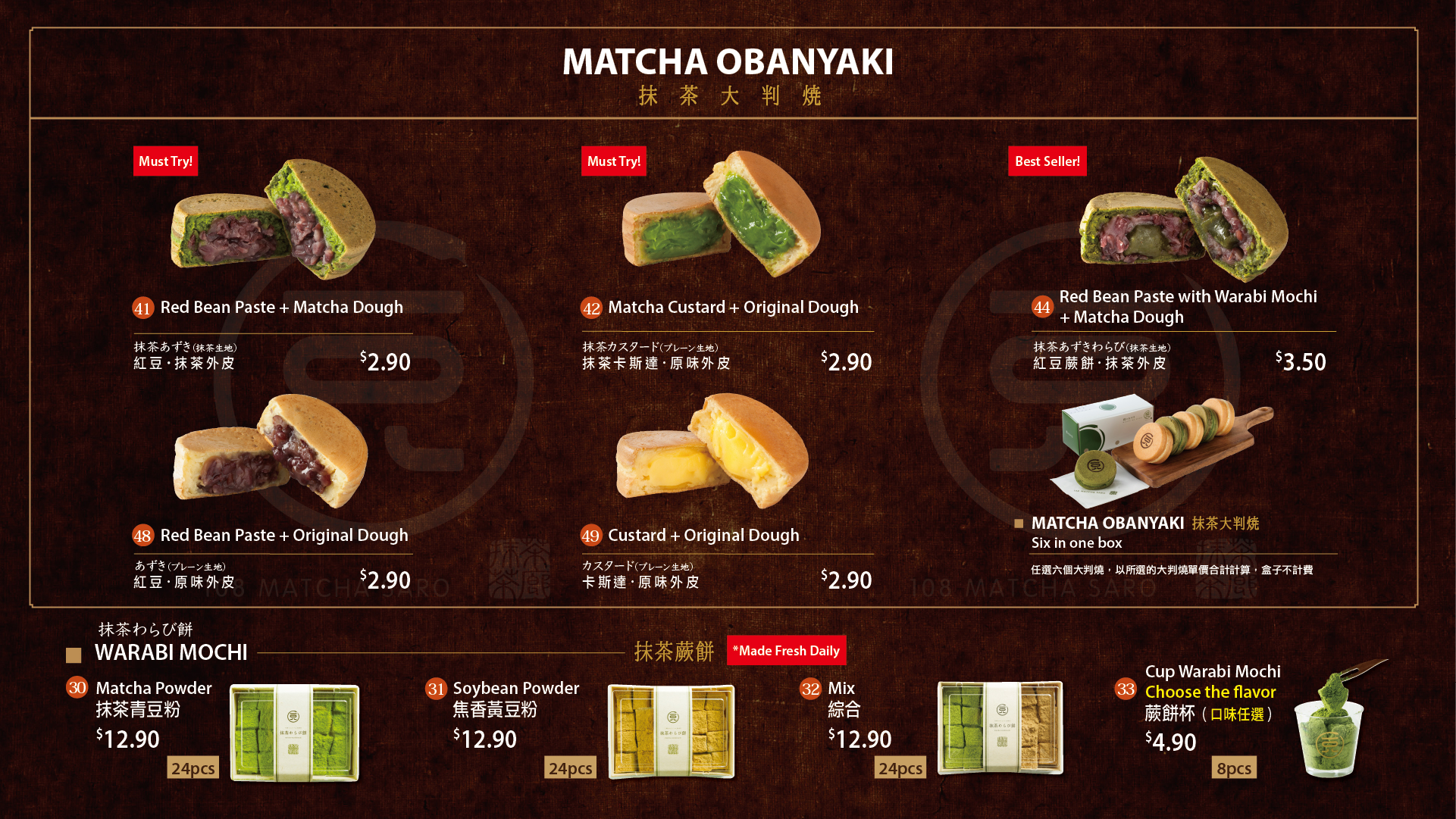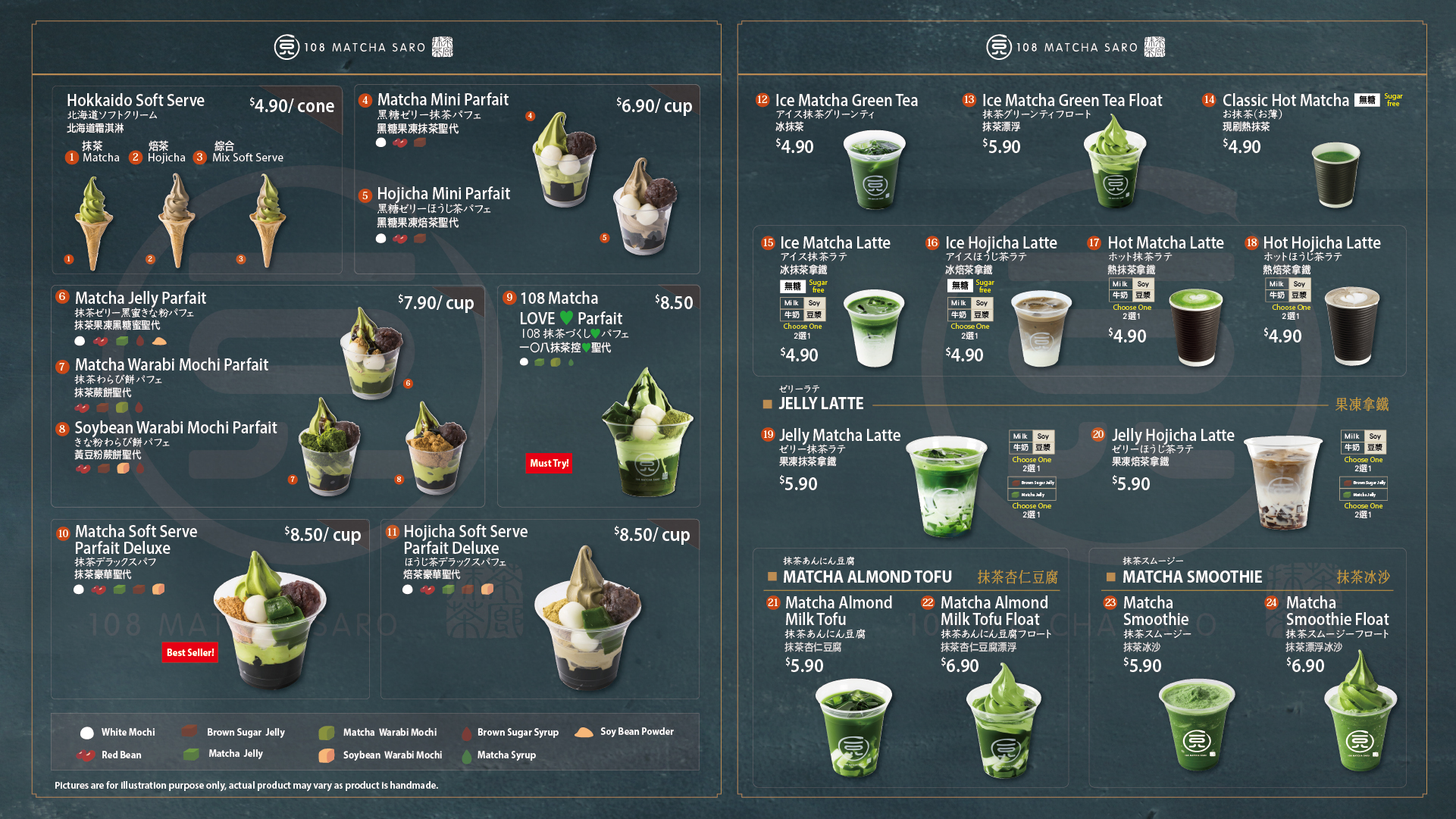 Opening Specials
In celebration of the opening of its first outlet in Southeast Asia and Singapore, 108 MATCHA SARO has specially created a limited edition obanyaki, Double-Choc Obanyaki, that comes in Matcha dough and double, high-grade chocolate filling made with chocolate-flavored custard and French Premium Dark Chocolate from Valrhona – specifically Caraibe 66%, which is a perfect balance of smooth chocolate and roasted dried fruit notes with a slightly oaky finish.
Priced at S$3.50 each, Double-Choc Obanyaki is deliciously divine, like a special treat from the Land of the Rising Sun to our sunny, tropical Garden City. Plus, there is a 'Buy 5 Get 1 Free' Obanyaki promotion from 26 to 28 July 2019 that makes a visit to 108 MATCHA SARO even more irresistible.
For ice-cream lovers, there is also a 'Buy 1 Get 1 Free' Hokkaido Soft Serve promotion (usual price: $4.90 each) from 26 to 28 July 2019. A perfect treat to cool down on a hot, humid day, there are three flavour options of Matcha, Hojicha and Mixed to choose from.