Yes, we are familiar with Peanut Butter Oreo and Dark Chocolate-White Chocolate Oreo flavours.
They are pretty commonplace, aren't they?
But what about this?
It even has popping candy – that explodes in your mouth – mixed into the white cream. For sure, Firework Oreo is not common and maybe the idea behind this creation is to literally feel like fireworks are happening in your mouth as you twist, lick and dunk.
You're about to lose your mind as we round up some of the most bizarre OREO flavours from around the world you may not have thought of.
Swedish Fish Oreos
Oreo sandwich cookies and Swedish Fish gummies aren't exactly what you will have in mind but this queer pairing does grab people's attention. Can you blame them? This could be the oddest combination from Oreo thus far, unless gummies and cookies are your kinda thing.
Waffles & Syrup Oreos 
Not exactly the kind of breakfast you may have in mind but seeing how pressed for time we are these days, this flavour works too right? Anyway, it's so compact you can just pop one into your mouth as you go about preparing for work in the morning.
Root Beer Float Oreos
This Oreo flavour is the way to go about consuming Root Beer Float in an unorthodox manner. Can the half-root beer, half-vanilla cream filling replicate the sweet and fizzy taste of this classic beverage?
Hot Cocoa Oreos
Designated to be a fall item, this particular flavour will make its way to stores in October 2017. The idea of a mix of marshmellow and chocolate doesn't sound as far-fetched as the rest. Perhaps this is one flavour we would want to try.
Caramel Apple Oreos
Given that caramel apple is a flavour well-liked by many, we are giving this flavour the benefit of the doubt. Anything with caramel in it shouldn't go wrong right, isn't it?
Apple Pie Oreos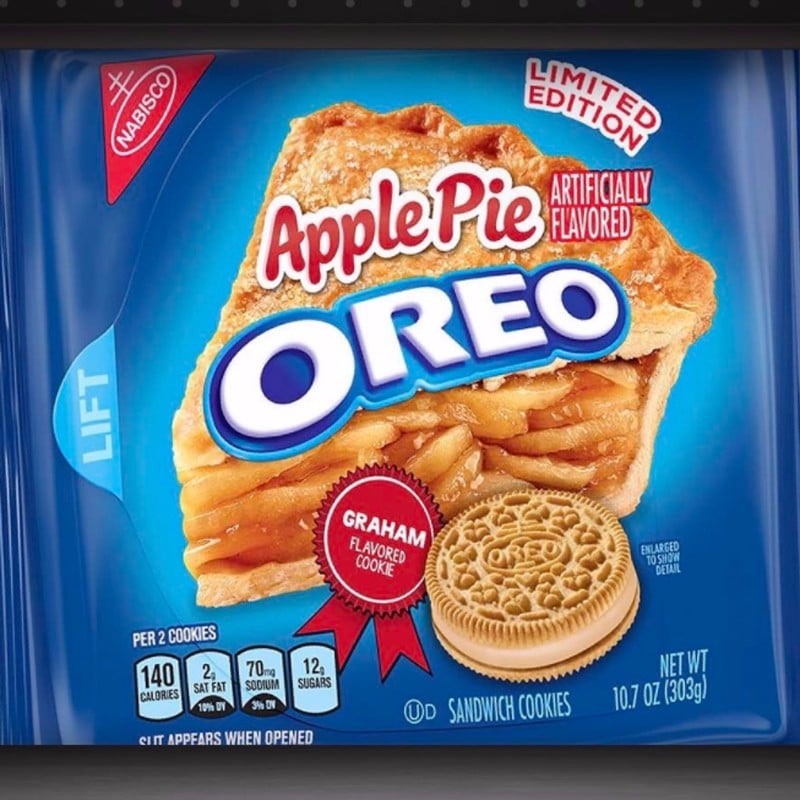 This doesn't sound that odd. After all, the cookie is Graham flavoured – something different from the other cookies. The sweet and slightly savoury taste of Apple Pie should blend in well with the texture of Graham cookies.
Candy Cane Oreos
There's even crunchy sprinkles in this dual-coloured cream filling flanked between chocolate-flavoured sandwich cookies. As bizarre as it may sound, you can't deny that the combination of candy cane and chocolate does sound pretty sweet?
Candy Corn Oreos
Maybe candy corn was chosen as its colours make for an eye-popping dual-coloured cream filling? It's anybody's guess but this flavour definitely sounds fun and tasty.
Dog Food Oreos
If you have always been that kid who's curious to know how dog food tastes like, this Oreo flavour is your dream come true. Unfortunately, this is not real but who knows? This flavour may materialise one day, given how Nabisco has been surprising us with their selection of limited edition flavours.
Zombie Brain Oreos
Our obsession with zombies doesn't stop in movies – it continues in the food we eat. Fret not, this is just a mock-up that shows us how would a Zombie Brains Oreo flavour look like. Out of curiosity, what ingredient would the filling in this cookie be made up of?
Until we get our hands on these unique Oreos, these flavours remain bizarre to us.