Chinese New Year is just around the corner. Here are some apps that can make your festival season more enjoyable.
Apps
SG BusLeh (Available on iOS & Android)
By Singapore Mobile App Development House, Originally US
One of the highest rated bus app in the market, SG BusLeh is your ideal travel companion as it goes one step further from existing apps. SG BusLeh claims to be the first app in the market that can show you the actual location of the next bus, so you no longer have to rely solely on those sometimes unpredictable bus timing. SG BusLeh also loads fastest and is the most user-friendly out of all the apps we have tested.
Wakey: SG Bus Alarm (Available on Android)
By ZxnG
Wakey is a beautiful app that serves one of the largest problem in taking public transport: getting off at the right destination. Wakey allows you to set an alarm based on your bus travel destination. Once the alarm is set, you can carry on dozing on the bus or playing your mobile games. Wakey will intelligently alert you when the bus is close to your destination. Neat isn't it? This is especially useful if you are not familiar with your destination, and don't want to get off at the wrong stop during Chinese New Year!.
SG TrafficLeh (Available on Android)
By Singapore Mobile App Development House, Originally US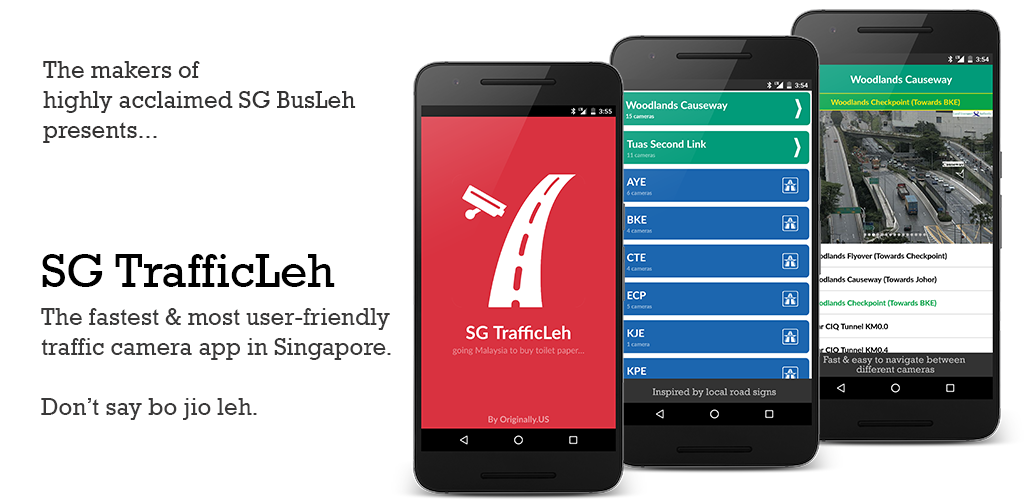 Traffic camera apps are extremely useful if you are driving into Malaysia or on major expressways. Launched this week by the same developers as SG BusLeh, SG TrafficLeh aims to be the most beautifully designed traffic camera app in the market. SG TrafficLeh also pre-loads all traffic images, so you don't have to wait for images to load. Unlike popular apps like SG Traffic Cam, SG TrafficLeh has no popup advertisements, making using it a pleasure. It is also extremely easy and convenient to use without having to tap on every individual camera to see it.
Here's a video of SG TrafficLeh in action!
Games
Guess The Word SG (Available on Android & iOS)
By Nectary Studios
Developed by a local company, Guess The Word SG is a charades game with a local twist. Their decks feature a very familiar Singaporean twist and is great fun to be paid with friends and relatives during Chinese New Year!
Kopi Tiam Mini (Available on Android & iOS)
By Afzainizam Zahari 
Kopi Tiam is the first Android time-management game featuring popular local dishes from Singapore, Malaysia and some say Indonesia! If you ever love games such as Dinner Dash, this game is perfect for you! This game is also wonderful at being a time-killer during those awkward moments when there's no one your age group to talk to during a CNY gathering.

Fun Run 2 (Available on Android & iOS)
By Dirtybit
Fun Run is a simple to play, side scrolling race game that is extremely easy to pick up and support multi-player. Multiplayer games are easy to set up, and pitting yourselves against your cousins and friends during CNY gatherings has never been easier. This game has been the staple bonding activity for me and my cousins for 2 years now.
—
So there you have it, 6 surprisingly good apps and games to get you through CNY 2016! Do you have any other recommendations? Post them below!