Rayong is a province located in northern Thailand. From Bangkok, it takes about 2 to 3 hours by motor vehicle to get there. For frequent travellers to Bangkok, Rayong is a rustic, smaller and more rural area to visit, away from the city buzz.
Several islands in the Gulf of Thailand belong to the province, including the popular tourist destinations, Ko Samet, Ko Mun, and Ko Khod. However, this post will be focused more on the land attractions rather than island-hopping and resorts.
Rayong is about 200 kilometers away from Bangkok and you can get there by bus from the Bangkok Northern Bus Terminal or self-drive with a rented car. I would suggest getting a guide as it is not easy to navigate your way in Rayong if you do not speak the local language. The guide who brought me to Rayong was pretty good. You can contact Kob via her website or directly via this email – [email protected].
On your way to Rayong, you can stop for a meal at Tamnanpar Restaurant (167/6 Moo 7, Phe, Rayong, Thailand, (038) 652884, [email protected]). The restaurant is structured to look like a tropical rainforest, complete with man-made waterfalls, ponds and other water features.
There is a wide selection of excellent Thai cuisines and I particularly enjoyed the steamed flower crab legs dipped in Thai chilli sauce:
First stop, you can visit the Songsalueng Natural Agricultural Centre (322/2 Mu 8, Song Salueng, Klaeng, Rayong, +6681-982-2404). There, you get to visit a farming project started by the Thai King. The owner of the project, Somsak Khruewan, is a beneficiary of this project and he proudly guided us through his farm to showcase his success with sustainable farming.
Khruewan lives off his land completely and recycles everything that is produced from the land to maintain a self-sustaining eco-system. For instance, the leftover skins of mangosteens are made into a sweet-smelling fertiliser to fertilise the soil, which in turn is used to grow mangosteen trees and other agricultural produces.
Khurewan shared with us an interesting quote: "for most others, they have to work hard to make money; for him, with sustainable farming practices, he don't have to work very hard after he set up the farm properly following the guidance of the Thai King and money actually comes to him".
Khruewan is no multi-millionaire, but he is a contented and happy man who lives off his land which he maintains with his own hands. He was a army regular before he retired to take on farming.
Next comes the must-visit site in Rayong – Tung Prong Thong (Pak Nam Krasae, Klaeng, Rayong), a mangrove forest at the Khao Laem Yai National Park. You can hire a saleng (Rayong's version of a tuk-tuk) to get there like a local.
You have to visit this site to take a photo there. Here's why:
I never knew a mangrove swamp can be so beautiful from the top! For the avid photographers, you may want to travel there during sunset or sunrise for an even more poignant view.
If you have more time, visit the area at night to catch sights of fireflies.
After the mangrove forest, we hopped back on the saleng, crossing a bridge that spans the Prasae River, stopping to catch the view of the fishing village and the river.
Hopping back on the saleng, it brought me to the HTMS Prasae Memorial (Thetsaban 9 Road, Praesae, Rayong). This is a a large warship that rests on the ground facing the sea. The ship started life with the US Navy as USS Gallup PF-47. It was then transferred to the Soviet Navy as EK-22 and was passed on in in 1951 to the Royal Thai Navy as HTMS Prasae. The warship is a war veteran, having survived both World War II and the Korean War. It was restored and beached at Prasae in December 2003.
Praesae used to be one of the largest fishing villages in Thailand and was an important fishing port. Decline in fishing has since reduced the importance of Prasae and the villagers now tap into eco-tourism as an alternative source of income. This brings me to my next, stop, the Prasae Community which I would strong recommend as another must-visit site in Rayong.
Why? There are barely any foreign tourists there at the moment and I really love such new attractions. Note that there are barely much English signs there, which is why you may want to hire a local guide for your day-trip.
I love visiting small towns and observing how the locals live their daily lives. This trip to Prasae is one that I would treasure and remember.
During the day, take a walk around the community. Prasae is a really small town and you will be able to complete exploring one end of the street to the other in about an hour, leisurely strolling.
There are many local homestays in Prasae. I stayed at Chan Samuth Home Stay ((081) 209-2108 | [email protected]) which I quite like and will recommend to other travellers. The hosts are very friendly and guests can sit around at night in the open air to relax by the river. There's also a piano for guests to play.
The owner at Chan Samuth also has a wooden fishing vessel, in which guests can have their dinner on the vessel while it cruise the local river.
I love it that the boat docks just in front of your rooms and the feeling is quite surreal, bringing you back to a simpler lifestyle where people live off the river.
The dinner on board the boat consists of a buffet spread of grilled seafood and free flow beverages.
In the morning, wake up early and you may catch sight of the locals giving alms to the local monks. You can also partake by purchasing a packet of sticky rice or other food item from the local food stalls to offer to the monks.
After that, head off to the local market where you can find some interesting local Thai food to savour.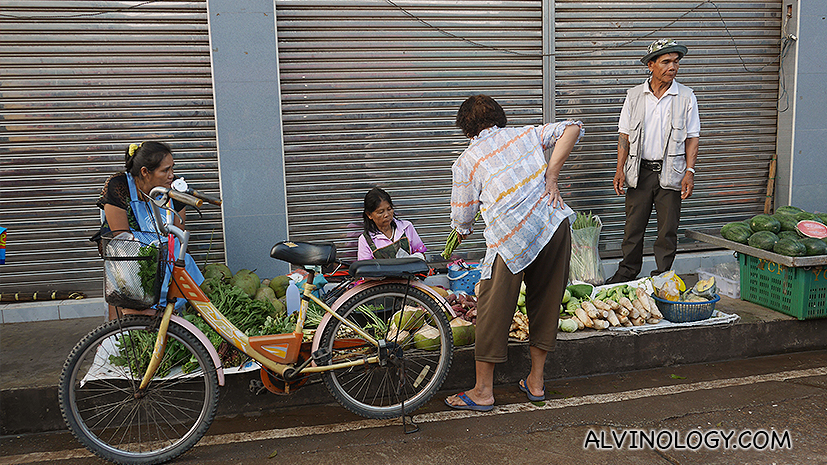 You will hear the local radio blasting off loudspeakers planted across the town with messages from the local government as a way to communicate to the locals.
As I stroll along the pavement in the village, listening to the radio announcement and enjoying the gentle morning sun, I feel like I was walking into a bygone era of happier, simpler times. Such is the charm of Prasae Community and Rayong province.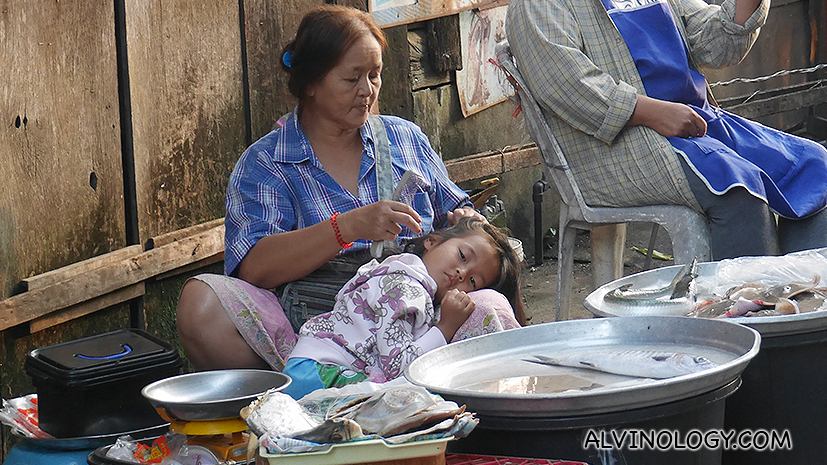 I would highly recommend this excursion next time you visit Bangkok! Moreover, you can travel from Bangkok to Rayong and then to Chanthaburi and Chantaboon like I did for a two to three days trip.
Next stop, neighbouring Chanthaburi province. Stay tune for my next post recommendation on Bangkok excursions.