Less than 24 hours to be part of Singapore's leading food fest!
Guess what we are up to today and tomorrow? Foodie comrades, if you want to see the chefs up close and in action, spend your weekend savouring the Michelin star and award winning cuisine from Singapore and around the world at Singapore's Premier Gourmet Festival 2015.
Batch.sg is giving away a pair of complimentary entry passes at the door for dinner session worth $90 in total to one lucky winner. Winner can expect over 50 signature dishes by award-winning restaurants/Celebrity Chefs especially Bjorn Shen, Douglas Tay, Anthony Yeoh, Sufian Jain and many more at the Gourmet Village. Over 100 wine labels, sake await you! Indulge in Japanese White Strawberries, oysters from 8 countries, choice cuts of meat that can be picked & served on the spot.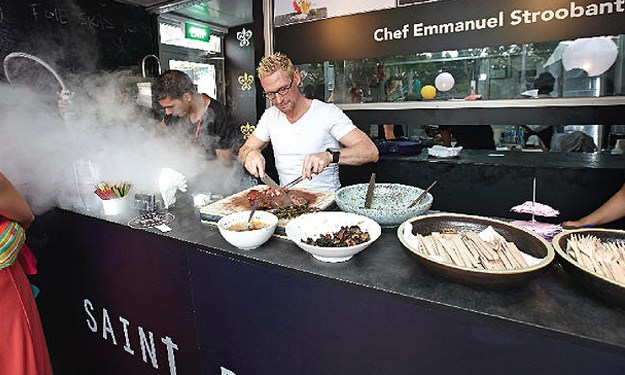 Digital farmers' market Batch.sg will be having a booth (T9) in the Gourmet Auditorium tent at the festival, facing the entrance. Come on down to sample some of their best-loved chef products such as balsamic jam by Restaurant Labyrinth, sambal tumis, gula melaka butterscotch, Justin Quek's Chilli Sesame & Coriander Dip and handcraft kitchenware. You do not want to miss these delicious!
Batch.sg believes the best food and kitchen tools are often the ones handcrafted with pride, passion and painstaking attention to detail – the ones you've probably never heard about because they aren't mass produced in large quantities for supermarket chains and department stores.
But to work with leading chefs, bartenders and makers to provide yummy consumables, tips on how to best use, clean and store each product through recipes, household tips and behind-the-scenes peeks at their production process.
Join them on this journey of food discovery!
2 simple steps to win:
Like Batch/Alvinology Facebook page.
Share this post on Batch Facebook and tag a friend you'd like to bring to SavourSG this year.
[Terms and conditions apply]
The contest ends on 29 March 2015 at 1pm
The winner will be notified via Facebook for prize redemption
Batch (T9) @ SavourSG 2015
F1 Pit Building
1 Republic Blvd
Singapore 038975
####
*Photo courtesy of Savour*