S.H.E. uKimono Press Conference @ ION Orchard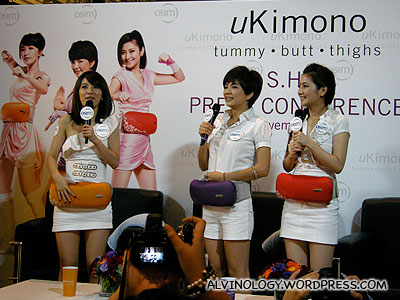 Popular Taiwanese girl group, S.H.E was recently appointed the spokesperson for homegrown lifestyle brand, OSIM's newest product – the uKimono.
A press conference was held last Friday at ION Orchard for the official endorsement announcement in Singapore. You can watch the vodcast and read the news reports on omy.sg. More updates on S.H.E is also available on their S.H.E 911 fan club blog.
In addition, omy.sg is giving away the uKimono and other great prizes from OSIM, via two exclusive contests. You can either take part in the photo/video contest or the Q&A contest to win. Good luck. 🙂
Here are some photos I took to share with everyone:
Technorati Tags: SHE ukimono, she in singapore, SHE singapore, SHE 911 fan club blog, SHE 911 fan club, SHE ukimono contest, SHE at ion orchard, she press conference, she singapore press conference, she ion orchard press conference, osim ukimono, osim contest, omy.sg, omy.sg contest, omy, omy singapore, danny yeo