S$500,000 Bejeweled Sugar Art Cocktail Dress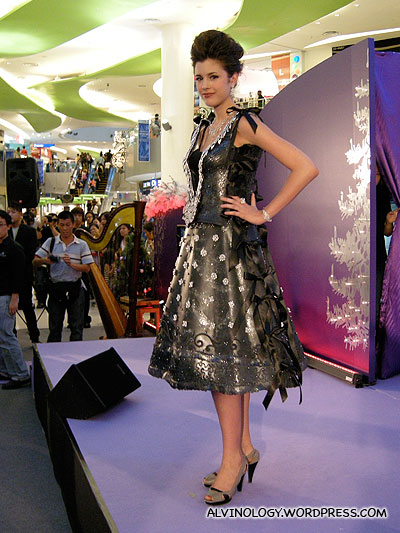 The dress you see above is no ordinary dress. It was created by Chef Lee Lay, 59, an international award winning chef, had worked for numerous prestigious hotel chains.
Chef Lee Lay used pastillage, a sugar-based dough made of powdered sugar, gelatin an water to create the 5kg cocktail dress which took him one month to conceptualise and one week to make. The dress is also embedded with a constellation of scintillating diamonds from Goldheart, worth S$500,000.
The Bejeweled Sugar Art Cocktail was on display at VivoCity Main Atrium from 19 to 28 December last year, in celebration of Christmas. I was there during the press launch on 19 December. Apology for posting this up so late. 🙂
Technorati Tags: goldheart, chef lee lay, singapore, vivocity, bejeweled sugar art cocktail dress, $500 000 cocktail dress, singapore jewelery, edible art, edible jewelry