Single Fondue @ Andersen's Ice Cream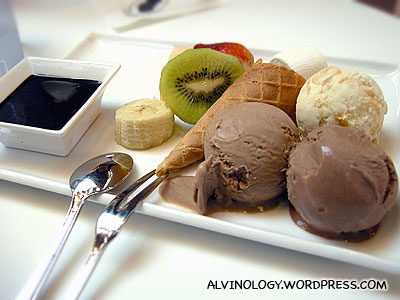 Ah… the rising cost of living and the impending economic recession makes me feel shitty even when just eating a simple ice cream desert.
Rachel and I ordered a Single Fondue at Andersen's Ice Cream yesterday. It was a very hot day and we wanted a cold desert to share between us. On the menu, the price is stated as S$9.90. After the 10 percent service charge and 7 percent GST, the bill comes to $11.60. Steep. Somehow, even ordering a small item like an ice cream makes me feel guilty for not being more frugal these days.
Are you feeling the heat too? 🙁
Technorati Tags: andersen's ice cream, denmark ice cream, belgian ice cream, single fondue, singapore, economic recession, rising cost of living, alvinology