Deliveroo is celebrating six years of bringing your favourite foods to the comfort of your home! Deliveroo fans are in for a month-long treat with unlimited $1 delivery, delicious deals, a limited-edition smashable birthday cake and over $1,000 worth of prizes!
Deliveroo's 6th Birthday Limited-edition Smashable Cake
Deliveroo has created the ultimate birthday cake loaded with candies and prizes! The four-inch smashable cake comes in Deliveroo's signature teal and is decorated with luxurious gold foil and gold pearls.
Each cake is filled to the brim with celebratory sweet treats like marshmallows and chocolates. To get your hands on the yummy candies, simply use the handy-dandy wooden mallet that comes with the cake to reveal its contents.
Lucky Deliveroo fans can stand a chance to win Deliveroo credits worth up to $600 hidden in six cakes. To spread the birthday love, 10 additional cakes are also loaded with Deliveroo Editions vouchers.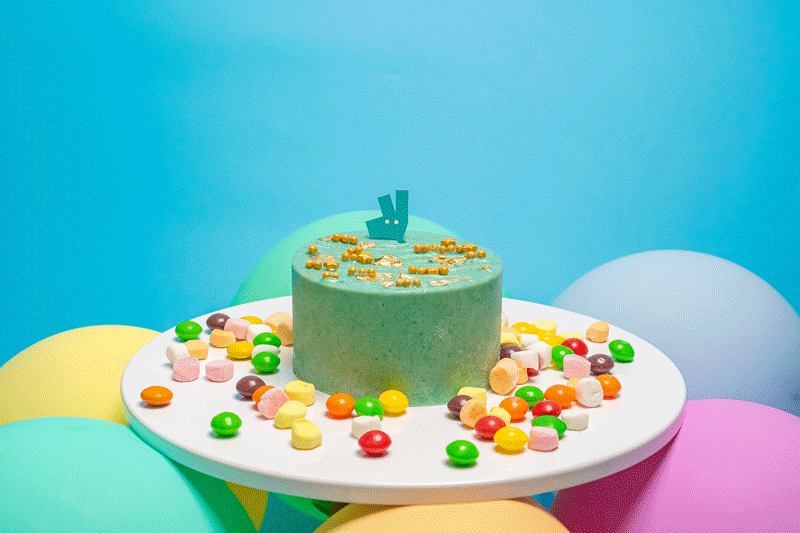 The winners of the Deliveroo Editions vouchers can enjoy $6 off minimum spend $20, applicable for use across Mix & Match menus from Deliveroo Editions (Deliveroo Food Market, Dessert Food Market, Vegetarian Food Market). Validity from 1 November 2021 to 31 January 2022.
Additionally, from 1 to 12 November, Deliveroo customers can order these one-of-a-kind Deliveroo birthday cakes from the Mix & Match menu of Deliveroo Editions sites at Katong and [email protected] at only $6 each.
Birthday Deals
The birthday festivities continue with unlimited $1 delivery promotion (subject to a minimum spend of $12 and service fee) from over 8,000 participating restaurants and grocery partners islandwide from 1 to 5 November.
Customers can also look forward to free delivery from 8 to 30 November for orders from restaurants such as Wang Cafe, A-One, Project Acai and Poke Theory.
Deliveroo will also throw out attractive 50% flash deals on full menus of selected well-loved restaurants, including Popeyes, Daily Cut, KFC, Peperoni Pizzeria and Beauty in the Pot, from 8 to 19 November.
Deliveroo fans can also expect a diverse array of $6 deals and enjoy 50% off items from restaurants like Swensens, Wine Connection, Toast Box and Da Paolo throughout the month of November.
Don't miss out on Deliveroo's birthday celebrations this November!