M1 Limited (M1) launches the True 5G network in an exclusive market trial, allowing both its existing and new mobile customers to enjoy the enhanced benefits of the most advanced 5G Standalone (SA) technology in Singapore today.
Unlike the 5G Non-Standalone (NSA) launched last year, the True 5G SA network operates independently of 4G network infrastructure to deliver an enhanced and secured suite of capabilities.
Customers can enjoy the True 5G experience with faster speeds, close to real-time network responses and enhanced connectivity. True 5G is up to 10 times faster than the 4G network and 4 times quicker than the 5G NSA network. It is also 50% more responsive as compared to the 4G and 5G NSA networks, offering users a lag-free experience. True 5G also enables connectivity to more devices without any reduction in speed or quality.
Additionally, M1 customers will be able to enjoy a truly elevated call experience via the Voice over 5G New Radio (VoNR) service on M1's 5G SA network that allows customers to experience crystal clear high definition voice calls, improved productivity with 5G speeds on data driven activities throughout the duration of voice calls as well as faster call setup time .
With these enhanced capabilities of True 5G, consumers can enjoy more innovative and diversified digital experiences such as 5G cloud gaming, real-time interactive streaming and entertainment, as well as immersive augmented reality (AR) and virtual reality (VR) applications very soon.
Meanwhile, True 5G experience will enable revolutionary new applications and new business opportunities across a range of areas from robotics (for manufacturing and healthcare) and cellular vehicle-to-everything (C-V2X), to maritime applications and retail banking.
M1 users can now experience the true power of 5G by signing-up for a 5Go Plus Booster both online or in-store.
As part of this, M1 is running an exclusive launch promotion starting today, giving users at least three months of free access to the True 5G experience, following which they can continue to enjoy the service at a discounted price starting at $5 per month, until the end of the 2021.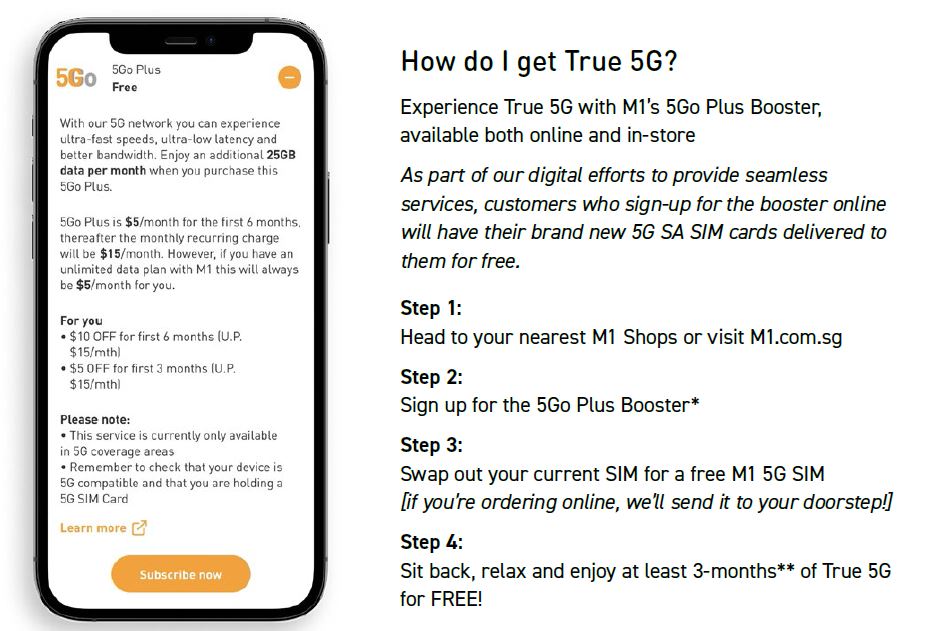 To realise the full power of the True 5G network, customers who sign up for the 5Go Plus Booster online will have a brand new True 5G SA SIM card delivered to their doorstep for free. They also have the flexibility to visit any of the M1 Shops to sign up and upgrade to the new SIM card.
The service can be used on any 5G SA compatible device.
Available in more areas now, M1's True 5G SA network covers about 50% of Singapore including CBD, Marina Bay Financial Centre, key town centres and high data usage areas such as Ang Mo Kio, Bishan, Chinatown, Clementi, Orchard Road, Pasir Ris, Paya Lebar, Sengkang, Tampines and Woodlands.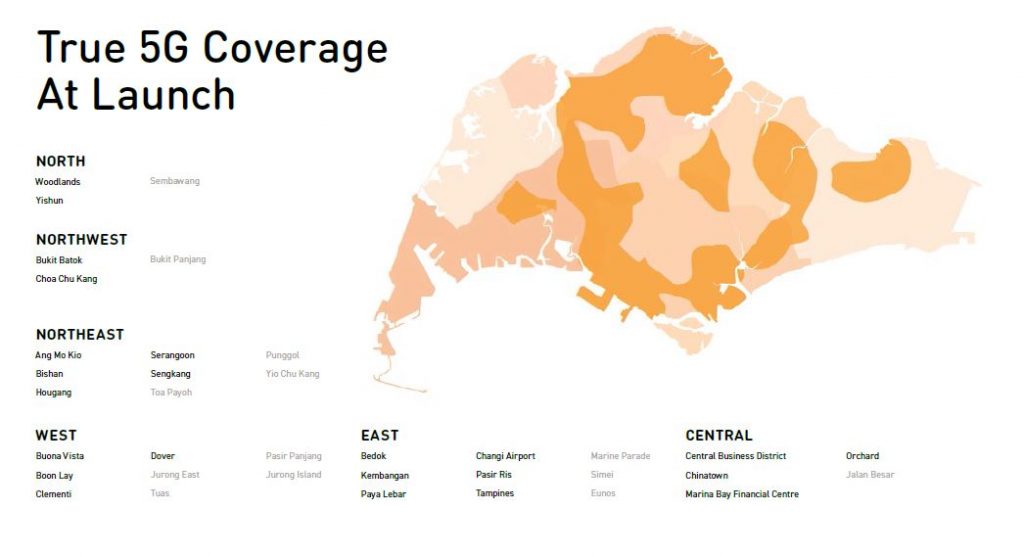 M1 plans to accelerate the roll out of its 5G SA network and extend its coverage to about 75% nationwide by the end of the 2021, with the rest to be covered by 2022, earlier than IMDA's requirement of 50% coverage by the end of 2022.