Starbucks Singapore offers customers the ability to customize the sweetness of their favorite classic beverage flavors: Vanilla, Caramel, and Hazelnut.
By separating the flavor from the syrup, customers can now adjust the sweetness of their favorite drinks while retaining the full flavor. Customers can order unsweetened, less sweet, or regular version of their favorite classic drinks like the Vanilla Latte and Caramel Macchiato and enjoy the full flavors they know and love.
In the new year, Starbucks is introducing another seasonal addition to the Pure Matcha lineup and celebrating the return of almondmilk in mid-January as a core, non-dairy milk choice. Look out for more harmonious and earthy flavors complemented by lighter food options hit those personal wellness targets and new year's resolutions. Starting off this season are the all-new Pistachio Pure Matcha Latte and Smoked Butterscotch Latte.
Starbucks Pistachio Pure Matcha Latte – Hot/Iced: $7.60 (tall)
Starbucks Smoked Butterscotch Latte – Hot / Iced: $7.60 (tall); Frappuccino: $8.20 (tall)
Starbucks Pure Matcha Latte – Hot/Iced: $6.90 (tall)
Breakfast Options
Enter the newest breakfast contenders: the Turkey Ham & Triple Cheese Toast and the Baked Eggs, Chicken, Kale & Cheese Wholemeal Sandwich, hearty options to kickstart a productive day at work or play.
Pair your sandwich, croissant or wrap with a cup of hot, freshly brewed Starbucks coffee to satisfy your caffeine fix. Enjoy these sets guilt-free at less than 500 calories per set, endorsed by the Health Promotion Board.
Starting at $7.50 per set, choose from a range of delicious breakfast items like the Rosemary Chicken & Emmental Cheese Croissant, Chicken Ham and Cheese Panwich and the plant-based Impossible Wrap. For a quicker fix, grab a Peanut Butter Chia Seed Yogurt Parfait with Chocolate & Vanilla Granola, a yummy and convenient option to enjoy on-the-go.
That's not all – introducing the newest desserts on the menu: the Moo Moo Triple Cream Cheese Cake, and the earthy Green Tea Pistachio Cake and Yuzu Chantilly Cream Cake, full and balanced flavours perfect for that mid-day pick-me-up.
Starbucks Year of the Ox merchandise
This Lunar New Year, look out for the Starbucks Year of the Ox merchandise collection decked in vibrant hues of red and gold, comprising themed drinkware and even an exclusive musical box for all avid merch collectors!
Celebrate this season by gifting a tin of Starbucks Assorted Cookies, including delectable flavors like Almond, Seaweed, Walnut Crisp and Cashew to your loved ones.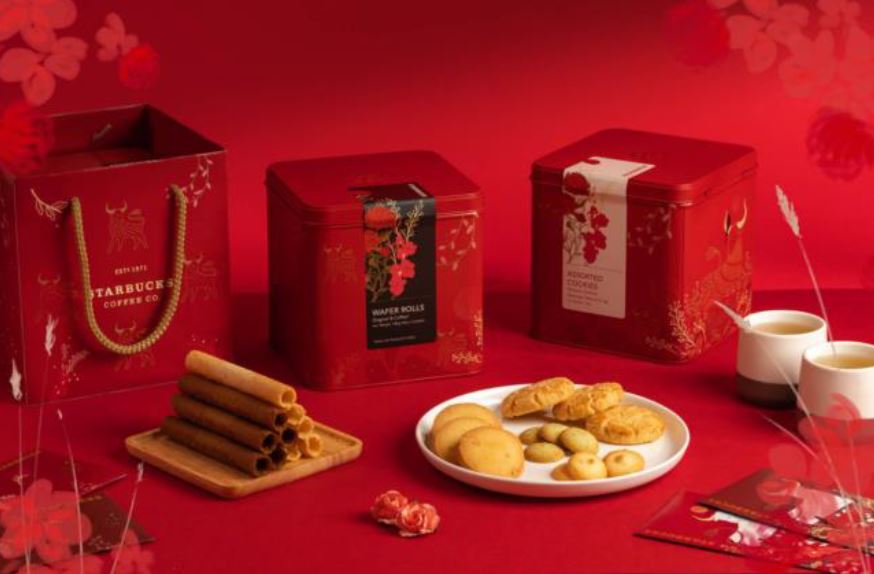 For the more traditional palate, indulge in a tin of Assorted Wafer Rolls containing Original and Coffee flavoured Wafer Rolls made with Starbucks coffee. Each tin comes with a matching red paper bag for easy gifting, and every purchase of any two tins and above entitles you to 20% off each tin.
Starbucks Rewards Exclusive
Attention all Starbucks Rewards Gold members – redeem a free pack of six exclusive Starbucks Year of the Ox red packets with purchase of any Lunar New Year Merchandise Collection or Lunar New Year packaged food. There are two different pack designs to be collected, so grab these goodies while stocks last!
Refer to the full range of seasonal treats and merchandise here.