Decorating your bedroom with 3D art is a process that is only limited by your imagination. It gives you the chance to personalize your space and bring it to life. 3D art can take the form of many designs and styles and can be used and portrayed through multiple media. While it is relatively affordable, using 3D art to decorate your room makes it look very unique. It can turn any boring room into the most fascinating and intriguing space. All it takes is looking for something that really appeals to you, keeping the dimensions of your space in mind, and figuring out how to coordinate the rest of your decor pieces. Read through our article for tips for decorating your bedroom with 3D art.
Wall 3D Art
Before deciding on a 3D piece to decorate your walls with, you need to keep a few things in mind. Every type of 3D wall art requires a different approach for your room to look well put together. Even if you choose the most flattering piece of 3D art, other factors that you may have not accounted for can totally ruin how your bedroom looks.
3D Mural Art and 3D Images
If you choose to go with a 3D mural or a full-sized 3D image, you need to keep the color scheme of the rest of your room neutral. This is to avoid clashing that can be hard on your eyes and brain as too many bold colors can give a harsh finish. Murals and 3D images are very bold and are meant to be the center of attention. When you introduce so many other bold colors, it can be very jarring to the eyes, and everything, including the mural or the image, will feel out of focus and extremely chaotic.
It is recommended that you install a mural or image in a roomy space. Do not place too much furniture around it, and do not hang up anything on the wall on which the mural or the image is placed. Make sure that the image that you choose can be sized up; if it can't, then you need to be careful with its placement. Since 3D art is about connecting and interacting with an alternate reality, you need to place it correctly so that it looks realistic and appealing.
3D Paintings
3D paintings are most effective when they are large in size. This makes it more visually relaxing and laid-back. 3D art is meant to be captivating, and that's why it shouldn't look stuck or crammed into a tiny space. A large surface area brings out more of the details and allows them to flow at ease, letting the eye adjust and take the painting in. You should place it in the center of your wall and pick the most neutral shade used in the painting and use that color to paint the walls. The furniture should also be variations of that color or shade.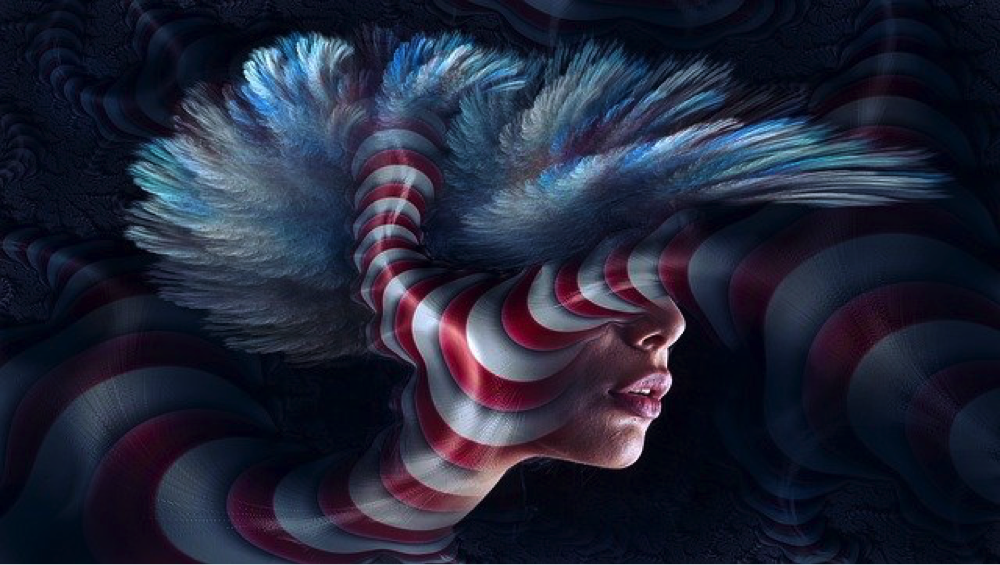 Textured 3D Wall Panels
Bringing life to your room does not have to be done through paintings and images. It can simply be done by installing textured 3D wall panels that can bring simple artistic elements to your bedroom. Textured panels, depending on the pattern and the dimension, can bring a lot of depth to your space. They will make your room stand out, yet remain sophisticated and modern. As long as the color palette of your furniture and the rest of your decor matches with that of the textured 3D wall panels, there is nothing to worry about.
3D Art Bedding
3D art does not only belong on the walls. 3D art bedding can be an awesome way to characterize your bedroom and make it look more lively. In a neutral color-schemed room, 3D art beddings can go a long way. Whether you would like to get lost in a 3D pattern of geometrical shapes, or wander in your preferred scenery, 3D art bedding can be exactly what your bedroom needs. The reviews over at VisionBedding suggest that there is a variety of bedding sets that can be personalized and customized. The design and color scheme that you should choose for your bedding will depend on the decor of the rest of your room. Make sure that the colors that you choose match your room's color palette. Unless your room is really simple, do not go overboard with the 3D design that you choose for your bedding.
3D Art Rugs
Giving dimension and depth to your floor is a very cool and unconventional way of making your room look alive. 3D art rugs can create spectacular optical illusions which are fun to have in your room. Moreover, having a 3D art rug serves as an effortless statement piece. It will make you feel like you are being pulled into a different realm. You need to wisely place the rug to ensure that it retains its balance. The correct placement should be in respect to its size and shape.
3D Art Curtains
When drawn shut, 3D Art curtains can act as astounding substitutes to any type of wall art. 3D art curtains will attract lots of attention, and will therefore stand out. 3D art can be implemented in many different ways on curtains to suit your style. Simple lines, optical illusions, and even beautiful scenery or images can be laid out in three-dimensions for a captivating display. However, you still need to be mindful of the colors that you use and the complexity and intricacy of the design. Just like the walls, you need to be careful not to hang up a busy curtain in a room that already contains many interesting elements and colors.
Using 3D art to decorate your bedroom is a very uncommon decor strategy. It can be very scary to consider at first, since 3D art can be very flashy. Though, when implemented correctly, it can make your room fascinating. The best thing about 3D art is that it is not limited to an idea or two. There are a variety of styles to choose from, as well as many ways and many settings in which to apply it to.